CONVENTION CALL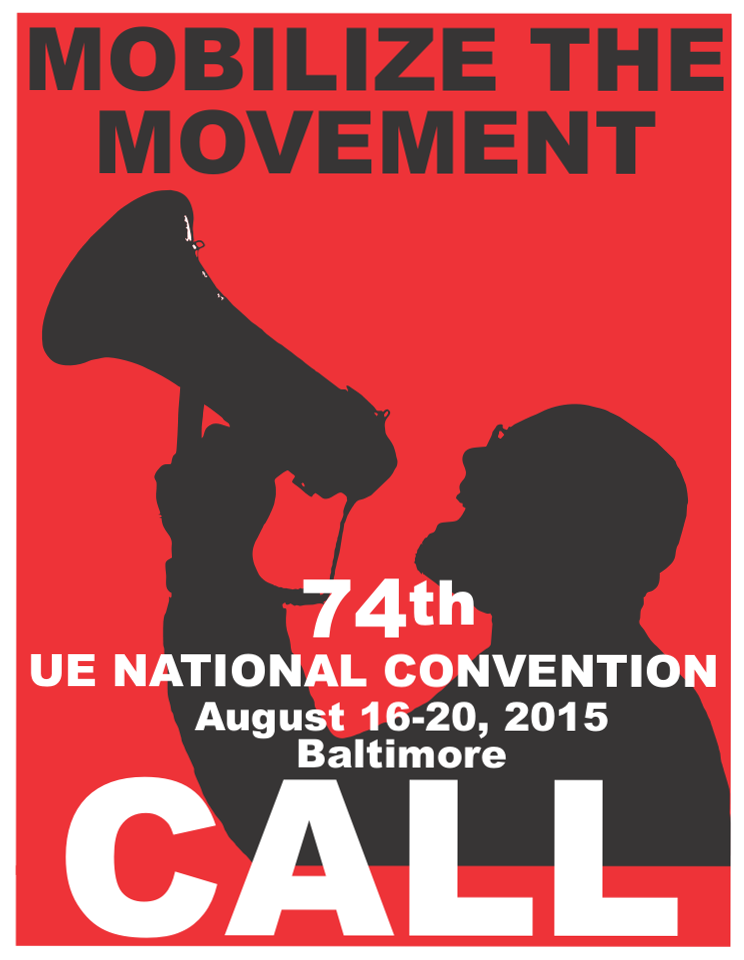 As required by the National union's constitution, the Convention Call has been mailed to all UE Locals and Regional Councils. If you have not received yours, please contact the UE National Office. Here is the cover letter which accompanied the call from General Secretary-Treasurer Andrew Dinkelaker:
April 6, 2015
TO:  UE Local Financial Secretaries and Regions
FROM:  Andrew Dinkelaker, General Secretary-Treasurer
SUBJECT:  Call to the 74th UE Convention, August 16 – August 20, 2015
Dear Sisters and Brothers,
Please be advised that the 74th National Convention of the United Electrical, Radio and Machine Workers of America (UE) will take place Sunday, August 16th through Thursday, August 20th in Baltimore, MD.
This year's convention theme is "Mobilize the Movement." This theme emerged out of discussions in the UE Young Activist program and captures the importance of organizing new members, tackling wealth disparity and inequality along with racial injustice and inequality. By Mobilizing we mean the continuous process of organizing and activating groups that have been done throughout history.  By Movement we include our locals, our national union, the labor movement, our communities and other organizations both nationally and internationally that fight for social and economic justice. UE has always been, and must continue to be, a force for mobilizing the movement.
We will have a busy schedule at this year's convention.  Delegates will consider proposals aimed at strengthening UE and setting a course to defend and improve our members' working conditions, and to build our union.
Please note that, although the convention starts on Sunday morning, during Saturday, August 15th, the Eastern and Western Regions have scheduled regional meetings at the convention hotel in Baltimore. Your regional president will notify your local regarding times and other details for the regional meeting.
We will have a lot of important and exciting work to do at this convention, and we look forward to your local's participation. Please note that any proposed resolutions and constitutional amendments should be received at the National Office no later than July 16th for consideration.
Cc:  Local Presidents and UE Staff
       (only Financial Secretaries receive credentials)