Women's History: How Young Women Shook Up GE in the '70s
In the 1970s, salaried women workers at Erie GE fought important battles for workplace equality, including two strikes in 1974 and '75 in which they demanded equal pay for equal work. The participants in these struggles were predominantly young women, and they were influenced by the ideas of the feminist movement as well as by UE's long-established principles of equality and rank-and-file unionism.
UE Local 618, the salaried workers union at Erie GE, started shortly after UE Local 506, the production and maintenance unit at Erie GE. Local 506 was chartered in 1937 and won legal recognition in 1940. Local 618 was chartered by UE 1941 and certified by the labor board after winning an election in 1944. At the highpoint of employment in the 1970s, when 506 represented around 13,000 workers, the Local 618 unit was around 1,300.
At the beginning of the 1970s, the membership of Local 618 was only about 35 percent of the eligible workforce. (GE was an open shop – joining or not joining the union was entirely voluntary – until 1985 when an agency shop clause was added to the UE-GE National Contract.) The bargaining unit was about two-thirds female, but the union officers were almost entirely male. By the end of the 1970s, these numbers had dramatically changed, with around 85 percent of eligible salaried workers being dues-paying members of Local 618, and a number of women in leadership positions in the local. Several important women leaders emerged from those struggles, including the current president of the UE Eastern Region, Deb Gornall.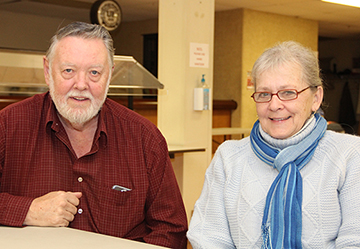 Ron Flowers and Dee Engel, key activists and officers in Local 618, both now retired, give much credit to UE Field Organizer Earl Koedinger who came to Erie in 1971. Flowers, who started at GE in 1961 at age 20, became business agent of Local 618 in 1971. Flowers remembers Koedinger, after studying the seniority list, asking him why the women in Local 618 were in all the low-paying jobs while the men held the high-paying jobs. Flowers calls Koedinger "the ultimate organizer", and he and Engel remember countless hours of hard work, on evenings and weekends, as Koedinger taught them how to build up the local's numbers and strength by organizing workers around issues that affected them, recruiting and training stewards, fighting for their grievances, getting them to come to meetings.
Dee Engel met Earl Koedinger and became involved in the union through her husband Craig Engel, who was the Local 506 chief steward of Building 12 during the early 1970s, when the rapid transit division was a hotbed of militancy by young production workers. Koedinger was a mentor to both of the Engels, and Dee was helping UE as a volunteer organizer even before she got a job at GE. When she came to GE, she got a job in the Building 18-10 stockroom, "Right where I was supposed to be."
Earl Koedinger later became a UE international representative, but died of heart disease in February 1981 at age 39. Those who knew him remember him as one of the best UE organizers they ever met.
STOCKROOM STRIKE
Dee Engel was elected shop steward of the Building 18-10 stockroom not long after she started working there, and in less than a year she organized the first of two key strikes that began to shake up the sexist order at GE. The workforce in the stockroom consisted of 24 young women, many of them 18 and 19 years old, just out of high school. The pay rate was salary grade 2, one of the lowest in the plant, less than the floor sweeper rate. "The hard part was getting the women to join the union, and even when they joined they were afraid to do anything," says Engel. The father of one of these young women was the manager who set the wage rates for the entire plant, "and it got so bad that she was not allowed to sit at the table with her family and have dinner at night because she had decided that the union was the way to go and we needed to be paid an equal wage for the work she did. And that went on for a lot of the girls whose dads were in management," says Engel.
The union filed a grievance demanding equal pay for equal work and took it to third step, but the company refused to budge. Under the UE-GE National Contract, the union can legally strike over any grievance that remains unresolved after third step, which is what these stockroom clerks did in October 1974.
"It was a four-day weekend strike, and it was unheard of. It was the first time that 24 women had done anything like this," remembers Engel. They picketed all four gates of the Erie plant and caused major traffic tie-ups. As they returned to work and passed through the production areas on the second floor of Building 18, they were given a standing ovation by the Local 506 members.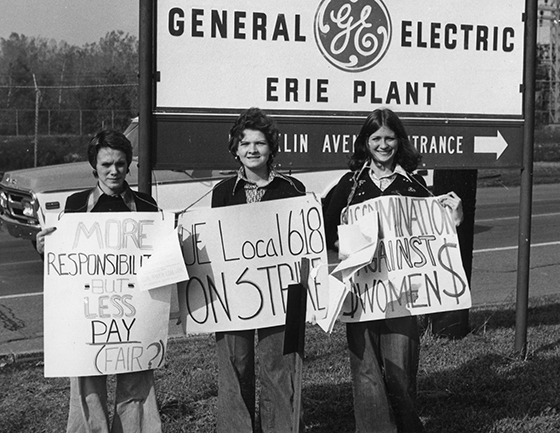 Dee Engel held several union offices and was the first woman business agent of Local 618, serving alongside Flowers, who was then the local president. She worked in a variety of jobs all over the big GE plant until she retired in 2009. She viewed herself as an organizer, and says, "When I was really active in 618 I never stayed on a job that long. From the time I started working with Earl, my thing was to keep moving. I never looked at GE as my job, they just sent me a paycheck. I worked for the union."
TIMEKEEPERS STRIKE
A few months later in 1975, years of organizing among the plant's 109 timekeepers paid off in another strike. The timekeepers were all women, mostly young, with the same issue as the 18-10 stockroom – their pay was grade 2, below the floor sweeper rate. At the time, 80 percent of Local 506 members were compensated through a complex system of incentive pay. The timekeepers manually calculated the paychecks of each Local 506 member, based on the worker's hours and the "piecework" earnings he or she had turned in for that week as well as non-incentive hours for attending meetings and other job duties.
Sandy Steward was one of the key workplace organizers who made the timekeepers strike happen. "Timekeepers didn't make very much money," she says. "You've got all this responsibility and all these deadlines, but you're not making the money. I don't know how it started out – there was a grievance involved that kicked it off. So we figured, what's the one thing that can hurt this company? The timekeepers can shut this whole place down," because of their central role in the pay system. "We were not trying to hurt the guys on the floor, we were trying to hurt the company."
Timekeepers worked in small groups in various satellite offices. After she organized the timekeepers in her own building, she says, "At lunchtime every day, I walked from building to building – I got an hour lunch, therefore I could go on my lunch and talk to these timekeepers. Every day I would go farther down the avenue, go to the time office, talk to these girls. 'We're getting ready to go on strike, we're going to walk out of this joint.'"  She says other union women gave her names of timekeepers to talk to. "I had people you could really depend on, that were right there with us. They would tell me, 'Go talk to her, she's this or that.' So I'd go talk to her."
"So we walked out," says Stewart. "The company never thought we would do it. They thought maybe we'd go out for an hour. What's an hour going to do? An hour wouldn't make a dent because you come back in and they want you to work harder to catch up for the hour that you didn't work."
Sandy Stewart held over 18 jobs in 34 years at GE, in a variety of buildings. "I kept bidding on jobs, I would get bored. I learned the job, now it's time to go learn something new." First hired at age 18, she retired in 2005.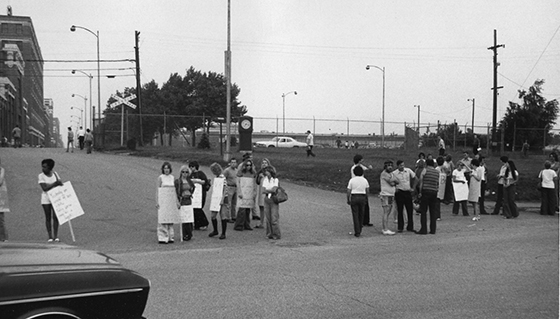 The timekeepers strike lasted nine days, and GE never knew when it would end. The timekeepers struck the entire time, but it was also a "rolling strike" by other groups of Local 618 members who walked out for a day or less and then returned to work, keeping the company off balance. Some groups of Local 506 members walked out too. Meanwhile bosses trying to do the timekeepers' work made a "royal mess" of it, recalls retired former timekeeper and Local 618 officer Mary Stewart-Flowers. The company thought they'd return to work Monday morning. Instead they ended the strike at 10:00 a.m. Tuesday.
Deb Gornall started at GE in 1972 at age 18 as a timekeeper. "At that time for me it was the women's movement, trying to get equality and stop discrimination in the workplace, being able to get access to the higher paying jobs."
"Some of the interviews when I bid on jobs got me really pissed off." She was turned down for a drill press job because she was "too small, too young, not strong enough – you name it. I needed the money – I had two brothers staying with me when they weren't in college." About a year later she bid on an expediter/dispatching job, and the foreman told her "I would be taking away a man's job that has to support their family, and I said, 'Well I support my family, I need the job.' And he said no, it's a man's job. He said I'll train you, you'll get married, get pregnant and quit after I've invested all this money in you." She filed a grievance, but the company replied that she wasn't qualified. The experience of blatant discrimination "motivated me to get more involved in the local."
Gornall was a timekeeper and union steward in Building 64 and very active in the timekeepers strike. Later she served for years as Local 618 chief steward for Buildings 63 and 64. After being laid off in the 1980s she became a UE field organizer, international rep., and in 2011 she became Eastern Region president. Ron Flowers says of Gornall, "She did an excellent job of organizing Building 64. She'd call me up and say, 'The boss is doing this and this and this.' And  I'd say, 'Ah, I don't know if we're going to win that one.' And she'd say, 'Oh, I already won it.'"
Another young woman who became a union activist and leader because during the struggles of the 1970s is Lynda Leech, whose name at the time was Lynda Braunns. "I don't remember becoming a militant person, but it seemed like all of a sudden we were just much more aware of our rights."
In 1988 Leech became the second woman to serve as the local's business agent. Besides the battles for wage and workplace equality at GE, she recalls the involvement of women from Locals 618, 506 and other UE District 6 locals (Western Pennsylvania) in the fight for the Equal Rights Amendment (ERA), as well as women's conferences organized by the district. On the initiative of women in locals in the Pittsburgh area as well as Erie, District 6 sent busloads of members to demonstrations for the ERA in Washington and in Richmond, VA when that state was considering ratification. (The ERA, guaranteeing equal rights for women, was passed by Congress and ratified by 35 state legislatures, but 38 were needed for it to become part of the Constitution. It was the major women's rights legislative battle of the '70s.)
Leech became a District 6 delegate in 1977 and remembers some "terrible fights" at district council meetings over ERA and abortion rights, with some older men from 506 and a few other locals in opposition. "I think that's when we started to get pretty vocal."
SURVIVAL AND SOLIDARITY
In the late 1970s a ruling against GE by the Equal Employment Opportunity Commission (EEOC) forced GE to abandon some of its policies that kept women from moving into the higher paying jobs. The company was also required to give upgrades and issue checks to a number of women workers who had experienced job discrimination, although the back pay did not fully compensate them for lost wages. Through persistent hammering by the local officers with the support of the members, the local finally won a job posting procedure that got rid of loopholes GE had used to mask its discrimination and keep women trapped in low-paying jobs.
"Too bad it happened as late as it did," says Dee Engel, because around the time Local 618 was winning these victories, it began losing jobs. "Here comes the computers," remembers Flowers, which changed job duties but also automated many salary positions out of existence. "The computers were the death of Local 618," he says, along with the company reconfiguring jobs and then transferring them to management people.
Local 618 brought a massive case before the National Labor Relations Board (NLRB) charging GE with systematically eroding the bargaining unit by giving the local's work to management personnel. Officers, stewards and members of the local compiled a ton of compelling evidence, and after months of investigation by NLRB agents, Flowers and Engel remember a high-ranking labor board official telling them that, while the company had probably unjustly taken 350-450 jobs from the union, the case was too big for the NLRB to handle, and was therefore being dismissed.
Local 618 now has just 22 members. But it's still a feisty union, with women in leadership, and along with other GE workers, it is gearing up for this year's contract negotiations with GE.
The struggles led by young women in Local 618 also helped change Local 506. No woman had served on the production local's executive board from the 1950s until 1981, when the late Kitzie Schumacher was elected to the Local 506 board. In 1974 she had been one of the young women in Local 618 who struck the 18-10 stockroom.
There was always a lot of mutual support between the two locals. Deb Gornall credits the late Tom Brown, longtime Local 506 chief steward of Building 64 as her "mentor." Sandy Stewart says, "I was trained by the best," and in particular credits two Local 506 chief stewards – Jimmy Nelson in Building 63 (who was later president of the local) and Whitey Dobrowolski in Building 18 – for helping to train her. "These were guys that were giving me information, they looked out for me, they would tell me right from wrong, what the company could do to me and what they couldn't do to me, and that's all I needed. I met some beautiful people out there, and they helped me along the way."
While a number of members of 506 honored Local 618's picket lines in its 1970s strikes, the local had fairly conservative leaders who did not organize a plantwide walkout in support of Local 618 women. They also failed to take out the entire plant when their own young members in Building 12 struck over grievances. But that began to change as a result of the young worker activism in both locals. The issue came to a head in late 1985 over a Local 618 strike which a narrow majority of the Local 506 board voted not to support. But at least half the members of 506 honored the picket line. The next Local 506 meeting was "standing room only" in the local's big union hall, and the members voted overwhelmingly for a motion that said, in the future their local would fully support any strike by Local 618. "The members run this union" is more than just a slogan.
Looking back on her years in the union, Karen Anderson, a timekeeper in the 1975 strike and recently retired from GE and as Local 618's president, says she learned early to use creative tactics and arguments when fighting the company. "If you can't get them with the contract, you go around the contract." Of the big fights that the women of Local 618 undertook, she says, "We were a thorn in their side, but we were doing nothing more than sticking up for ourselves."
Deb Gornall believes those struggle brought lasting victories. "It took years and years of grievances and fighting to get equality in the workforce, and I think we did achieve that. People look at women differently today than they did 40 years ago. I think we can keep doing better for our members and the community. If we give up the fight, we are stepping backwards, and we've got to keep pushing forward and gain rights for everybody."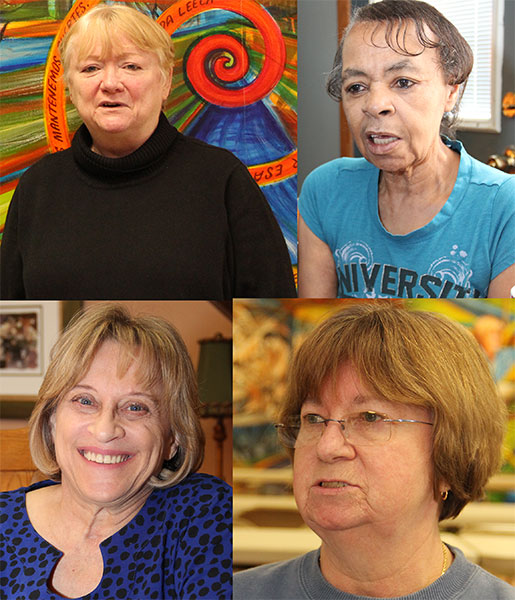 Clockwise from top left: Lynda Leech, Sandy Stewart, Karen Anderson, Deb Gornall.