Northeast Region Hails Women's Leadership, Reviews Tough Bargaining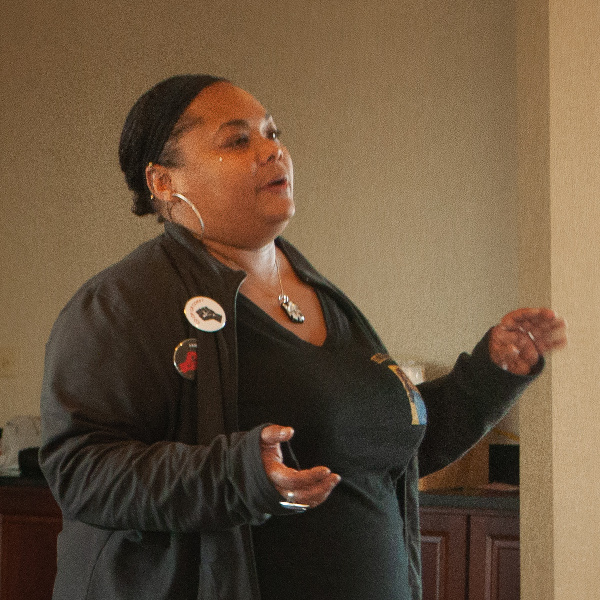 Northeast Region President Autumn Martinez
Welcoming UE local leaders to the Northeast Region council meeting on November 1, Region President Autumn Martinez noted the abundance of strong women leaders in the room. UE locals from across New England reported on contract negotiations and workplace struggles and discussed building cross-local solidarity and the challenges of climate change.
Retired UE General President Peter Knowlton addressed the council meeting on Friday, his first day of retirement. Knowlton reported on the union's recent organizing victories among co-op workers in Madison, Wisconsin and privatized school paraprofessionals in New Jersey, and on current organizing campaigns across the country, from New Hampshire to Texas to California. He also spoke about UE's endorsement of Bernie Sanders for president. In order to win Medicare for All, labor law reform, and other legislation to meet the needs of working people, Knowlton said, we need a president who, like Sanders, will work closely with the trade union movement. Trade unions, he continued, are the only institutions with experience confronting the kind of corporate threats that any president trying to enact positive change will face.
On Friday afternoon, delegates participated in two workshops. Martinez led a workshop on building solidarity between locals, which led to a wide-ranging discussion of how locals could best show up to support each other's struggles. Members discussed the pros and cons of using websites and social media to share information, and how best to mobilize members to support other locals' struggles. Knowlton also led a workshop on UE's constitution.
During Saturday morning's shop reports, most locals reported on recent, current or upcoming negotiations. The biggest win in the new Local 203 contract with City Market in Burlington, Vermont is finally removing the human resources department from the first step of the grievance procedure, reported Kathleen Coonrod. Local 269 President Chris Carey reported that his local, faced with "stacks and stacks of language changes and concessions" proposed by management at the Erving Paper mill in Erving, MA, persevered and won a contract that the members are "very happy" with. Field Organizer Abbie Curtis also reported that new contracts at the Flynn Regional Box Office in Burlington (Local 203) and the NECKA Head Start program in Vermont's Northeast Kingdom (Local 221) both contained significant wage increases.
Other locals reported on difficult, ongoing contract negotiations. Local 255 Vice President Emma Paradis reported that they "haven't been making much progress" in negotiations with Hunger Mountain Co-op, which is trying to change the way they negotiate wages and is offering no raises at all for workers who has been at the co-op more than five years. The local is also trying to address ongoing issues of managers doing bargaining-unit work. Local 255 members are planning to have a "big presence" at the upcoming annual meeting of co-op members.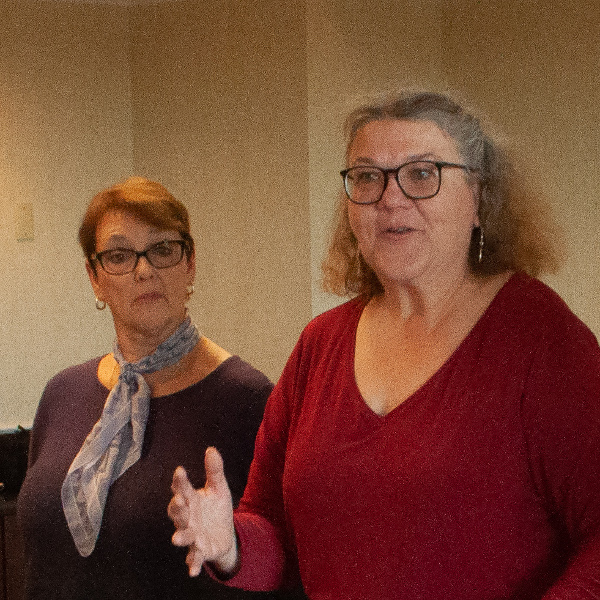 Pam VanWinkle and Margaret Dabrowski, Local 222
Pam VanWinkle of Local 222 Sublocal 88 spoke about difficult ongoing negotiations for paraprofessionals in Branford, CT. Paraprofessionals don't get respect from the board of education, she said, even though "we work with your children, every single day." Local 222 Vice President Margaret Dabrowski reported that her sublocal, which represents dispatchers in New Britain, is facing "horribly rotten proposals" from the employer in negotiations, and a privatization threat.
Local 208, which represents federal contract workers in St. Albans, Vermont, is gearing up for negotiations with a new contractor, said President Kelly Robtoy. Negotiations will be held in Chicago jointly with Locals 1008 and 1118, which represent federal contract workers in California and Chicago. The local recently distributed a survey encouraging workers to evaluate their supervisors and management, which proved very popular with the membership and resulted in a thick folder of evaluations that the local plans to deliver to the new contractor.
Local 222 President Matt Braddon reported that his local, an amalgamated local representing municipal and board of education workers throughout Connecticut, is doing workshops and having "roundtables" to bring together workers such a paraprofessionals from different sublocals and build solidarity. Marie Lausch spoke about the local's efforts to bring more recognition to dispatchers, and Dan Leary reported that his sublocal, which represents municipal workers in New Haven, will be negotiating their contract next July with a new mayor.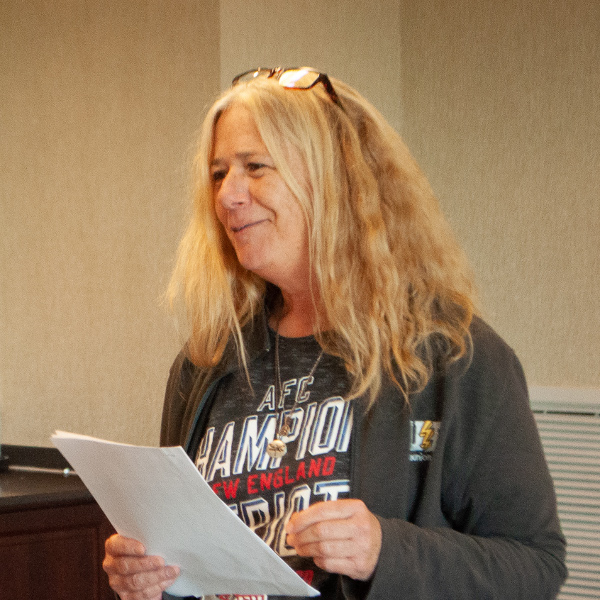 Local 228 President Lori Lavigne
Local 228 President Lori Lavigne and Chief Steward Bill Ladd gave an overview of various issues their local is dealing with at the National Visa Center in Portsmouth, NH. The company is discriminating against union supporters in seniority, said Lavigne, but the local is fighting it. Ladd reported that the local is supporting a transgender member's right to use the bathroom of her choice at work, despite opposition from some in the shop. "We're not backing down on this," said Ladd. "She's not going in there to try to see what you're doing, she's going in there to use the bathroom."
Local 234 members Theresa Pelletier and Elaine O'Hara reported that conditions have improved in their shop since a new plant manager was hired, and that business has picked up. The local is preparing for negotiations next year, when they expect healthcare to be the biggest issue. Local 234, one of the oldest locals in the region, has represented workers who build precision scales for Fairbanks Scales in St. Johnsbury, Vermont since 1945.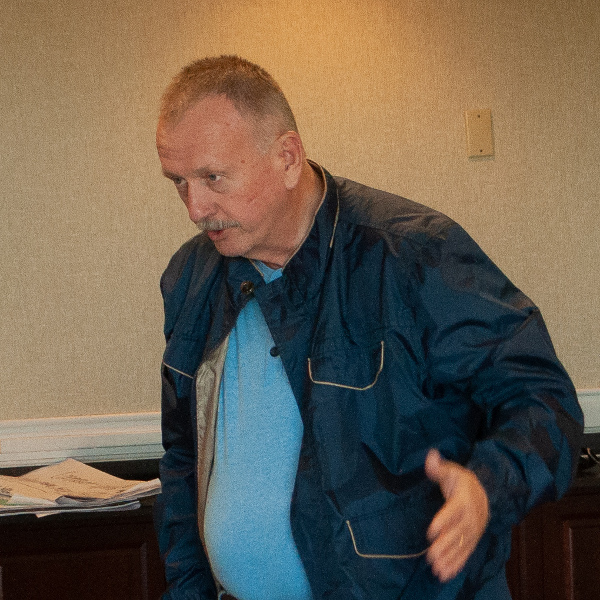 Local 248 President Carl Olsen
Local 248 President Carl Olsen, who will be retiring this year after 42 years with the UE, received a standing ovation after his shop report. Olsen was president of Local 284 at the J.C. Rhodes plant in New Bedford, Massachusetts, and led the fight in the mid-90s to keep that plant open through eminent domain. Although that fight ultimately lost by one vote on the city council, Olsen subsequently got a job at the Old Rochester Regional High School and organized his new co-workers into Local 248.
Local 248 recently settled their contract — the 14th contract Olsen has negotiated, and the "easiest one" he has ever done, because "we did the work" of keeping members informed and engaged, he said. "It takes getting your membership involved," he emphasized.
Olsen said that he was "amazed to see how many women," were at the council meeting and declared, "that's a good thing." He concluded his report by telling other delegates, "I would advise you all please, go back to nurture this union, there's nothing like it."