Local 203 Wins Hazard Pay, Safety Measures Through Workplace and Public Campaign
When the COVID-19 crisis hit, UE Local 203 — which represents grocery workers at the cooperative City Market's two stores — immediately requested to bargain with management over a number of safety measures, along with hazard pay.
Management's response was a paltry wage offer, an outright refusal to bargain over safety measures, and an insistence on not having to follow the contract during the crisis.
Since members were concerned about coming to work and being around each other at all, meetings, rallies and pickets were not an option, and the local had to find other ways to mobilize the membership. The local leadership maintained constant communication with the membership over email and social media. Members wore stickers reading "Our lives are worth more" with the UE Local 203 logo and "Hazard Pay Now," and made signs and posted them all over the stores. They reached out to customers, asking them to fill out customer comment cards in support of workers, and began distributing the general manager's email address and phone line to customers and other members of the community.
"I'm risking my health daily to support my community"
The local also began a wildly successful "photo petition" on social media, distributing "Why I deserve hazard pay" signs to members, having them fill in the blank space with their personal story, and then posting photos of the UE members holding their speakout signs on the local's Facebook page.
Members used their photo petitions to remind management and the community that they were risking not only their own health, but the health of their families, to provide an essential service to their community. They shared how floor workers were unable to practice social distancing, how hard they were working as customers stocked up on essentials, and that "coop values" should include providing "substantial hazard pay" for essential workers in a time of a "national calamity."
The community responded positively, with thousands of people resharing the photos. Some of the posts were seen over 120,000 times — this in a metropolitan area of just over 200,000 people. Even members of middle management encouraged union members to do more, telling them that the pressure was working.
Workplace and Public Campaign Bears Fruit
On March 30, the union reached an agreement with management to implement hazard pay of $3/hour through May 2, and retroactive for the previous two weeks, with an opportunity to re-open negotiations at the end of April if the state of Vermont was still in a state of emergency. "This was a hard won battle," the local posted on their Facebook page [1], "and we acknowledge the collective power we hold as both democratic union members and an organized co-op community that made this agreement happen with the success that it did." They noted that their settlement was above the $2/hour average being offered to most grocery workers — "that is the power of a union being displayed."
Although management refused to formally bargain over safety procedures, they implemented virtually every measure that the union demanded, including protective shields for workers, limiting store hours, markers for social distancing, and changes to the bulk department to prevent customers from touching food. Management is now providing assistance and guidance to workers on how to approach customers who are not observing social distancing — and has hired a security firm to assist in cases where customers refuse to comply and need to be escorted out of the store. The local has also fought for, and won, restrictions on how many customers can be in the stores at the same time.
On April 28, three hours of additional bargaining produced an extension of hazard pay through mid-May and an extra 15-minute break for employees working over six hours in a shift, in addition to the existing 30- and 15-minute breaks, to help alleviate the stress of wearing a mask and working in crisis conditions. On May 20, the memorandum of understanding was extended through June 13.
Solidarity With All Workers on May Day
On May 1, Local 203 joined other unions and worker organizations to celebrate International Workers' Day with a "car rally" and caravan. Hundreds of people came together — with appropriate social distancing, staying in their own cars — to show solidarity among all the working people impacted by the COVID-19 crisis, including grocery store workers, healthcare workers, farmworkers, teachers, and tenants.
Local 203 Financial Secretary Andy Decelles addressed the rally, which was held in the parking lot of a shopping center, with the audio being broadcast over Zoom so that attendees could listen on their phones in their cars.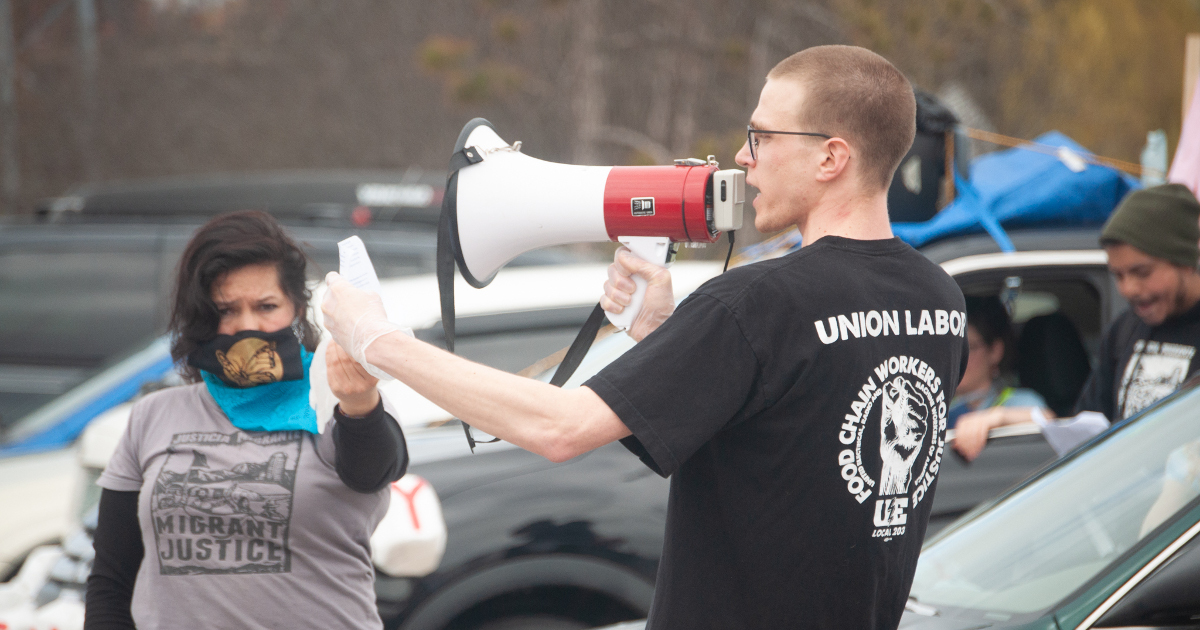 "When the pandemic started, City Market management made no effort to involve the union in pandemic planning," Decelles said. "We had to fight for hazard pay and PPE and social distancing measures. With the overwhelming support of the Burlington community, we were able to force management's hand on hazard pay with a successful social media campaign. We demanded that the risks that we were subjected to coming to work everyday be recognized, and were able to negotiate a $3.00 per hour hazard pay bonus for our membership."
Following the rally, the cars drove in a slow caravan through Burlington, passing by workplaces including City Market's downtown store, to show solidarity with workers' struggles. "The immense gratitude from community members who see the value in our labor is hard to describe," said Local 203 steward Meaghan Diffenderfer, who took part in the caravan. "We take so much pride in being able to serve our community, especially in times of crisis like we are currently facing. It was a simple gesture that left many hearts full. In times like these it's imperative to stick together, and we are humbled that our community is working with us to set that precedent."
The caravan also passed by the offices of one of the largest landlords in the city, to support the Burlington Tenants Union's demand for a rent reprieve during the pandemic, and culminated with a second in-car rally at the supermarket Hannaford. Migrant Justice, an organization of farmworkers on Vermont's dairy farms and the lead organizer of the rally, is demanding that Hannaford agree to a "Milk with Dignity" contract which would ensure that worker rights are respected on the farms that supply their milk.
More photos and video
More photos from the Local 203 photo petition, and photos from the May Day car caravan, are available on Local 203's Facebook page [2].
Watch Local 203 Financial Secretary Andy Decelles discuss Local 203's campaign on a video meeting, "Putting Workers First: Organizing in the Pandemic," hosted by the Champlain Valley DSA: