UE Campus Workers Demand Safe Jobs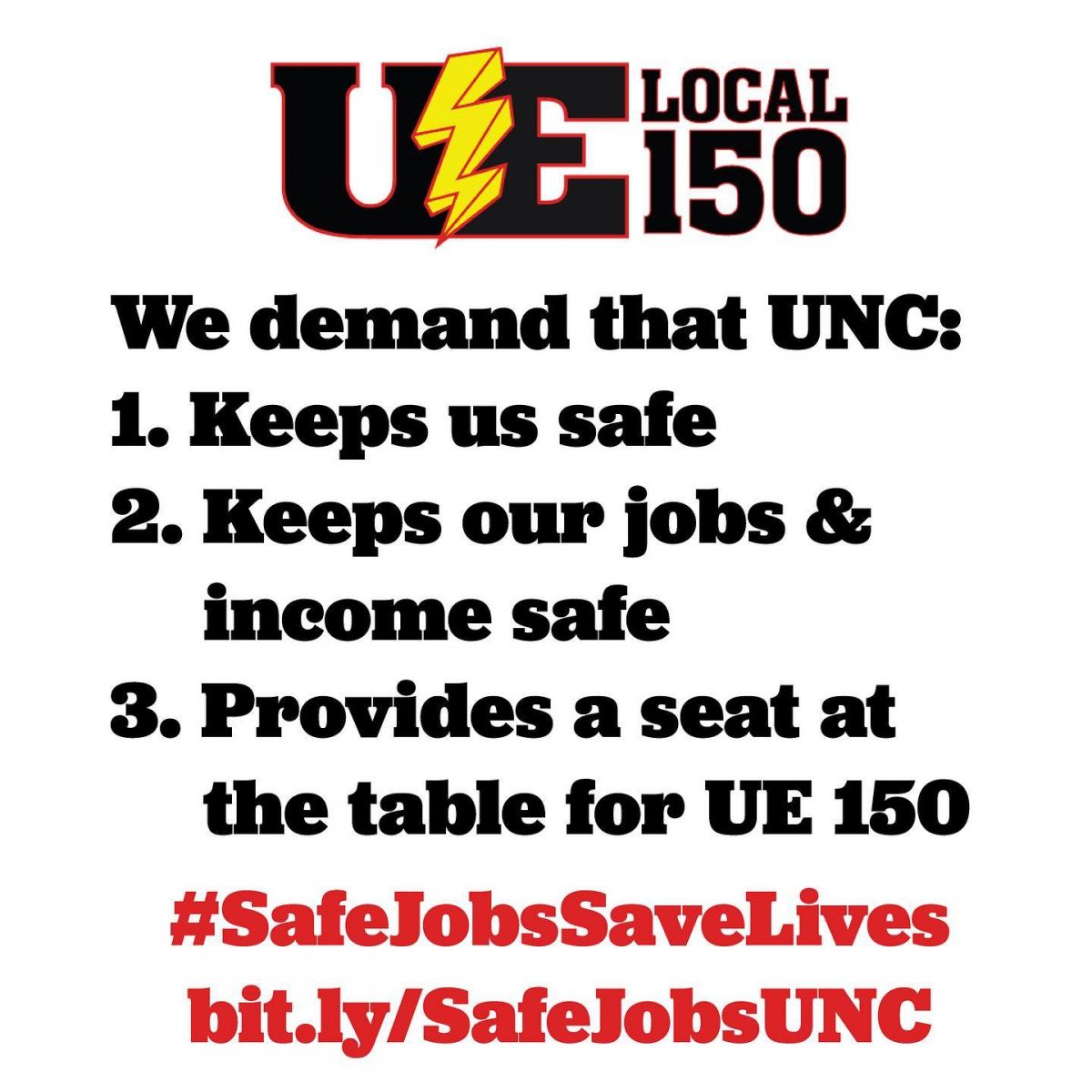 As colleges and universities around the country announce plans for re-opening in the fall, UE members who work on their campuses are expressing concerns that they are being treated like disposable plastic gloves and paper masks, by institutions more interested in making money than protecting workers' health.
The Workers Union at UNC, a chapter of UE Local 150, has collected hundreds of signatures on a petition [1] demanding that UNC/Chapel Hill keep workers safe, protect their jobs and income, and meet with union leaders. They are also joining with the American Association of University Professors to sponsor a virtual town hall meeting [2] next week to hear the voices of campus workers and lay out collective demands. They note that:
Despite the steady rise of laboratory-confirmed cases and hospitalizations, the efforts to stop the coronavirus's spread at UNC-Chapel Hill have either stalled or gone backward. The university has rolled back hazard pay and compensatory time for mandatory employees. Administrative leave has been rolled back, leaving hundreds of temporary employees with severely reduced or no pay, and permanent employees required to use up to 26+ hours of leave per week. Additionally, protective equipment remains rationed with employees being required to reuse disposable masks for long periods of time up to a week.

These policy failures inevitably fall hardest on Black and Brown workers' shoulders, putting them at risk during a pandemic that disproportionately impacts their health.
At the College of William and Mary in Virginia, the William and Mary Workers' Union/UE Local 160 sent a similar list of demands [3] to their administration. Union leader James Rick told WY Daily [4], "For people who had to come on campus, they're being asked to do the exact opposite sometimes of what the scientific experts and authorities are telling us to do. And it's for the sake of our employment, something we don't necessarily have control over. People have to stay employed but they're weighing that against keeping yourself healthy."
At the University of Iowa, UE Local 896/COGS Vice President Caleb Klipowicz penned a letter to the editor [5] of local weekly Little Village, pointing out that:
After shouldering an enormous load of the work transitioning the UI to online-only instruction last spring, graduate workers are now told to come back to the classroom without adequate plans in place for our safety. ... [W]hile UI admins expect students to simply comply with PPE requirements, it will be up to TAs to enforce these policies in the classroom and to handle students who refuse to do so. All this extra work comes without additional pay and on top of the assumption that graduate workers will fill the gaps made by layoffs and budget cuts elsewhere.