Local 150 Fights for Safe Jobs on Campus As NC Universities Reopen
As the University of North Carolina-Chapel Hill's decision to move all undergraduate classes online made national headlines in August, UE Local 150's UNC-Chapel Hill chapter issued a powerful statement [1], declaring that "What we have learned from this is that front line essential workers know what is needed to run the university safely and should be listened to."
UE Local 150 members across the UNC system have been fighting to protect the health, safety, and jobs of campus workers since the campus reopening was announced in May — collecting and delivering petitions, holding rallies and marches, building coalitions with faculty and students, speaking to the press, and joining a class-action lawsuit.
"Our needs and concerns are not being met"
The local joined forces with the American Association of University Professors, which represents faculty, to form the Workers of UNC [2] coalition. On July 16, they held a "University Workers COVID Town Hall" webinar with testimony from 18 workers, faculty and students across six UNC system campuses.
Local 150 Vice President Sekia Royall chaired the event, which was streamed live over Facebook and has garnered over 3,000 views (the video can be viewed on Local 150's Facebook page [3]). In addition to members of university communities across the state, a number of state representatives joined the town hall.
Royall denounced the fact that university administrators "Have done nothing to hear the systematic input from our front line essential campus workers amid this COVID-19 disaster. In fact, they have done everything to ignore our voices." This is, Royall charged, a "reflection of institutional racism" in both the university and society more broadly. "To this we say: Safe Jobs Save Lives, Black Lives Matter, Latinx Lives Matter."
Royall also noted that administrators have no real plan to keep university communities safe, that they "would rather prioritize making money off the football and sports programs than protecting the lives of our workers and students. They'd rather make money off of selling rent in the dorms than keeping workers safe and students safe."
The Town Hall was organized around four broad themes: keeping campus workers safe, keeping workers' jobs and income safe, ending institutional racism, and giving UE Local 150 and AAUP a seat at the table to make sure safety measures are put into place properly.
Tracy Harter, UNC-Chapel Hill housekeeper, said that "What really bothers a lot of us is the lack of transparency." She related how she had heard on the news that several UNC football players had tested positive for COVID-19 — and then when she arrived at work, discovering that her co-workers who were assigned to the building where those players were living had not been told. She said this illustrates the importance of UNC granting Local 150 a seat at the table. "How else are we going to know anything? Because you're not telling us."
Lakisha Morgan, who works at NC State University, spoke of the economic insecurity forcing many workers to come to work, despite not feeling safe. "No one can afford not to get paid. No one can afford not to feed their kids, not to feed their families. We need to be protected as well as protecting the students." She described herself as "frustrated" that workers' voices were not being heard by the administration. "Our needs and concerns are not being met."
NC Central University housekeeper Crystal Biscoe decried the fact that while workers continue to show up for work, management isn't doing their part to protect workers. "We have to buy our own [masks], they're not providing any masks for us. As an essential worker, I need a protective mask, that's part of my job. I think that's something that should be provided for us."
Andrew Freedman, a graduate worker at NC State University, said "It is not if people get sick and die when we reopen, but when. There is no acceptable number of dead. We know that the proper decision is to go online now."  He noted that graduate workers' $8,000/year salaries were well below the "living wage" in Wake County ($27,000 per year), and even less after the $2600 they pay annually in student fees are deducted, forcing graduate workers to "Weigh economic welfare with health on a daily basis."
Mo Kessler, a graduate worker at Western Carolina University said "I'm currently just in this grieving process of how epically the system has let us all down. … I couldn't have imagined the scale in which this system has proven to us how disposable we are in their eyes. It's heartbreaking every day." She noted that WCU, located in the extreme southwestern corner of the state, is in a rural area where "Everybody comes in contact with this university" and the healthcare system, like most healthcare systems in rural areas, is underfunded and already stretched to the limit. "We are overwhelmed when we get the flu that comes through."
NC Central University housekeeper Jeff Eaddy called the administration's attitude towards workers "disgraceful, shameful, hurtful" and noted that "The only care that we have gotten, the only care that's been shown to us is the care that we've shown to one another, through organizing."
Larry Tucker, a maintenance technician at NC Central University, emphasized the importance of "effective and open communication," stating that "There is no clearer way for a person to tell you that they don't care anything about you than to not hear you out." Like other speakers, he noted that many UNC workers are Spanish- or French-speaking, but the administration makes little attempt to communicate rules and procedures to workers in their own languages.
UNC-Chapel Hill graduate worker Pavel Nitchovski said that "What we can confidently say is that the administration committed itself to re-opening the school before any of the necessary steps were in place to make sure this happened safely. They did this so they can keep tuition prices high and profit margins wide." 
The town hall also heard from students and faculty.
Chiamaka Okonkwo, a graduate student at UNC-Charlotte said "it is unfathomable to me why our campus leaders are not doing all that can be done to protect our workers." Hanna Wondmagegn, a student at UNC-Chapel Hill addressed the concern that she and other students of color have that punishment for lack of wearing masks or social distancing will be racially biased. "In addition to having to deal with institutional racism at UNC, … we have to also prepare for these rules or enforcements to be disproportionately enacted."
Katie Mack, an Assistant Professor of Physics at NC State University, said that "It really doesn't appear possible to safely carry out a return of students to campus in the situation we're in now. Based on the plans that I've seen ... it doesn't appear that the proper care is being taken, and it doesn't appear that the trade-offs are really being openly discussed." John Cox, president of AAUP at UNC-Charlotte said that "Our universities are run by people who get paid a half a million dollars, who never even step down out of their offices to say hi to any students" and contrasted that with the close relationship many front line workers have with students.
Other Local 150 members speaking at the town hall meeting were Jermany Alston, a housekeeper at UNC-Chapel Hill, David Branagan, a groundskeeper at UNC-Chapel Hill, Robert Cooke, a facilities maintenance worker at UNC-Charlotte, and Rex Kearney, a housekeeper at UNC-Charlotte. El Perry, an Eastern Carolina University student and co-chair of the Young Democratic Socialists of America at ECU, and Jay Smith, AAUP Vice President at UNC-Chapel Hill, also spoke.
"It's not just about the students, it's about the workers"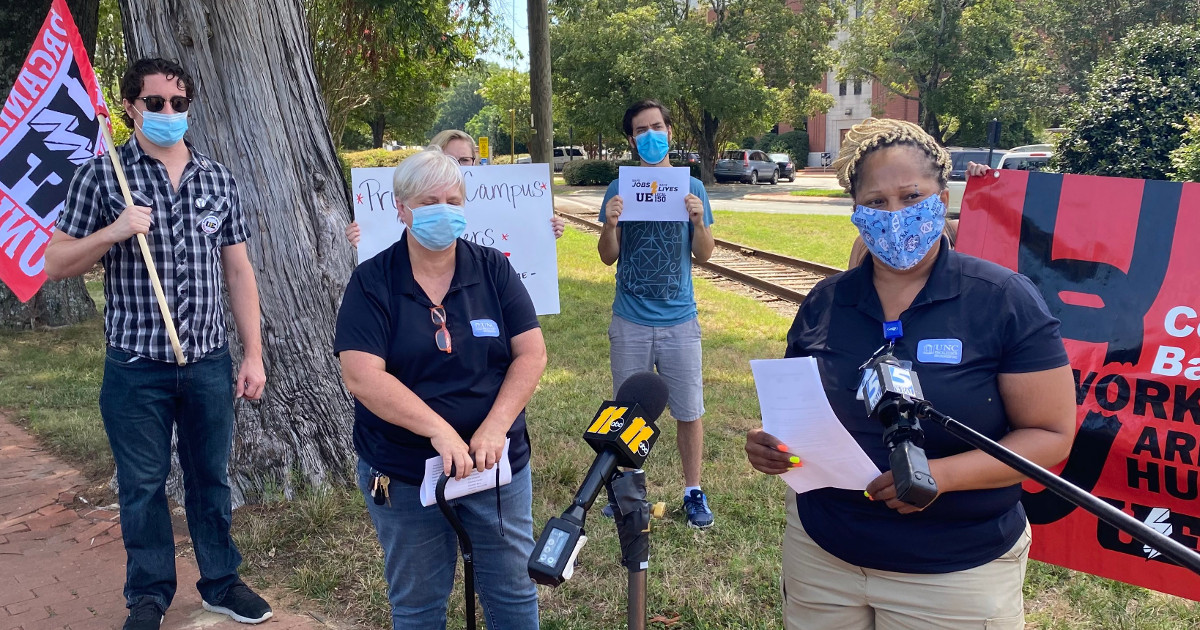 UNC-Chapel Hill Housekeepers Tracy Harter (left) and Penny Elliot (at mic) speak to the press on July 22.
The following week, Local 150 began a series of mobilizations. On July 22, UNC-Chapel Hill housekeepers delivered a petition with signatures from over 300 campus workers and supporters to the facilities department, demanding clear written protocols and consistent policies for dealing with COVID-19 cases, adequate protective equipment, additional sick leave and funding for child care and transportation, and a seat at the table for the union in each department to ensure safety measures.
"It's not just about the students, it's about the workers," Penny Elliott, Local 150 member and UNC-Chapel Hill housekeeper crew leader, told ABC 11 [4]. "I think that is what's getting mixed around that the university is concerned with the students' health but they're not concerned with the workers' health."
Two days later, the NCSU Graduate Worker Union chapter held a march to their chancellor's office to present demands, and on August 5 NC State housekeepers presented a petition with demands including more personal protective equipment (PPE), hazard pay of 25 percent, full administrative and sick leave in case of infection or exposure to COVID-19, and translation of all documents into Spanish, French and all languages spoken by workers.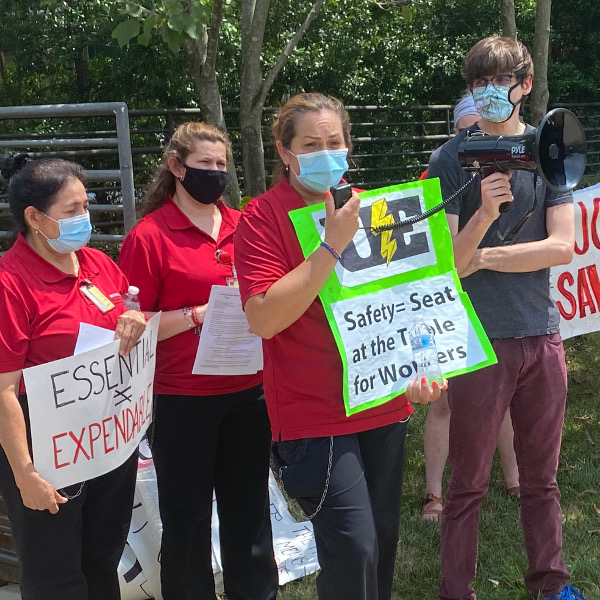 North Carolina State University housekeeper Maria Marisol Ruiz speaks to the press on August 5.
After the rally, Spectrum news followed housekeeper Maria Marisol Ruiz around public areas in the dorms on her lunch break. Ruiz described her fears of having a family and young kids at her house which could become sick with the coronavirus if she brings it home.
On August 6, after learning that health officials in Orange County (where UNC-Chapel Hill is located) sent "a remarkably detailed and grave letter of warning" to the university, warning of the risk to the community if students return without adequate or appropriate planning, Local 150 and AAUP sent a memo to county health directors from college communities across the state, urging them to order universities to close for normal business "until such time as students, faculty and staff can return safely to their work."
"Something needs to be done"
On August 10, Local 150 members filed a class-action lawsuit against the UNC system. Local 150 steward Jermany Alston, a UNC-Chapel Hill housekeeper, is one of the lead plaintiffs in the lawsuit.
Alston said "We bring UNC the concerns and the administrators say they're going to fix it, but nothing ever comes of it. It gets swept under the rug. Workers are scared to complain and of what's going to happen to their health. UNC doesn't care about us; they just want us to be here to work. How do they expect us to feel? It's wrong, to be honest. UNC doesn't care about us but we are here helping them out, and we could put our families in jeopardy. It's sad. Something needs to be done one way or another."
The lawsuit asks the court to require that the UNC System "fulfill its non-delegable duty to provide conditions of employment and a place of employment free of hazards that are likely to cause serious harm, even death, to employees."
Attorney Gary Shipman, a former member of the UNC Wilmington Board of Trustees, agreed to take the case without charging. According to Shipman, the universities have a duty to protect their employees from risks like the coronavirus pandemic, but instead they are putting that duty on the staff, faculty, and students by handing out cleaning supplies, masks, and hand sanitizer. 
Reflecting UE's commitment to aggressive struggle [5], rather that relying solely on legal avenues, the local emphasized in an announcement of the lawsuit, "This is only one tool in our toolbox. We must not let this slow down or stop our actions and organizing!"
National Coverage
In addition to regular coverage in local media, Local 150's campaign has drawn national press coverage. The UNC-Chapel Hill chapter's August 3 move-in day rally was covered in the Washington Post [6] and Grace Ullman, president of the NCSU Graduate Worker Union, was quoted in the Post article "Colleges Weigh Transparency Versus Privacy" [7] later in August.
When UNC-Chapel Hill announced the cancellation of classes on August 17, the Chronicle of Higher Education (the paper of record for higher education in the U.S.) noted in their daily email briefing that "students, staff and faculty members, and others in the community have for weeks been advocating for a remote fall semester. Members of UE Local 150, the union of public-service workers in the state, and North Carolina members of the American Association of University Professors sued UNC, saying that because of the pandemic, they should not be required to return."
This was followed up by an August 19 article in the Chronicle, "How Covid-19 United the Higher-Ed Work Force," [8] which points to Local 150's work in North Carolina as a continuation of early "wall-to-wall" organizing in higher education that "reflected a sense that the fates of all workers at a university were interconnected." It notes that many higher education unions are following Local 150's example and "consciously taking a big-tent approach in organizing drives."
"It will be up to us — the workers of UNC"
Local 150 is continuing to organize and mobilize campus workers to demand safe jobs. On August 18, housekeepers at NC Central University delivered a petition demanding safer working conditions and hazard pay at the historically Black university. Jeff Eaddy, who led the delegation delivering the petition, noted that "The entire housekeeping staff is of brown and Black people. We are disproportionately affected with these things because, you know, we are the ones who are doing the job. And a lot of the time, we have to do the job by necessity. We have to go to work."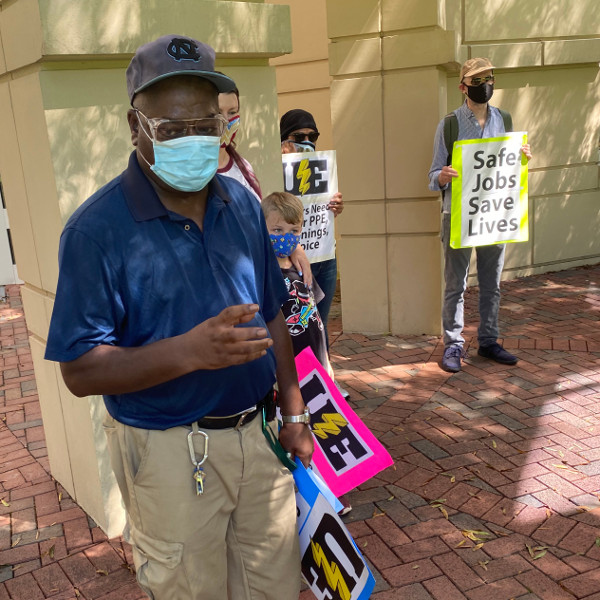 ​Robert Cooke speaks to crowd on September 3 as UNC-Charlotte workers become the fourth group of UNC workers to organize with Local 150.
Since the semester began, workers have been holding coordinated weekly actions on Thursdays, and on September 3 workers at UNC-Charlotte became the fourth group of UNC workers to organize with Local 150, circulate petitions, deliver letters to management and speak out to the news media.
As the Workers Union @ UNC statement released after UNC-Chapel Hill moved to online classes states, "In the coming months and years it will be up to us — the workers of UNC — to stand up against the lies that will be shoveled our way, to organize in the face of concentrated opposition, and to protect and defend our jobs, our health, and our safety. The only way we can do this is if we come together to demand significant increases in state funding from the legislature, an end to right-to-work laws and the Jim Crow era ban on public sector collective bargaining in the state of North Carolina, a guarantee to safe, secure, and well-paying jobs, and a removal of the reactionary Board of Governors."