Hard-Won First Contract Will Bring Raises, Respect for NJ Paraprofessionals
Winning a first contract is hard enough in normal times, but for the almost 200 paraprofessionals of UE Local 119 it meant persevering through both an unprecedented pandemic and a nerve-wracking annual bidding process which their employer had to win in order for their contract to go into effect.
Local 119 members work for ESS, a private contractor for the Winslow School District. They are teacher assistants, one-on-one aides for students with disabilities, bus aides, and before and after school aides. ESS workers organized with UE last September in order to achieve fair wage increases, improved benefits, and better working conditions.
The new UE contract gives paraprofessionals just cause, a grievance procedure, seniority rights, job bidding rights, and job security from school year to school year — before they organized, ESS workers wouldn't know if they had a job from year to year until the employer send them an "offer" letter, usually in August.
After years of no raises, UE members will get between 8.7 and 18.18 percent raises in the first year and a 4 percent raise in the second year. The union also negotiated a 3½ percent raise retroactive to February, and a paid training day and other paid time off (ESS workers previously had no paid days off).
A Complicated Situation
As privatized paraprofessionals, Local 119 members faced a more complicated bargaining situation than either directly-employed school district employees or most private-sector workers. Although they were bargaining with their employer, ESS, the ultimate decisions about their fate were in the hands of the school district, which requires ESS to submit new bids every year in order to renew the company's contract.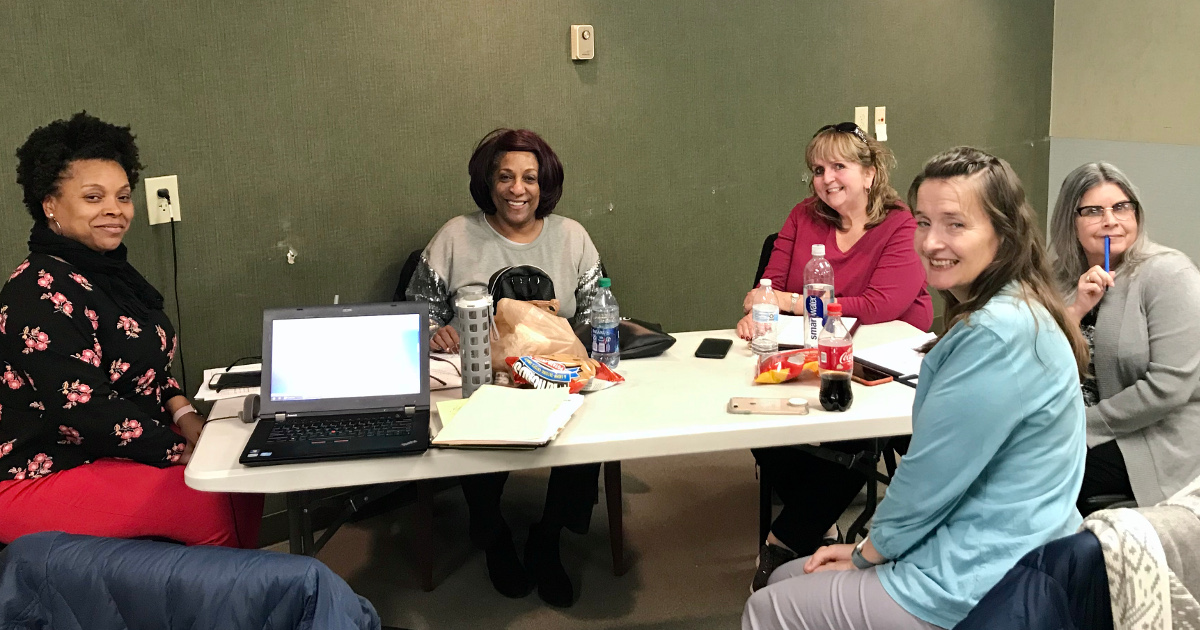 The Local 119 negotiating committee. Left to right: Brookli Potts, Sheila Wanzer, Marilyn Blaney, Susan Madden, Teresa Francesconi (photo taken before pandemic).
During bargaining, the company kept insisting they wouldn't give any guarantees, and wanted to make every aspect of the contract dependent on school district funding. On the other hand, the school district would not directly discuss bargaining with the union.
Despite being given the runaround by both ESS and the school district, Local 119 members regularly attended school board meetings with signs demanding fair wages, and spoke out during the public comment period. They wore buttons at work, met with the mayor, and began collecting postcards from parents and community members. As bargaining reached its later stages, the local began holding meetings in each school to talk with members about the possibility of a strike.
Bargaining Moves Online
Then came the COVID-19 pandemic. Although the workers were all laid off when New Jersey schools closed, negotiations continued via Zoom video conferencing, and the local continued to keep members engaged through Zoom meetings, emails and text messages — and continuing to "attend" school board meetings when those moved online.
All the pressure paid off. When the school district put out the request for bids for the 2020-21 school year, they indicated they were willing to fund significant raises, and the contract was settled with language committing ESS to include full funding of the contract in their bid.
"We are just so excited to be a part of the UE"
After winning a tentative agreement from the company, Local 119 faced another hurdle — the school district board of education needed to vote to give ESS the contract for the coming year. The board approved ESS's contract on June 24, so when Local 119 members return to work, once schools physically reopen in the district, they will be working under a UE contract.
As the UE NEWS goes to print, the Winslow schools have not yet reopened, so Local 119 members haven't yet had the opportunity to enjoy most of the fruits of their struggle. Workers did receive back pay for the retroactive raises applied to the work they did between February and when the pandemic shut down the schools.
Nonetheless, negotiating committee member Brookli Potts told the UE Eastern Region council meeting in July after being presented with a new charter, "We are just so excited to be a part of the UE. We really went through a rough period of them ignoring us and not wanting to be held accountable for the ill-treatment of their workers."
The negotiating committee consisted of Marilyn Blaney, Teresa Francesconi, Susan Madden, Brookli Potts and Sheila Wanzer. They were assisted by International Representative Tara McCauley.