New Local 155 Contract at Stepan Includes Gains, Reverses Previous Givebacks
UE Local 155 members who work at the Stepan Company plant in Fieldsboro ratified a new three-year contract in mid-November that improves time off, clarifies job descriptions, and addresses a number of issues caused by short-staffing.
The vast majority of the workers in the plant work 12-hour shifts and the new contract increases their holiday, bereavement and jury duty pay from 8 to 12 hours. The contract also provides two new paid sick days, a product of a recent New Jersey law which mandates that employers provide at least five paid sick days. The Stepan workers will receive the two new days in addition to their existing three personal days.
The local's previous round of negotiations with Stepan had been difficult and contentious, and Chief Steward Paul Paradise noted that "We regained some of the things that were taken from us in our last negotiations." Negotiating committee member Jeff Thomas agreed, calling this round of negotiations "a better bargaining experience than last time."
Chief among these were job classifications. In the previous contract, management had insisted on combining a number of jobs; union grievances led to more reasonable requirements for a lab technician position and the creation of a new lead millwright / industrial maintenance mechanic position in the new contract, as well as clarifying other job descriptions.
The new contract also modifies the "blank check" to contract out maintenance work that the company extracted in the last contract. It sets up a process for the union and the company to meet regularly to review subcontracting with the aim of bringing work back into the bargaining unit.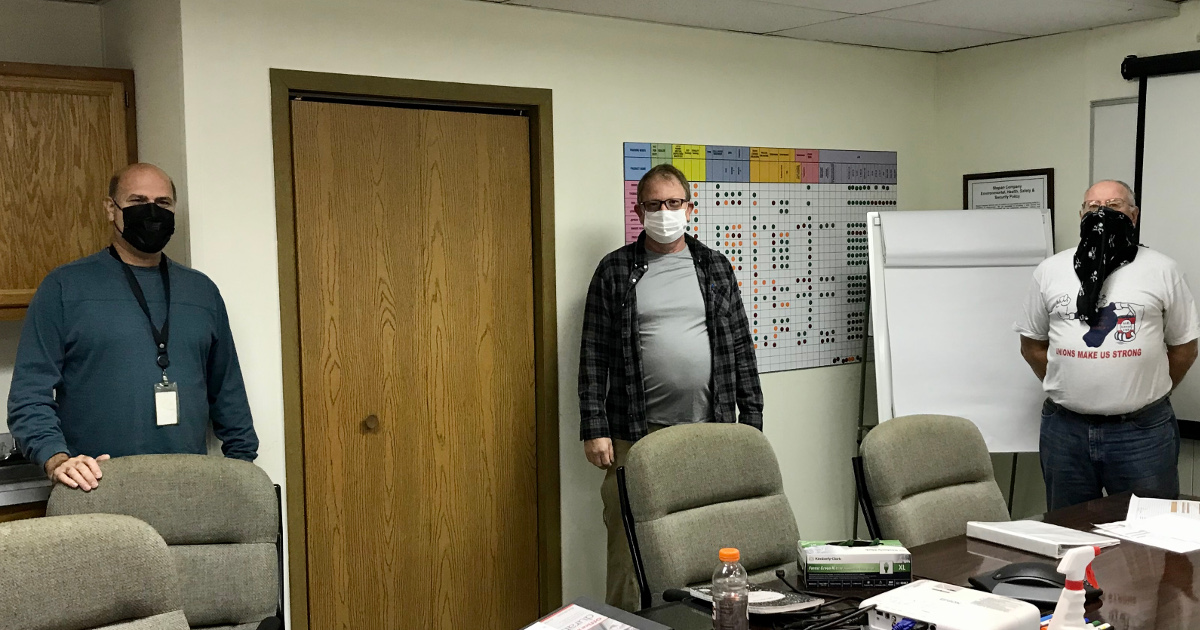 The Local 155 Stepan bargaining committee. Left to right: Paul Paradise, John Slaight, Jeff Thomas.
The union won paid "turnover time" at the beginning of shifts. Previously, workers had been expected to show up 15 minutes prior to their shift to communicate with the previous shift worker; this will now be paid time.
The new contract also includes provisions to protect workers against being involuntarily scheduled for mandatory overtime on their days off, and to ensure adequate rest for on-call maintenance workers when they are called in outside of their regular schedule.
Wages will increase 2.5 percent each year of the contract, with the schedule premium received by 12-hour workers increasing from $1.60 to $1.80 per hour over the life of the contract. Mechanics and the new lead millwright position (who work regular shifts and do not receive a schedule premium) will receive three and four percent increases in the first year, respectively.
Workers will also receive a $1,000 bonus after ratifying the contract. Short-term disability was improved, and the period for new hires to reach regular pay rates was reduced from three to two years.
The Fieldsboro plant is a sister shop to the Stepan plant in Anaheim, California, where workers have been members of UE Local 1421 for more than half a century. The New Jersey Stepan workers organized in 2005, and Paradise said that in this contract, "We got some of the same language as our UE brothers in Anaheim to give our contracts more teeth."
During negotiations, the committee regularly communicated with the membership, keeping them informed and soliciting feedback. The negotiating committee consisted of Paradise, Thomas, and John Slaight. They were assisted by International Representative Tara McCauley.