UE Fought for Child Care as "Infrastructure" as Far Back as WWII
In their attacks on President Biden's much-needed proposals to invest in physical and human infrastructure, the American Jobs Plan and the American Families Plan, many Republican politicians have derided applying the term "infrastructure" to programs that support working families. They dismiss child care, elder care and paid family leave as "liberal social programs" as opposed to the "real infrastructure" of buildings, roads, and bridges.
The experience of UE members during World War II, when millions of women took jobs in manufacturing, tells a different story. Pushed by UE and other CIO unions, Congress included funding for child care centers in the "Defense Public Works law of 1941," or Lanham Act. Pressing Congress to maintain this funding was one of the key priorities for UE political action throughout the early 1940s.
Katherine Beecher, the education director of the UE Women's Auxiliary, made the explicit connection between availability of child care and the ability of women war workers to do their jobs in a 1944 UE NEWS article entitled "Give Them A Chance to Do Their Jobs Right!"
Before they went to work in a war plant, most women already had full-time jobs—taking care of homes and children. Once in a war plant they had two jobs, and signs are increasing daily that after the super-human efforts of many women to do both jobs well, they just can't keep going without plenty of outside help.
The lack of that outside help, Beecher wrote, was hurting the war effort. "At the very time when the demand for women workers is increasing in manpower shortage areas, women are leaving in larger numbers than they are being recruited," and "the paramount problem is child care."
Billie Rogers, a GE worker who represented UE Local 301 at a 1944 New York State Conference of Women Workers, told the UE NEWS that in a questionnaire distributed to all GE women "We found that child care was a very vital matter. It is well known that we need care for children while the mothers work. The answers to the questionnaire proved that we were right."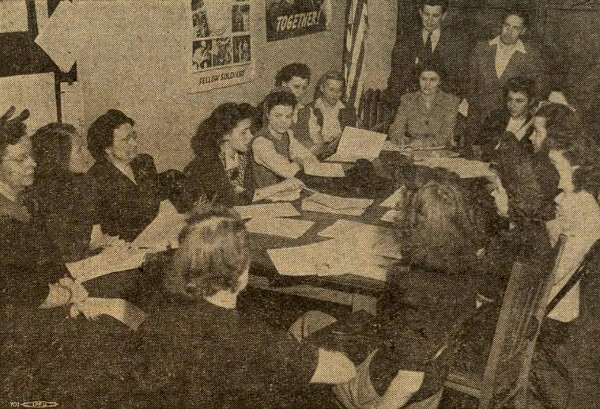 ​UE District 2 Women's Conference planning a child-care program in November 1942
In 1943, the CIO's Congress of Women's Auxiliaries proposed a wide-ranging program of infant care, nursery care, elementary care, youth programs and programs to feed children at all child-care centers. They declared that "We recognize that the care and protection of our children in wartime is a definite duty and responsibility of labor, the community and government" and that "An adequate child program must be made available to every child of working mothers, regardless of race, creed or color."
The funds provided by the Lanham Act, along with additional funding from state and local governments, supported thousands of subsidized child-care centers throughout the duration of WWII, many of them established in cooperation with local unions.
UE and other unions fought for continuation of federally-subsidized child care after the end of the war. But the business counter-attack which curtailed labor rights, blocked progress towards a universal healthcare system, and lifted the price controls that had kept basic necessities affordable for working people during the war, also eliminated the subsidies for child care.
In the 1960s and 1970s, a resurgent feminist movement once again put child care on the agenda, arguing that economic dependence on men keep women from being fully free. Feminists pointed out that child care was a necessary "infrastructure" to allow women to work outside the home if they chose. Some also argued that women who chose to do the work of caring for their own children full-time should receive "wages for housework."
Since the 1970s, the overall decline in workers' wages has made child care a necessity for the vast majority of working-class families. Most two-parent families cannot afford not to have both parents working, and the number of single-parent families has increased.
The lack of affordable child care is also a drag on the overall economy. Recent analysis [1] of Bureau of Labor Statistics employment numbers by Matt Bruenig of the People's Policy Project suggests that lack of affordable child care is the main driver of the decline in net employment growth in April.
Senator Bernie Sanders, one of UE's most reliable allies in Washington, D.C., has been taking up the struggle for child care and other "care infrastructure" by pushing hard to include major investments in healthcare and education in the next major budget bill. The idea that "infrastructure" includes care work is not limited to the Sanders wing of the Democratic Party, however. In December, the Trump Administration's Cybersecurity and Infrastructure Security Agency deemed [2] that child care workers and human service workers should be considered "essential critical infrastructure workers" (though, notably, did not encourage paying them hazard pay during the pandemic, or a living wage).
Anne-Marie Slaughter, of the centrist think tank New America, recently laid out the argument for considering care as infrastructure in an op-ed in the New York Times [3], in which she proposes that we "take at face value that infrastructure are those facilities that are essential for everyone to do their jobs." She recognizes that "men with wives at home to take on the 16-hour-a-day care responsibilities involved in raising children, supporting aged parents or otherwise tending to the sick, those with disabilities and the vulnerable" might not view their wives' unpaid labor as part of the nation's "infrastructure," but continues:
But let's imagine — it's not that hard — a scenario in which those same men didn't have wives at home and yet still wanted to have children, or to ensure that their own parents received love and support in their final years. In that case, they, too, might just find that care facilities were themselves just as "essential" to their ability to do paid work.
UE continues to support robust federal investment in our infrastructure, broadly defined. This must include expanded support for healthcare, child and elder care, and paid family and sick leave. Specifically, the resolution "The Battle for Equal Women's Rights," [4] passed by rank-and-file delegates at UE's 2019 convention, calls upon Congress to "enact a federal paid parental leave program and a high-quality federal day care program" and to "create a subsidized system which does not penalize individuals for providing homecare and which provides a living wage and quality homecare" for those taking care of elders or family members with disabilities.