New E-Book Documents UE-FAT Cross-Border Alliance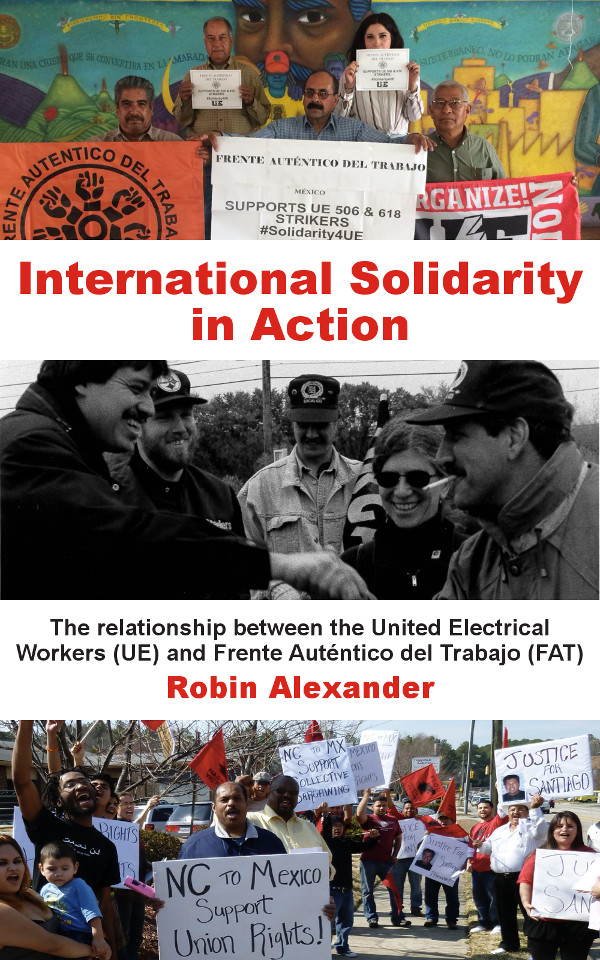 International Solidarity in Action, a new e-book written by UE's retired Director of International Affairs Robin Alexander and published by UE, was released today. It provides an in-depth look at the decades-long relationship between the UE and the Frente Auténtico del Trabajo (FAT), an independent Mexican labor federation.
Get the book [1]
"Corporate globalization has destroyed millions of good jobs in the U.S. through trade deals like NAFTA. Robin Alexander's book demonstrates that the most effective way for workers to fight back is by building links with workers in other countries," said UE General President Carl Rosen. "Her account of our union's alliance with the FAT shows how worker-to-worker exchanges can transform attitudes and lives, and how international solidarity can win real victories for working people."
The book details the origins of UE's relationship with the FAT in the fight against NAFTA, joint UE-FAT campaigns at companies including General Electric, Echlin, and DMI/Metaldyne, and exchanges between public-sector and co-op workers in the U.S. and Mexico. It describes the development of the International Worker Justice Campaign, which brought international attention to North Carolina's denial of collective bargaining rights to public-sector workers. It ends with a description of the historic labor law reform enacted in Mexico in 2019, and the role of international solidarity in winning this critical victory for Mexican workers.
Throughout, Alexander highlights the role played by rank-and-file UE members in building solidarity with their counterparts in Mexico, and the pages are full of the names of local UE leaders from across the country.
International Solidarity in Action has also drawn praise from others around the labor movement.
"At a time when we need global unions perhaps more than we have ever before, the story of the UE-FAT cross-border relationship provides just the inspiration and model needed," said Kate Bronfenbrenner, the Director of Labor Education Research at the Cornell University School of Industrial and Labor Relations.
"Robin Alexander has written what is a political memoir, an analysis of the struggle for militant, democratic unionism in Mexico, and a strong argument for international working class solidarity," said Bill Fletcher, Jr., who addressed UE's 1999 convention. Fletcher is a long-time labor activist and author and former president of the TransAfrica Forum.
"This timely e-book builds up to the story of labor law reform in Mexico, getting there via micro-histories of some of the struggles to win against the corrupt charro unions, worker-to-worker exchanges among UE and FAT members, and cross-border cultural projects," added Ashwini Sukthankar, former coordinator of the International Commission for Labor Rights and former director of global campaigns for UNITE HERE. "Consequently, the reform process really does come across as the culmination of real workers' struggles, and not as an imposition from above, or the technical fiddling of lawyers."
International Solidarity in Action can be downloaded at InternationalSolidarityInAction.org [1]. There is little to no cost*, but UE is asking those who download the book to make a donation to support ongoing solidarity work with the FAT. (*Kindle users will need to pay a 99 cent fee to download the book from Amazon.)