Wisconsin Education Event Focuses on Building Unity in Open Shops
On April 29, 15 members from three different UE locals in Wisconsin met for their subregional education event. Held in the Wisconsin Dells, it was the first in-person gathering of multiple locals in the Western Region since early 2020.
The focus for the event was "Building Unity in an Open Shop." (Wisconsin has been a so-called "right-to-work" state since 2015, when the Republican legislature passed a law barring unions from negotiating contracts requiring that every worker pay their fair share in union dues.)
Members used a checklist to evaluate their local's strength in key practices, such as making effective use of new hire orientations, having materials available that highlight the union's wins, and using lists to keep track of membership and outreach to nonmembers. Sawyer Johnson and David Droster of Local 1186 in Madison shared how their local used list work to increase activism in their workplace during their recent contract campaign. They channeled this energy into signing up new members too.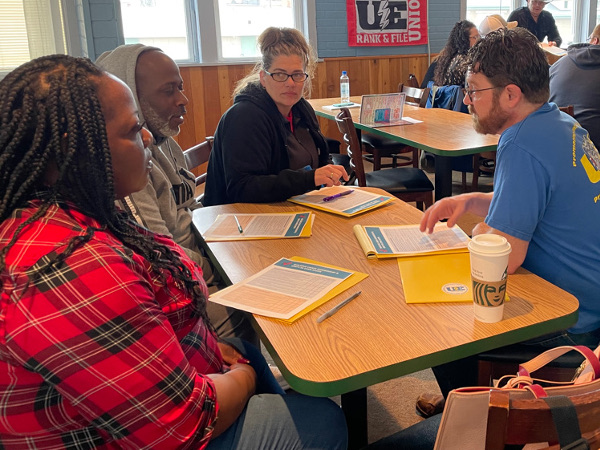 Local 1135 members Alicia Black, James Grant, and Susan Lee (left to right) discuss building unity in their shop with Field Organizer Sean Fulkerson.
Members also practiced having good organizing conversations with several role plays. James Grant, Local 1135 in Milwaukee, demonstrated good listening skills and connecting a new worker with others in the shop. And members discussed how to answer potentially challenging questions from workers who have not yet joined the union.
The group spent some time discussing opportunities for demanding more from bosses through mid-contract bargaining at a moment when all their employers are struggling to hire and retain workers. Members of Local 1107 from ​​Necedah shared information about their generous and flexible time off language, which other workers were keen to get into their own contracts.
Before concluding the day, members made plans for how to follow up on some of the areas they identified for improvement.
Activities were facilitated by Kari Thompson, UE Director of Education, and the event was organized by then-Western Region President Charlene Winchell. Field Organizer Sean Fulkerson participated as well.