UE Members Learn, Make Connections at Southern Workers' School
UE members from several chapters of Local 150, UE's statewide local in North Carolina, and from the Virginia Beach City Workers Union, participated in the Southern Workers Assembly [1] Organizing School over the weekend of April 29 to May 1. The school brought together rank-and-file workers from across the South to assess both growing working-class militancy and the threat to workers posed by right-wing reaction, and to chart a course for building workers assemblies to increase working-class power across the region.
"I came to the school to learn more about the union and the labor movement," said Terry Green, a Water Distribution crew leader in the Virginia Beach Department of Public Utilities and a leader in the UE organizing drive there. "I met people that can be helpful to our organization. The school put me in a setting to really fight for what we want and think about other strategies that we don't run into on a day-to-day basis."
At the school, UE members joined Amazon workers, municipal and education workers, and workers from the domestic, healthcare, manufacturing, meatpacking and service industries. Participants came from Atlanta; New Orleans; Charleston, South Carolina; the Tidewater region and Richmond, Virginia; Charlotte, Raleigh, Durham, Asheville and Eastern North Carolina; northern Kentucky; and elsewhere.
Building Workers Assemblies
In his opening orientation, Ajamu Dillahunt, member of the Southern Workers Assembly Coordinating Committee and a leader of Black Workers for Justice, noted: "We have to take advantage of this moment. As the Black Panther Party said in the 1960's, we have to 'Seize the Time' and build a rank and file led social movement unionism that organizes workplace committees that are connected to each other through Workers Assemblies in multiple Southern cities."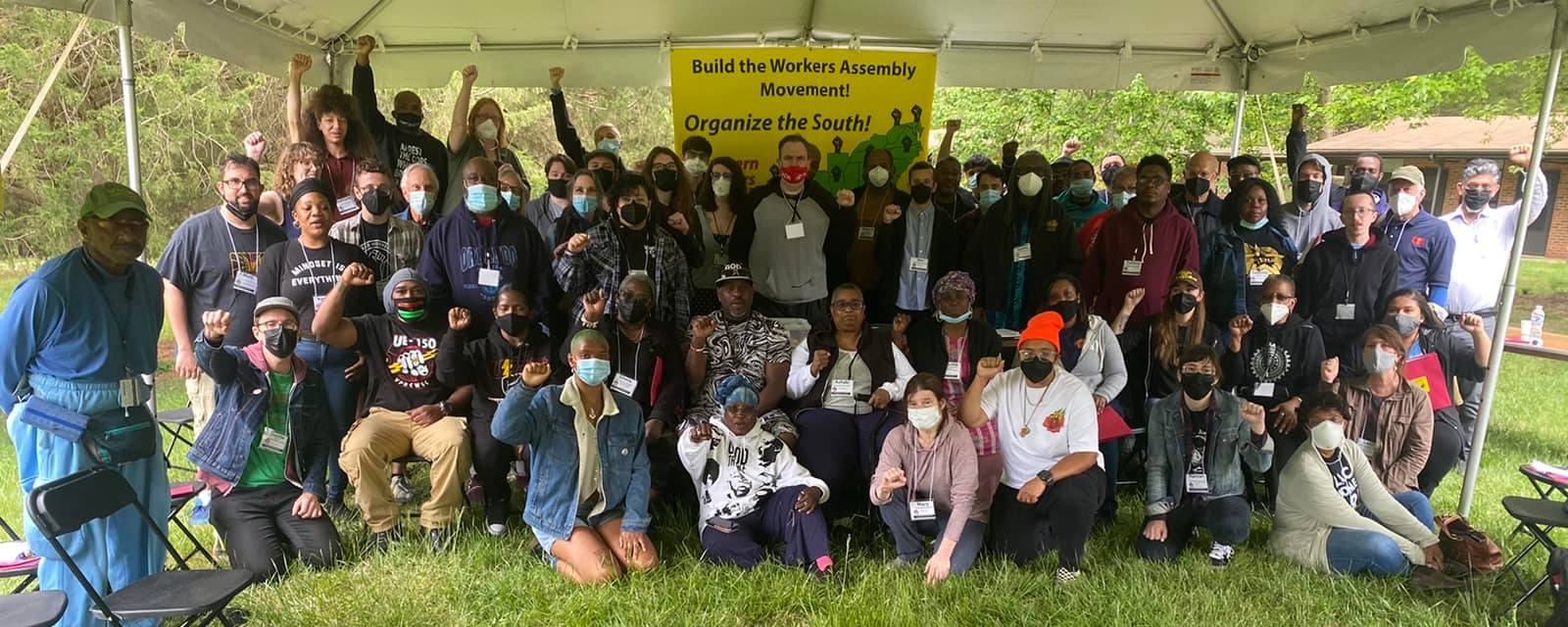 Workers assemblies bring together workers in a particular geographic area to share experiences, support each others' struggles, and promote working-class political demands. UE Local 150 members have been active in several such assemblies in various cities in North Carolina.
One of the core tasks of the local workers assemblies is to identify workers and supporters who can establish a leaflet brigade, with the goal of leafleting at major workplaces in their area to agitate and make contacts with workers.
"At the workers' school we learned about how to distribute information through the leaflet brigades to get the information out to help get more members into the union," said Kevin Carr, a sanitation operator and member of the Charlotte City Workers Union chapter of Local 150. "We are fighting for pay increases, equal rights for women. Ending the favoritism and buddy buddy system they have going on."
Another example of the role leaflet brigades can play in strengthening worker organization came from the Raleigh-Durham area. Last year, while Amazon workers in Bessemer, Alabama were holding the first-ever union election at an Amazon facility in the U.S., brigades consistently leafletted the Amazon RDU1 Fulfillment Center, RDU5 Sortation Center, and the DRT1 Delivery station. This led to the formation of CAUSE (Carolina Amazonians United for Solidarity and Empowerment), an organization of rank-and-file Amazon workers across the area. 
Rev. Ryan Brown, an RDU1 worker and leader of CAUSE, told participants that, thanks to "the support that we've received from our coworkers and the Southern Workers Assembly," Amazon employees several facilities in North Carolina "are anticipating much-needed changes in our low wages and our grueling working conditions."
A Political Program to Unite Southern Workers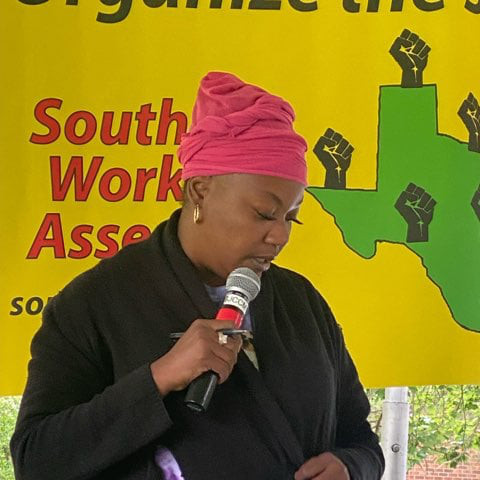 Nichel Dunlap, Local 150.
The rank and file of the various workers' assemblies also discussed a draft political program to create broad unity and collective action in the months ahead. Organizers hope this program will help workers see their workplace fights in the context of a broader struggle for power and justice. 
In break-out groups, workers held a wide-ranging discussion of priorities: wages and benefits, housing and education, fighting racism and gender oppression, labor rights, voting rights, the environment, just immigration policies, and ending war. There was a high level of unity around conducting a struggle to expand labor union rights. Components of this struggle include ending so-called "right-to-work" laws, overturning bans on collective bargaining, and making union busting and captive audience meetings illegal. 
Workers then discussed plans for a unifying campaign that various assemblies can implement together, to engage their coworkers and leaflet other large workplaces across the South with these political demands. The campaign aims to develop a broad consciousness that workers have common needs and interests that are distinct from those of the owning class, and to engage wide layers of the working class in ongoing and escalating activity as part of a public struggle for power. The first stage of the campaign will lead up to the midterm elections in 2022, an important battleground for the working class to raise its demands with employers and politicians looking for votes. 
Following the school, participants joined a May Day Worker Power March with over 25 labor and community groups including UE Local 150, Fight for $15, National Domestic Workers Alliance, the North Carolina AFL-CIO, Carolina Amazonians United for Solidarity and Empowerment (CAUSE), Starbucks workers and more.
Keshia Barnette
"Shut it down!" chanted Keshia Barnette, a member of the Durham City Workers Union chapter of UE Local 150 as she marched, carrying a sign reading "Equitable Employment for All Workers." Barnette explained, "Equitable employment means having the salary to live and work in the city that you call home." She noted that "Black and Brown women earn 20% less than a white worker" and that current wages do not allow many Durham city workers to afford housing in the city they work for.
"We need elected officials who are going to hear what the workers are saying. We need elected officials that have empathy for what we are experiencing."
Rory Pegram, a sanitation worker in Charlotte City Workers Union chapter of Local 150 and a SWA school participant, spoke for Local 150 at the rally.
Summing up his experiences from the school, Carr said "I was happy with the solidarity and friendliness from workers across the South that were there. Overall it was a great experience."
Portions of this article were drawn from this report [2] posted on the Southern Workers Assembly website.
Related media coverage: