UNM Grad Workers Picket, Set Contract Deadline
Over 200 members of UE Local 1466-United Graduate Workers picketed at an entrance to the University of New Mexico's main campus yesterday, calling on the university to settle a fair contract by December 7*. Following the picket, they delivered a petition [1] signed by over 800 people to the university administration.
"Hundreds of graduate workers came out today to show President Stokes and Provost Holloway that we will not tolerate increased health insurance costs and cannot go another semester without a raise," said Katie Despeaux, a Graduate Assistant in the History department. "Graduate workers are out in force because UNM's actions are keeping many of our colleagues below the poverty line and no one can afford to wait another semester for a fair contract."
The cost of living in Albuquerque has increased by 43 percent over the past seven years, but UNM has only increased the minimum stipend for graduate workers by five percent. To add insult to injury, the administration recently suggested that graduate workers be charged new health insurance fees — including a portion of past insurance premiums.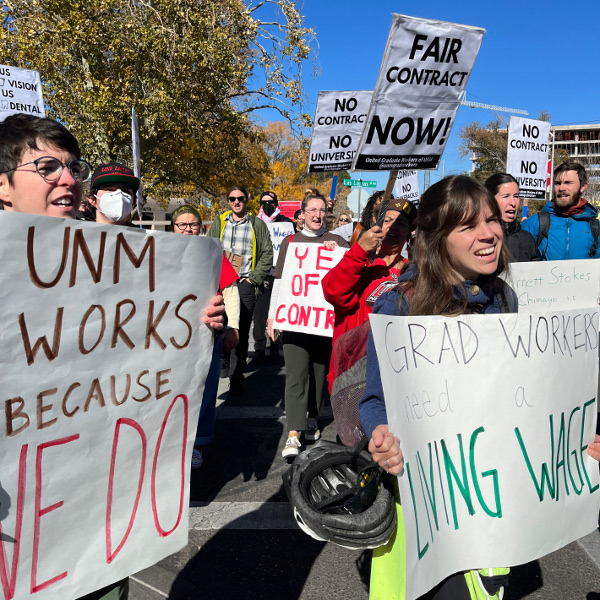 "Just two weeks ago we started a petition calling for a fair contract and already a majority of graduate workers have signed on," said Sasha Arteaga, a Chief Steward from the College of Fine Arts. "Our bargaining team is working tirelessly to get this done and we'd like to see the same urgency from the University."
Picketers also expressed solidarity with 48,000 academic workers, including graduate employees, at the University of California, who are currently on strike over similar concerns of rising costs, stagnant wages, and bloated administrative salaries. Local 1466-UGW has been in first contract negotiations with UNM since May of 2022, with negotiations scheduled to continue on November 16, December 5, and December 7.
See media coverage:
*NOTE: Local 1466-UGW has changed the deadline to December 9 [4], following a change in bargaining schedule.