Independent Union Connection
URGENT: INDEPENDENT UNIONS
How We Can Survive the New War Against Workers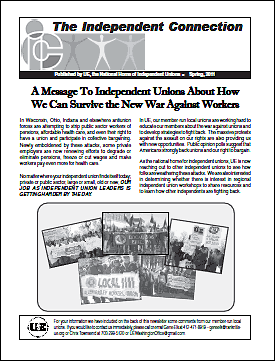 [1]
Download: The Independent Connection, Spring 2011 (pdf) [1].
The job of Independent Union Leaders has gotten a whole lot harder in 2011.
Workers are being "scapegoated" for financial and budgetary problems we didn't create; our benefits are being attacked and pensions are being destroyed.
In fact, our right to organize and bargain collectively is under attack in dozens of states. But we also have new possibilities.
We're reaching out to other independent unions to determine if there's interest in regional Independent Union workshops to share resources and to learn how other independents are fighting back.
UE - The National Home for Independent Unions
In UE, we know how to fight back and win.  If you're in a fight with your company, let us know [2]. We can help.