UPDATE: All Out This Weekend Against Radical Republican Attacks!
Madison, Wisconsin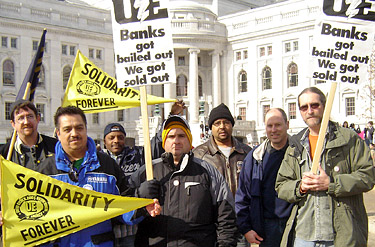 UE members were among the 15,000 to protest Gov. Scott Walker's attack on public employees on Feb 16. From left to right, UE Political Action Director Chris Townsend; Lauro Bonilla and Darry Cook, Local 1103; Carmen Ziccarelli, Local 1137; Jason Arms, Local 1103; Western Region President Carl Rosen, and Don Revis, Local 1137.
Protests against the most radical anti-union legislation in living memory -- sponsored in a coordinated campaign by the Republican Party, their corporate sponsors, and the anti-union news media -- are mushrooming. ALL UE MEMBERS ARE URGED TO LOOK FOR AND JOIN THE DEMONSTRATIONS BEING HELD ALL ACROSS THE COUNTRY OVER THE NEXT SEVERAL DAYS. Your local firefighters or teachers union is a likely sponsor of the action in your town or region. Contact them for details.
Tens of thousands of working people jammed the state capitol in Madison, Wisconsin for the fifth straight day in opposition.  Thousands more rallied around the state. Wisconsin Senate Democrats took the bold step of going MIA in order to prevent the legislature from convening, and as a result Republicans were forced to postpone a vote on the anti-union legislation until at least next Tuesday. In Columbus, Ohio, thousands more working people and union members protested similar attacks being launched by Republicans. Never in recent history have working people responded with such energy and enthusiasm to push back against the wage and benefit destroying legislation as currently proposed by Republicans.  
Organized labor and working people are unified in opposition to this ferocious assault. UE members visited the Wisconsin state capitol today for the fourth straight day. Four UE Local unions and the Western Region have flown the UE banner in Madison this week, joined by dozens of retirees and former UE members from across Wisconsin. No fewer than 37 national unions were represented in Madison, joined by tens of thousands of students, family members, retirees, and supporters. UE members in Ohio and several other states are underway with plans to push back against these attacks.   
Be clear what is at stake here; Republicans intend to abolish collective bargaining for public sector workers, slash wages and benefits, impose massive benefit cost shifting onto the backs of these workers; and strip unions of the ability to function by allowing annual decertification elections regardless of whether workers want them or not. Republicans intend to impose the bogus "right to work" scheme on both public and private sector workers alike as well. See the recent UE Political Action Update [1] for the details on this toxic offering from Republicans. The Labor Notes publication [2]features breaking news as these rallies occur also.
All hands on deck: the time to fight back is this weekend, and this coming Monday. Do your part!