The UE General Executive Board met in Pittsburgh from June 5-8 to review the union's work and finances. They heard reports on the union's organizing work, deepening relationship with Unifor, and work building international links between GE workers. After an extensive review of the union's finances, the board passed a budget to carry the union's work forward.
Director of Organization Gene Elk gave the organizing report. He described UE's organizing victory at the Lanterman Regional Center, and also how decisions by the Trump labor board have created setbacks to other organizing campaigns. Negotiations for a first contract continue at MTIL in Chicago, and preparation are underway for critical re-certification elections in Iowa, which will be held October 15-29 for eight bargaining units represented by Locals 893 and 896.
The board continued discussions of how best to reorganize the union's regional structure in order to guarantee that all UE regions have full-time regional presidents and solidify the national union's finances. Board members reported on the extensive discussions held on this topic at the three regional meetings in March and April. A GEB task force will meet in July to move this process forward and address questions raised at the regional meetings.
The GEB reviewed the progress made so far on the North American Solidarity Project, a joint project with Unifor. There was a lively discussion of the study group meeting held in Oakland on independent political action. Unifor and UE members rallied at GE's shareholder meeting on April 25 outside of Pittsburgh, and in May Unifor hosted a meeting of the GE Global Trade Union Network. UE and Unifor have also launched a campaign website, GECommitToOurCommunities.org.
Local 506 President Scott Slawson and Dir. of Org. Elk gave an update on the sale of GE Transportation to Wabtec.
The board also discussed responses to the upcoming Janus decision, President Trump's handling of NAFTA renegotiations, and the upcoming Medicare for All single-payer strategy conference, which will be held June 22-24 in Minneapolis.
The board condemned the recent escalation of repression against Palestinian protesters by the Israeli military, renewing UE's call for a peace agreement negotiated on the basis of equality, democracy, and human rights, including Palestinian self-determination and the right of return for refugees. The statement also denounced a bill being proposed in the Senate, S. 720, which would curtail Americans' First Amendment rights to engage in peaceful protest of Israel's military policies.
The board also endorsed legislation introduced by Rep. Tulsi Gabbard of Hawaii that would establish clear timelines for a just transition to renewable energy while protecting affected workers and communities. The "Off Fossil Fuels for a Better Future" (OFF) Act "addresses our concerns on wage and benefit protection and job training for workers in the fossil fuel industry, as well as provides clear pathways for renewable energy workers to exercise their right to join and organize a union," stated the GEB. They also urged the inclusion of provisions for public ownership of the energy industry, in line with UE policy.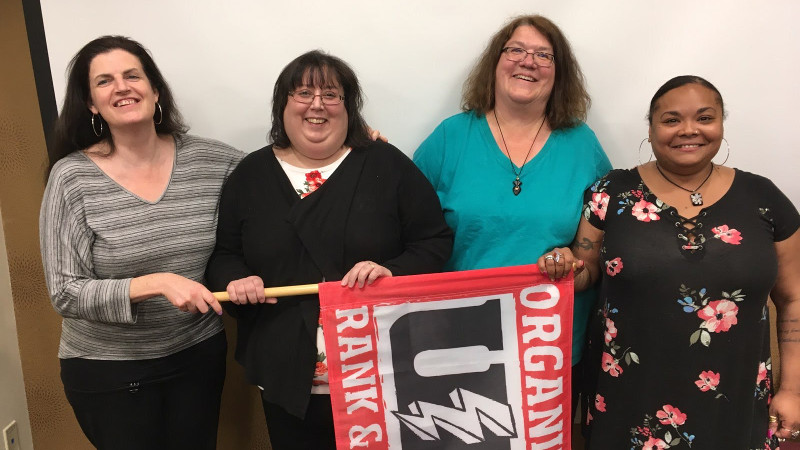 Left to Right: Northeast Region President Elizabeth Jesdale, Northeast Region Secretary-Treasurer Kelly Robtoy, Local 208, Northeast Region GEB Representative Margaret Dabrowksi, Local 222, and National Trustee Autumn Martizez, Local 255. Robtoy and Dabrowski are the newest members of the GEB.