After three months and a marathon, almost 19-hour final bargaining session, Local 203 reached a new three-year contract with City Market in the early hours of October 1. The contract will increase the starting rate for the lowest-paid job classifications from $11 to $13, with a new wage scale that significantly increases wages for the lowest-paid workers.
Workers currently making less than the wage scale will be moved to their new, higher wages retroactive to July 1, and will see annual increases of at least three percent. Workers whose current wage is higher than the wage scale will receive a three percent increase retroactive to July 1, with wage increases of two percent, three percent and three percent on their next three work anniversaries.
Under previous contracts, UE members had paid between zero and ten percent of their health insurance premiums, depending on their wage rates. Management successfully insisted on significant increases in workers' contributions, but the new contract preserves some progressivity, and the increases will be phased in over three years. Workers making $15 per hour or less will pay 10, 12.5 and 15 percent of the premiums over the three years of the contract, while workers making over $15 per hour will pay 15, 17.5 and 20 percent.
The biggest win for the local in the new contract was rewriting the grievance procedure. Upper management had been interfering in the lower steps of the grievance procedure, preventing union members from settling grievances with their department managers. Local 203 has been fighting on this issue since 2018. The new contract excludes members of the human resources department (which at City Market goes by the Orwellian term "People and Culture") from step one meetings and the general manager from step two.
The contract added language clarifying that City Market will now reimburse workers up to $50 each month for bus passes, and expanded that reimbursement to include regional transit, benefitting UE members who live outside greater Burlington. The previous transportation reimbursement system had been haphazard, with management trying to police how workers used their bus passes. The new contract provides that workers will not be disciplined for using bus passes for non-work-related travels.
The contract also adds Labor Day as an extra holiday starting in 2020, with time and a half paid for all hours worked. Bereavement leave to mourn the death of a close friend or family member was increased from three to five days. In the event of a planned store closing, workers scheduled to work will now be paid for their full scheduled shift for the duration of the closing, and the list of items that are provided free to workers when working was expanded to include hot chocolate and bone broth. The new contract also includes improved language on union activities and visitation.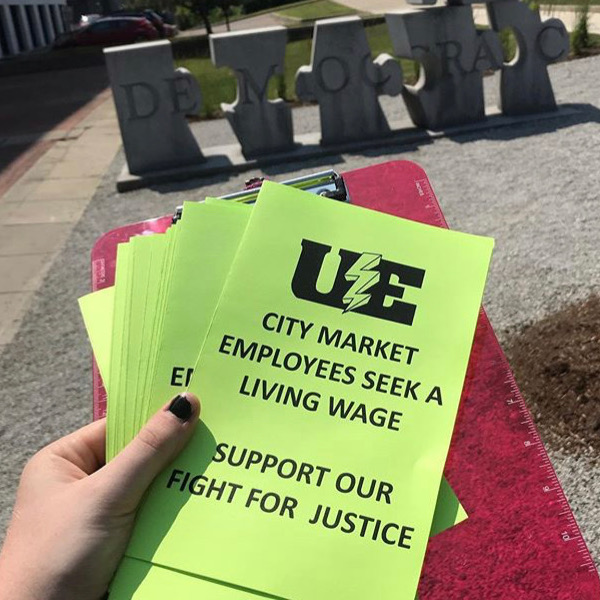 Local 203 conducted a high-profile public campaign, aligned with the "Fight for $15" movement, to convince City Market to bring the lowest-paid workers up to $15 a hour. They leafletted customers and the public, and got support on social media from Vermont Senator and presidential candidate Bernie Sanders. However, ultimately the committee chose to accept management's last wage-scale offer (which still raises the starting wages significantly) in return for incremental increases to health insurance premiums so members weren't hit all at once.
The negotiating committee consisted of President Colleen Knowles, Vice President Meaghan Diffenderfer, Melissa Pennington, Patrick Kearney, Becky Galvin, John Donoghue and Shannon Williamson. They were assisted by Field Organizer Abbie Curtis.