Delegates to UE's Northeast Region demonstrated their commitment to direct action and solidarity on the first day of their council meeting, driving to nearby Greenfield to join members of UE Local 274 who are locked into a difficult contract battle with their employer, Kennametal.
"Workers here bust their backs to give a good product to this company," UE Northeast Region President Bill Ladd told the spirited picket line and rally, "and the company wants to break their backs by taking every penny they can from them."
Local 274 has been engaged in negotiations for a new contract since March 11. The union has sought to preserve the existing contract, but Kennametal has demanded steep and crippling concessions, including eliminating the union health insurance plan and replacing it with an unreasonably expensive high-deductible health plan.
The company is also demanding mandatory overtime, preservation of a two-tier system that was imposed on the union in the past, and the ability to bring temp workers into the workplace to do union jobs.
The rally was also joined by several Stop and Shop workers who had recently won an 11-day strike against their company, and other community supporters.
Beating Member Apathy in Tough Times
In his address to the council meeting, which met April 26-27, UE Secretary-Treasurer Andrew Dinkelaker hailed the Northeast Region's rich history of militancy, including strikes waged in recent years by Local 279 at Weir Valve and Local 234 at Fairbanks Scales. He also led a detailed discussion of the regional restructuring proposal that will be voted on at UE's 76th convention in August. The restructuring will combine the Northeast and Eastern regions, with Ohio locals becoming part of the Western Region.
"These are tough times," said Dinkelaker, "and I'm always proud of the membership" for being willing to have tough discussions and make tough decisions.
On Saturday morning, UE Co-Director of Education Kari Thompson led a workshop on "Beating Member Apathy." After a discussion about ways to turn disengaged union members into supporters and supporters into activists, the delegates broke up into groups to discuss different ways the boss "disorganizes" union members: fear, confusion, division, inaction, and hopelessness. Thompson noted the fact that none of the UE leaders in attendance chose "hopelessness," saying that was a good sign.
In report-backs from the small groups, Elizabeth Jesdale, Local 255, pointed out that most people don't have the experience of coming together to confront the boss, and that participation in collective action is the best way to get union members engaged. Lori Brown-Lavigne, Local 228, shared that although she has a hard time remembering names, she makes a point of remembering details about people's lives, and that this helps her connect with other union members in her shop.
International Representative Mark Meinster led a discussion about how rank and file UE members can help generate leads for new organizing, and announced a new "Rank and File Organizing Network" of UE members who can assist the organizing team. (Interested UE members can sign up by texting UE to 24587.)
Holding Management Accountable
A common theme of many shop reports was the need to train new managers and, if necessary, convince the boss to get rid of them. Marie Lausch, Local 222, described how they are training a new manager in New Britain. Alyssa Turner, Local 208, said of the departure of a widely disliked manager, "We ran him right out of Vermont." Dan Leary, Local 222, reported that their sublocal's president, who had recently been promoted into management, was so far continuing to respect the workers' union contract. "Just because I'm management doesn't mean I'm breaking anybody's contract," Leary reported him as saying.
Atti Sequin, Local 234, told delegates, "Last fall I came here and I was talking about how we went through a tough time in the past year and a half. We had a director that was more of ... selfish ways and mind, that's how he ran the place."
"We all got together as our union and put our heads together to figure out what we could do to stop this," Sequin continued, and they prevailed upon the company's CEO to come up from Missouri and meet with workers in St. Johnsbury, Vermont. "For about an hour, we told him what was on our mind, really opened his eyes," and as a result, they have a new vice president at the plant, who has been working with the union with a sense of "general respect and understanding that we can all work together." The local has seen a payoff in terms of grievances now being settled before being taken to arbitration.
Wayne Morrison, Local 243, reported on his local's most recent contract settlement (read more about the Local 243 contract here). Chris Carey, Local 269, and Jay McGrath, Local 274, reported on ongoing contract negotiations. The company handed the union "stacks and stacks of concessions," Carey said, but the union is reminding the company that "without us, there's no you" — that without the labor done by workers, there is no company.
Lori Brown-Lavigne, Local 228, described how she "went around and made sure that everyone was not chained to [their] desk" as a way to encourage her co-workers to resist pressure to work overtime. Jeff Hatin, Local 267, said his local won an extra one percent in wage increases when local vice president Charity Dugener "lit up" the human resources department about how the faculty union received a higher wage increase than the blue-collar workers in Local 267. Anthony L'Italien, Local 279, reported that his local has been aggressively enforcing their contract through the grievance procedure, despite the uncertainty of the shop recently being sold to a new owner.
Colleen Knowles, the president of Local 203, told delegates that despite their "contentious relationship" with upper management, departmental managers have been asking union to file grievances in order to fix problems. Local 203 Chief Steward Ben Cohen said that management has been refusing to settle step one grievances, and are not interested in finding solutions. "They don't like us, and feel like we are too adversarial," he said, but workers are refusing to be scapegoats for management's failures. Local 255 President Autumn Martinez reported that her local is dealing with a management that wants to use a "bullying policy" to punish union members, but refuses to address managers' bullying behavior.
New Leadership to Face the Future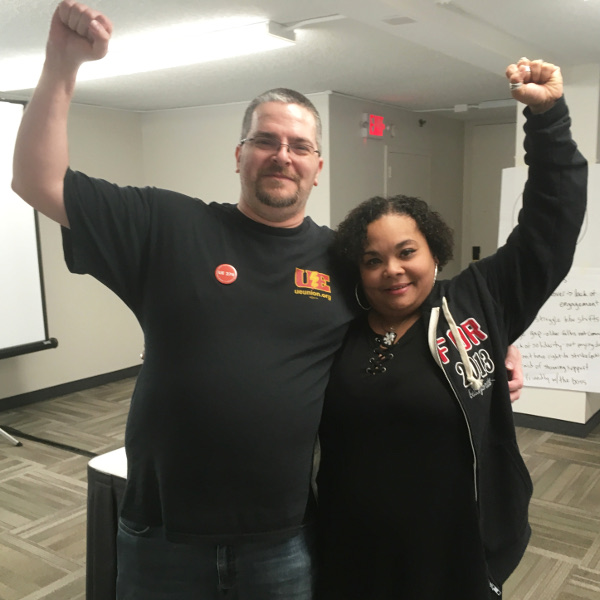 Outgoing Region President Ladd with newly elected Region President Autumn Martinez
The region decided to hold their fall council meeting, which will be the last Northeast Region council meeting before the regional reorganization, in New England in the fall instead of at the national convention as the Eastern and Western regions are doing. Delegates felt this would allow more locals the opportunity to attend, and to send more delegates, to discuss their future as part of a new combined Eastern Region. Unlike the Western and Eastern regions, which were created from a reorganization of existing UE districts in 2006, the Northeast Region was a direct continuation of UE's historic District 2.
Delegates elected Autumn Martinez, Local 255, as new president of the region. Upon winning the election, and referencing the previous day's rally in Greenfield, Martinez told delegates "I'm a believer in direct action, so that's what you're going to see. Direct action gets the goods."
Chris Carey, Local 269, was elected vice president and Kelly Robtoy, Local 208 was re-elected as secretary-treasurer. Lori Brown-Lavigne, Local 228, Kathleen Coonrod, Local 203, Margaret Dabrowski, Local 222, Elizabeth Jesdale, Local 255, Anthony L'Italien, Local 279, Theodore Mallet, Local 269, Jay McGrath, Local 274, Wayne Morrison, Local 243, and Alyssa Turner, Local 208 were elected to the regional executive board, and James Bergquist, Local 269, Dan Leary, Local 222, and Emma Paradis, Local 255 were elected as the region's trustees. Margaret Dabrowski was elected to join Martinez and Robtoy on the national union's General Executive Board as the region's at-large member, and the region decided to designate Kathleen Coonrod, who will replace Martinez as National Trustee, as their voice-but-no-vote representative at the GEB.
Also see: Greenfield Reporter story about the rally to support Local 274