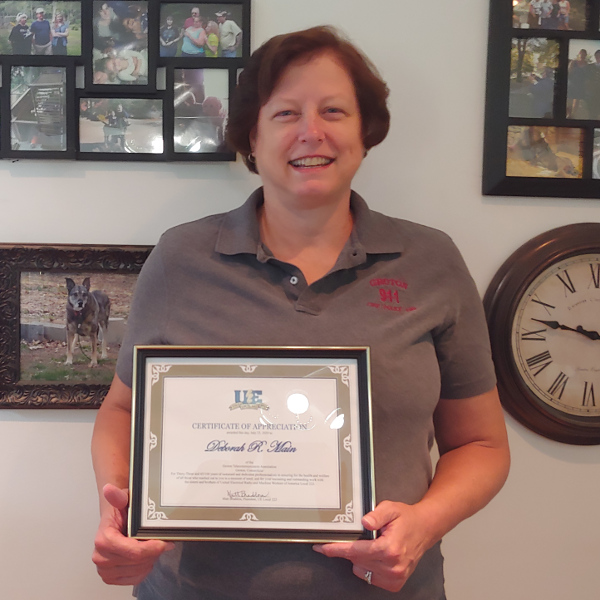 UE Local 222's best wishes and appreciation go out to Deb Main, who has recently retired as an employee of the Groton Telecommunicators Association in Groton CT. Deb has been a staunch Union member with CILU/CIPU even before we merged with U.E. Many of our 911 Telecommunicators are not aware that their raises and benefits are due in part to Deb, for she has drawn up spreadsheets and contract comparisons for years that have been used in other Dispatch sub local negotiations.
A contingent of 222 members visited Deb in her Dispatch Center, presenting her with a certificate of thanks that read in part:
"For Thirty-Three and 65/100 years of sustained and dedicated professionalism in ensuring for the health and welfare of all those who reached out to you in a moment of need, and for your unceasing and outstanding work with the sisters and brothers of United Electrical Radio and Machine Workers of America Local 222.
"Deb, we will miss your calm and steady demeanor at the mic, your superb work ethic, your Union solidarity, your dedication to your community and co-workers, and your subtle sense of humor. We wish you well as you journey forth in life, and we'll never forget the impact you have made on UE 222."