Branford paraprofessionals, members of Local 222 Sublocal 88, negotiated a new four-year agreement this spring which achieves a key goal they have been fighting for since they organized in 2011: a pay scale that provides automatic step increases. Each of their previous contracts made improvements but until this year they were unable to make the school committee agree to a pay scale and steps — something that all other school employees enjoyed.
UE Local 222-88 members handed out flyers to the public and talked up the issues to gain support among other school employees. They spoke at board of education meetings about the importance of their work and why their pay and benefits were unfair. They wrote letters to the editor, and held a picket in front of the board of education building.
The local also put together an analysis of the school's ability to pay and key areas of wage and benefit differences between Branford paraprofessionals and comparable workers: paraprofessionals in surrounding and like towns, and other Branford public workers.
Sublocal 88 members will receive an average pay increase of four percent in the first year and 12.5 percent over the life of the agreement. The insurance premium contribution for workers will rise only one percent over the entire life of the agreement, and the union successfully defeated concessions the school committee was looking for on co-pays and other cost "sharing" devices.
The top rate for paraprofessionals will increase over the life of the agreement from $18.15 to $19.44, and special-educations paras got an additional $1 per hour bringing their differential to $2 per hour.
All paraprofessionals will now receive eight sick days per year — an increase of one day for full-timers and doubling the number of sick days part timers receive. The agreement also includes an additional paid day for training, and son-in-law and daughter-in-law were added to three-day bereavement leave.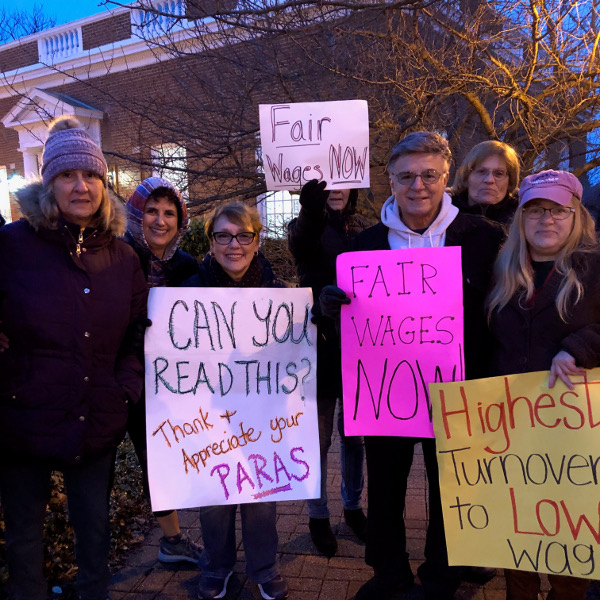 "After months of hard work and perseverance, we were able to ratify our third paraprofessional contract with the Branford Board of Education," said the committee in a statement. "With the support of not only our Union Field Representative, Annie MacDonald, but also fellow UE members from other locals joining us in our plight, we took to the streets to emphasize our unfair work benefits picketing in front of the Board of Education Office."
The negotiating committee Pam VanWinkle, Jennifer O'Neil, Cindy Kondziela and Leeann LeRock. They were assisted by Field Organizer Annie Bulger MacDonald and retired UE General President Peter Knowlton.