In one of its largest arbitration awards, UE Local 506 won nearly $136,000 in back-pay and interest for one of its members who was terminated without just cause while he was employed by GE Transportation at its locomotive facility in Erie, PA.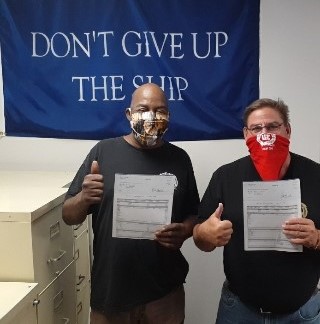 ​Michael Rowan (left) with Local 506 Chief Plant Steward Leo Grzegorzewski
Michael Rowan, an assembler, was terminated in late December 2016 under the company's time and attendance policy. Rowan had a history of chronic health issues that the company was aware of when it terminated him. The local fought Rowan's termination through the grievance procedure throughout 2017 in an effort to get him reinstated. After exhausting the grievance procedure, the local arbitrated his case with the assistance of UE International Representative John Thompson.
An arbitration hearing was held in January 2018 and the arbitrator issued his decision in April, ruling the company did not establish just cause in terminating Rowan. He ordered that "the grievant shall be reinstated to his employment and made whole for lost wages and benefits." In issuing his decision, the arbitrator pointed out that company knew about Rowan's chronic health issues and should have informed him of his eligibility to take intermittent leave under the Family Medical Leave Act (FMLA). "If his absences are covered by FMLA, they cannot be used to trigger any discipline," the arbitrator wrote in his decision.
Rowan returned to work shortly after the decision, but the company refused to make him whole for his lost wages and benefits, arguing that his back-pay award should be offset by any unemployment benefits and wages he earned during his termination. The union pointed out that the company did not raise this at the arbitration hearing or in its post-hearing brief and it would not agree to the company's demand.
With the assistance of UE General Counsel Irene Thomas, the union took Rowan's case to federal court in October 2018 to enforce the arbitrator's back-pay award. In the meantime, GE Transportation was sold to Wabtec Corporation in February 2019. Wabtec assumed Rowan's back-pay award liability. U.S. District Court Judge Alan N. Bloch issued his decision on March 31, 2020 in favor of the union, ruling that the arbitrator's award was "unambiguous" and the company could not offset Rowan's back-pay award. The judge ordered the company to pay Rowan his back-pay award with interest.
"The outcome of this case is a direct result of all the hard work put in by the department steward, divisional chief steward, our International Representative John Thompson and UE General Counsel Irene Thomas," said UE Local 506 Chief Plant Steward Leo Grzegorzewski. "Mike Rowan was unjustly terminated, and in the end, the arbitrator agreed. I want to thank all involved for their hard work and Mike Rowan for his patience while we fought for his job."