As COVID-19 cases dropped in the early summer, and before the surge of the Delta variant in late summer, UE's two elected regional presidents took the opportunity to get out and visit locals in person.
For Eastern Region President George Waksmunski, who was elected in April at a virtual meeting of the Eastern Region, this was his first opportunity to visit with locals in person. "As the new Regional President, I intended to visit every Local I could," Waksmunski said, "really just wanting to meet the members, introduce myself to them." He felt it was especially important to visit locals in the former Northeast Region, who joined the Eastern Region during the regional reorganization that took place last summer.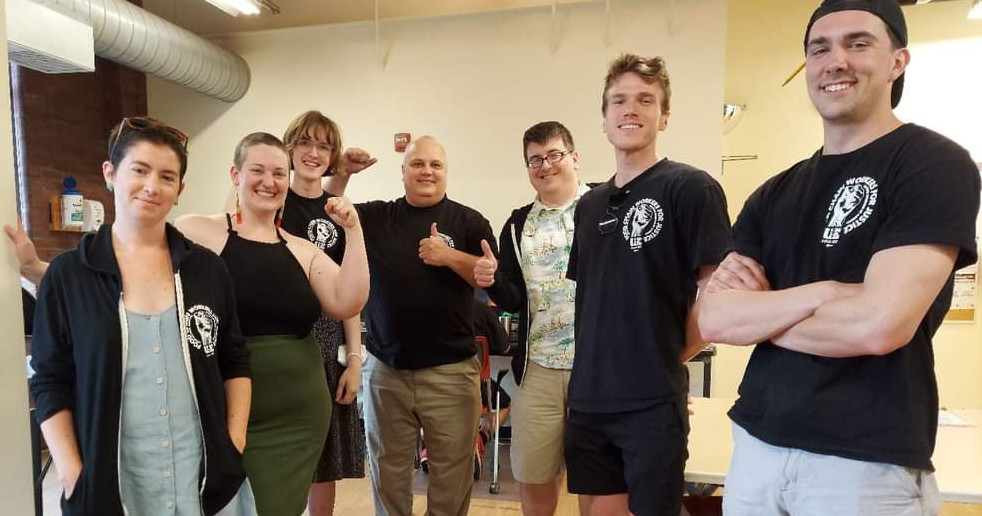 Eastern Region President George Waksmunski (center) with members of UE Local 203, who work for City Market in Burlington, VT
Western Region President Charlene Winchell got the opportunity to visit most of the locals in the Western Region between her election in August of 2019 and the onset of the pandemic, including spending a week in California. However, the regional reorganization brought UE's Ohio locals into the Western Region, so this July she headed east to connect with locals in the Buckeye State.
Waksmunski's tour began on June 18, when he visited with Refresco workers in Wharton, NJ, a week ahead of the NLRB vote in which they would join UE. He then headed to New England, where he visited locals, went on a couple of plant tours, and attended several UE picnics, which were "a great opportunity to talk to people." Waksmunski also praised the "good, quality food" provided by the locals.
In addition to visiting New England, Waksmunski met with locals in upstate New York and Pennsylvania, and headed south to Virginia and North Carolina, wrapping up his tour in West Virginia with Local 170's member training at the end of August. All told, he visited with 24 UE locals or chapters.
"It was great to get out and talk to these folks," he said. "They were hungry for someone to come and talk to them and give them the gospel of the union."
Waksmunski spoke to UE members about UE history, aggressive shop floor struggle, and the importance of revitalizing the labor movement. "UE organized 600,000 workers in about 12 years beginning in 1936," he said. "We did it once, we can do it again."
"It was our union that led on wages, pensions, and healthcare through the belief that we needed to organize workers on an industrial basis. We organized them based on a belief that all workers from all walks of life were welcome in UE. As an organization, we have always believed that workers must unite regardless of race, sex, religion, political affiliation, or sexual orientation."
He brought copies of UE's new pamphlet "Them and Us Unionism," to all of the locals and encouraged members to read it. "I would tell people at every place that I don't like to read," he said, "but this little pamphlet here is something anybody can and should read as a member of a union, especially this union."
Winchell with members of Local 777 who work at Treehouse Foods in Lancaster, OH
In Ohio, Winchell met with Locals 712, 718, 741, 777, and 799, along with members of the Kenyon Student Worker Organizing Committee at Kenyon College and a group of unorganized glass workers. Meeting with the glass workers "brought me back to many years ago" when she attended a UE Organizing School in Milwaukee, shortly after her local joined UE.
She also sat in on negotiations between Local 712 and Kenyon College, which she said was "very rewarding." Based on her conversations with the Ohio locals, she intends to work to provide them with more opportunities for member education in the future.
The Ohio trip wasn't Winchell's first post-pandemic travel; she assisted Local 735 in Indiana with negotiations this past winter. Nonetheless, she noted that the trip was hard on a personal level, as her mother had passed away from COVID-19 in January. Nonetheless, she said, "It felt good to be amongst people," and "we wore masks, we did what we needed to do" to stay safe. She said that "Sharing my story a little bit has enlightened some people" about the dangers of COVID-19.
Both regional presidents emphasized the importance of face-to-face contact in maintaining rank-and-file unionism.
Overall, Winchell said, "It was good to be back on the road," and she praised "the hospitality that I felt from every local."
Waksmunski agreed. "It was very rewarding to get out there and see our members."

Waksmunski (8th from left, first row) with members of UE Local 506 at their hall in Erie, PA. Local 506 members build locomotives for Wabtec.