On March 2, members of UE Locals 1008 and 208 employed by the Sciolex Corporation in both California and Vermont held press conferences and picketed to demand that the company be removed from its contract with United States Citizenship and Immigration Service (USCIS) and be prohibited from future participation on federal contracts, due to its failure to respect its union workers. Local 1118, which represents Sciolex workers in Chicago, sent a solidarity photo.
Sciolex Corporation, a Virginia company, is contracted by the USCIS to provide staffing and oversight for clerical work performed at the USCIS service centers in California and Vermont. Since taking over management of the USCIS service centers, Sciolex has increasingly refused to recognize UE Locals 1008 and 208, which have been the collective bargaining representatives for hundreds of USCIS service center workers in California and Vermont since 2008.
Sciolex has taken numerous unilateral actions in violation of both its contracts with UE Locals 1008 and 208 and federal labor law. Such actions include changing employee insurance and paid leave benefits; imposing a fee on employees to charge them for the cost of the company's payroll and benefits administration; and, most recently, refusing to process grievances and honor the workers' collective bargaining agreements. Sciolex has imposed these and other changes without notice to the union and has refused demands by the union to bargain over unilateral changes when they occur. Sciolex's treatment of its employees is causing many long-term USCIS service center workers to resign from employment and seek work elsewhere.
"The work that we do is essential to the operation of the USCIS," said Local 1008 President Joel Faypon. He noted that these unresolved labor issues could potentially cause disruptions to the government's operations.
"The company is behaving like we're making ridiculous demands," Faypon continued. "All we're asking is for Sciolex to honor our Collective Bargaining Agreement — come to the table and discuss these issues so we could resolve them."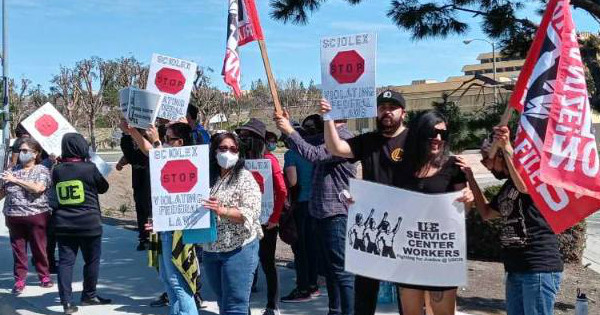 Above: Local 1008 members picketing in noticeably nicer weather.
Below: Solidarity photo sent by Local 1118.