Fourteen-Month Struggle Brings First UE Contract at Lanterman
Workers at the Lanterman Regional Center in Los Angeles ratified their first UE contract on June 6. The tentative agreement was reached on May 29, just over fourteen months after workers voted to join UE and form Local 1018 [1].
The three-year agreement provides significant wage increases, with many workers seeing increases of over $1,000. Base wage rates will increase by 1.75, 1.5 and 1.5 percent, in addition to the three percent step increases workers will receive on their anniversary date. The contract eliminates the lowest two steps of the wage scale, and all current employees who are on step four or lower will be advanced to step five. The contract also adds an additional step to the top of the wage scale, three percent higher than the current highest step.
Bi-lingual workers who meet eligibility requirements will receive an additional $50 per pay period. Being recognized for this skill was a central plank of the workers' organizing program, and local leaders expect that close to 70 percent of the bargaining unit will now receive this benefit. In addition, workers in several classifications who use their personal mobile devices for work-related purposes will now receive a $25 per month reimbursement.
Lanterman workers will now have a strong union grievance procedure. Throughout negotiations, management insisted on contract language that would have limited arbitrators' decisions to a maximum award of $750, regardless of the scope of harm done to workers.
Another sticking point during negotiations was management's refusal until the very end of negotiations to consider alternative working arrangements. The "9/80" arrangement won by the union allows workers to work eight nine-hour shifts and one eight-hour shift over a two-week period. The nine-hour shifts allow Lanterman workers more flexibility to be responsive to clients' scheduling needs, and they gain the benefit of every other Friday off — a significant benefit in a city with long commuting times.
The new contract adds New Years Eve as a paid holiday and allows for workers to be paid out for up to 40 hours of accrued unused sick time upon termination of employment.
For the first time, a bank of sick time has been established at Lanterman that will allow workers to donate sick time to other coworkers who have exhausted their sick hours but are experiencing an extreme medical condition that prevents them from returning to work. This will help them avoid loss of monetary compensation. Margarita Villaseñor noted that "We believe in humane and compassionate policies where co-workers help each other out in times when it is most needed."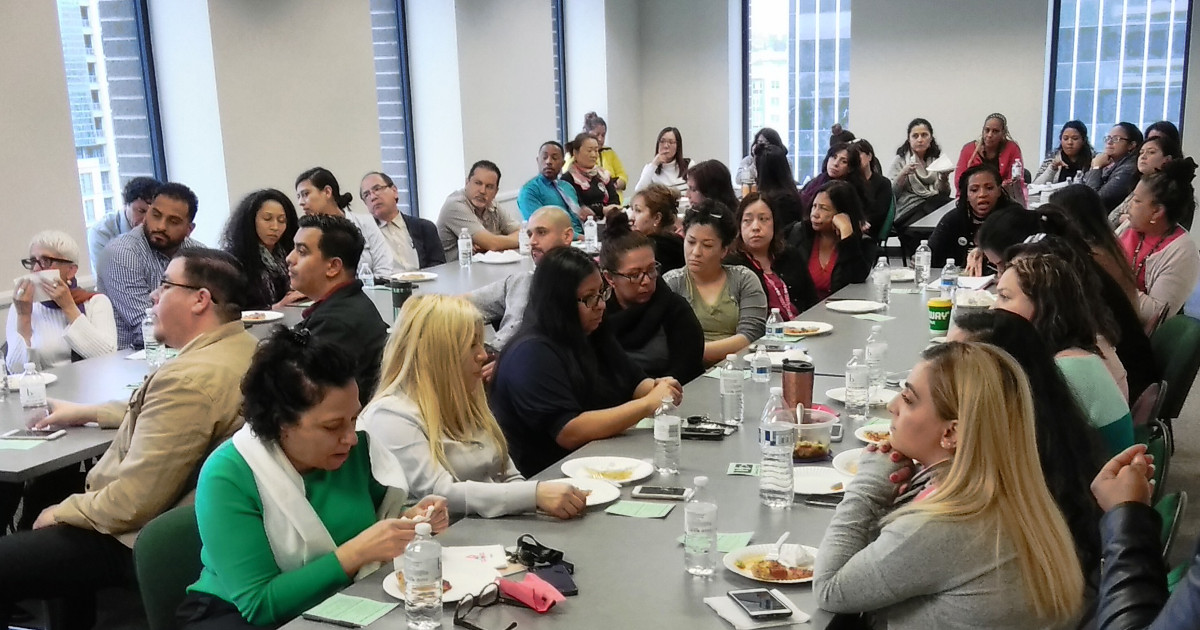 Lanterman workers getting an update about contract negotiations
Local 1018 had a unique advantage in keeping members informed and mobilized — the center is located in the United Teachers of Los Angeles building, and the teachers' union was more than happy to let UE members hold union meetings in their building. The local regularly held membership meetings of 100-120 workers (the bargaining unit is around 180) to keep members informed about negotiations.
Although California state law requires the meetings of Lanterman's Board of Directors to be open to the public, the first time UE members tried to get into a board meeting, the doors were locked — the board had never before been subjected to any kind of scrutiny. After establishing their right to attend, UE members regularly packed the meetings with 20-30 workers.
UE members made calls to the board president and to the Department of Developmental Services in Sacramento (the department of state government which oversees regional centers like Lanterman) regarding Lanterman's resistance to a contract. UE members also demonstrated their demand for a fair contract with two informational pickets [2] in the summer of 2018, and a one-day strike [3] on March 20 of this year.
Bargaining committee member Linda Mnatsakanyan said, "Through our first contract we now have a grievance policy and we are no longer At Will employees who can be fired for no reason. We now have Just Cause which is very important to a lot of us employees."
Workers at Lanterman perform vital functions that enable people with developmental disabilities to live purposeful lives as active members in their communities. "Many of these individuals would continue to be invisible and forgotten in our communities without the services we provide," said Marc Baca, a member of the union's bargaining committee. He added, "We provide advocacy, coordination of programming, housing and resources for physical and behavioral services." UE Local 1018 members visit clients in their homes and communities and actively assist them in acquiring necessary services to make them productive members of society.
The Local 1018 negotiating committee consisted of Tiffany Adams, Marc Baca, Eduardo Del Rio, Linda Mnatsakanyan and Margarita Villasenor. They were assisted by UE Director of Organization Gene Elk and Field Organizers Stephen Cutty, Gary DeLuke and Fernando Ramirez.