Helen Quirini, 1920–2010, Fighter for Equality and Justice
Helen Quirini, a pioneer activist for the rights of women workers, and for the past 30 years a powerful voice of GE retirees, died on October 4 at age 90.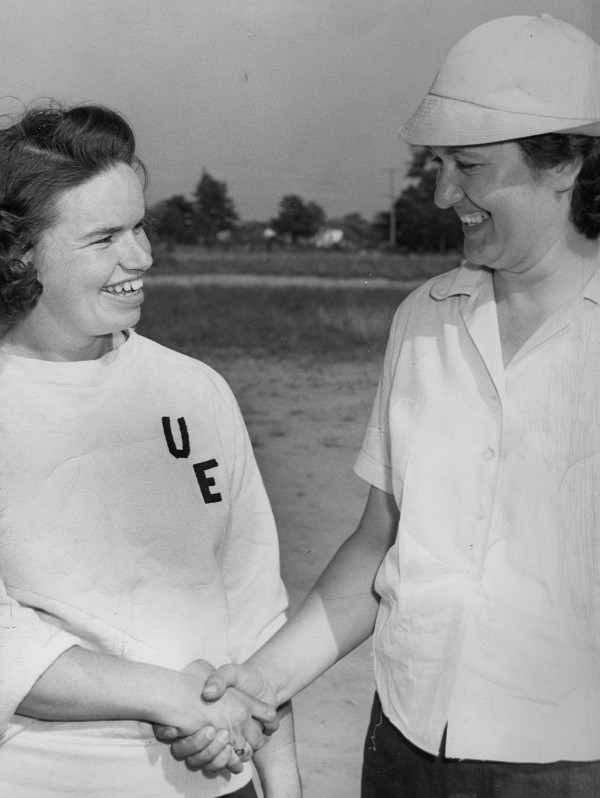 Helen Quirini, right, captain of the UE Local 301 women's softball team, greets Grace Jones, captain of the team from the UE-GE local in Pittsfield, Mass. for a friendly competition in the late 1940s.
Quirini went to work at the sprawling Schenectady GE complex — at the time GE's largest plant — in 1941. She soon became active in the union, UE Local 301, serving as a steward in several departments. She was a crusader for equal treatment for women, and against all forms of discrimination. In that era GE openly discriminated against women, with separate women's seniority lists and lower pay scales for women, and a policy of forcing women out of the workforce when they married.
Historian Lisa Kannenberg (herself a former activist in Local 610) featured Quirini in her study of women in UE, "The Impact of the Cold War on Women's Activism: The UE Experience" published in the journal Labor History in 1993. Kannenberg wrote that UE's 1946 national strike against GE was a "turning point" in Quirini's life. The strike was prolonged when the union refused to accept an inferior raise for woman members. "We stayed out for a couple of extra weeks," Quirini told Kannenberg, "and I thought, 'Boy, isn't that great! That... people were willing to sacrifice those weeks – and this is a lot of men, of course, mostly men!"
Quirini was also greatly impressed by UE's successful 1945 case against GE and Westinghouse before the War Labor Board for equal pay for women, with the union's convening of national and district women's conferences, and its policy of encouraging the formation of women's committees within locals, to fight against discrimination.
Cold War attacks on UE began even before the rise to prominence of the infamous Senator Joseph McCarthy (R-WI) in the early 1950s, and before UE was pushed out of the CIO in 1949. In 1948 Quirini, as Local 301's recording secretary, was subpoenaed by a congressional committee on a mission to purge the labor movement of radicals. Rep. Charles Kersten (R-WI) conducted hearings in Schenectady, interrogating officers and members of Local 301. Asked about women's work in the plant, Quirini described how GE discriminated against women — which was not what the committee wanted to hear. She told the congressmen that the union was "terrifically battling to give women an equal break." When Kersten tried to get her to endorse banning communists from union office, Quirini refused.  "I believe very strongly in our constitution," she told him, "because you are starting with the Communists, tomorrow it will be married women; next day Jews; next day Negroes; next day Italians; next day Poles..." Quirini was not alone in her loyalty to UE's principles. UE Local 301 soundly defeated raids by the IUE in 1950 and '51. (The IUE had been chartered by the CIO in 1949 for the purpose of raiding and replacing UE through red-baiting.)
UE Loyalist
But over the next few years GE and the government further tightened the screws on UE. In November 1953 Sen. McCarthy brought his committee to Schenectady to grill GE workers. The following month GE announced a new policy under which it would fire any employee who refused to cooperate with congressional committees or any other government body pursuing "reds" and radicals. Two months later, McCarthy returned to Schenectady for a second round of hearings, his position strengthened by the company's threat of firing any worker who didn't do his bidding. In his memoir Rights on Trial, the late Arthur Kinoy, former UE attorney, wrote that several of Local 301's officers, "including the business agent, Leo Jandreau" were subpoenaed by McCarthy "but they had never been actually called to testify." On March 4, 1954 Jandeau notified the UE national officers that he intended to lead Local 301 out of UE and into the IUE. He succeeded, in an NLRB election four months later, but over the opposition of Helen Quirini.
Lisa Kannenberg wrote: "Helen Quirini stood alone on the Executive Board [of Local 301] in refusing to sanction the move, a courageous stance that cost her dearly. In the course of the election campaign, Quirini and other women who continued to support the UE were subjected to considerable harassment, including late-night threatening phone calls."
Quirini was ostracized for her loyalty to UE, but eventually became a respected activist in IUE Local 301 until her retirement in 1980. She was also a community activist throughout her life, admired for her courageous fights on civic issues. A longtime volunteer activist in the YWCA, her obituary in the Albany Times Union called her "the driving force behind integration of the swimming pool at the YWCA in Schenectady's Stockade district," and said she "oversaw the creation of a shelter for battered women."
But she is best known among present-day GE workers and retirees as the leader of the Schenectady GE retirees group and an outspoken advocate for GE retirees nationwide.
Ron Flowers, president of the Erie GE pensioners group Retirees Association of General Electric (R.A.G.E.) worked with Quirini over the past several years, organizing retiree protests at the annual GE stockholders meeting to demand pension increases. "I've seen her directly take on the current GE CEO Jeff Immelt as well as his predecessor, Jack Welch." said Flowers. "She was always calm, polite and forceful. She would tell them, 'I'm tired of coming here. If we had a cost of living in the pension, I wouldn't have to be here.'" Flowers added, "Helen will be sorely missed in the struggle for pension improvements.  Her steadfast commitment was an inspiration to all who came in contact with her, and her memory will be the call to arms in future struggles for GE retirees."
Quirini wrote a self-published book on her early experiences, Helen Quirini and General Electric: A Personal Memoir of World War II (1997), which also dealt with the 1946 strike.  Ten years earlier, with Henry Antonelli, she co-authored a booklet of local union history, The Story of Local 301 IUE-AFL-CIO: Reflections.
Return to UE
Helen Quirini was a special guest at the UE 68th Convention in 2003, whose theme was "Women in Leadership: Past - Present - Future." Quirini participated in a panel discussion on women in UE history [1]. She was visibly moved by the chance to speak to UE convention delegates nearly 50 years after her local seceded. "I am so proud to be here today to speak to my brothers and sisters." She described her early efforts, with other women in Local 301, to fight for equality, and displayed a slide of a page from the UE NEWS reporting a mass rally by women in the Schenectady plant. To succeed in such struggles, she said, "It takes determination." Given the prejudices against women in the workplace in that era, she said, "We also had to educate the men. It took the commitment of the national United Electrical Workers to create the kind of atmosphere so we could do what we had to do. I tell you, the U in UE is all of us — it's you who care about fighting for principle, to take on something that looks hopeless, because something is not right. If you believe in something that's justified, fight for it."