As a Local 610 steward in the 1970s, Lisa Kannenberg thought she and her co-workers were "pioneers" by organizing a District Six women's conference. The late Evelyn Bell, longtime District office manager, set them straight, Kannenberg said.
Nearly 30 years earlier, Helen Quirini thought UE's national women's conference was an innovation, only to discover a groundswell of district and local women's meetings. "We thought we were smart like you were smart," Quirini said to Kannenberg, "but they were all doing it."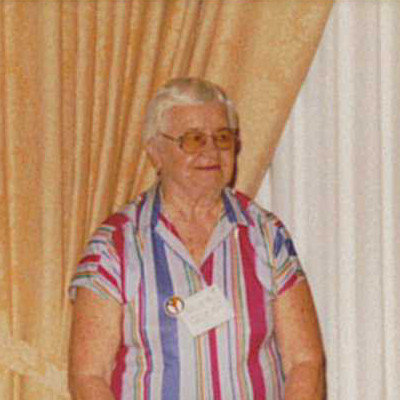 Helen Quirini, a UE stalwart in General Electric's Schenectady, N.Y. plant in the 1950s, is today a leader in the GE retirees' movement for decent pension benefits.
Both women took part in a roundtable discussion during UE's 68th Convention that explored UE's contributions to the fight for women's equality. Kate Buczek, possibly the first female organizer, and Amy Newell, secretary—treasurer from 1985 to 1994, also participated. The panel was organized and moderated by lnternational Representative Carol Lambiase.
Now a historian who teaches at St. Rose's College, Kannenberg briefly surveyed UE's unprecedented fight against the rampant sex discrimination in the 1940s electrical manufacturing industry. Only when the women's movement raised the issue of comparable worth in the 1970s was the union's "cutting edge" analysis of industry's discriminatory structure equaled. Kannenberg said UE's rank-and-file philosophy, and the mobilization of the World War II years, made it possible for women to rise to leadership.
Among those women was Quirini, who was hired by General Electric at the Schenectady, N.Y. plant in 1941. She served on the UE Local 301 executive board and as chair of the local's women's committee, and was a leader in the union's fight against GE discrimination. Following the 1952 convention, she traveled around the union building for the first UE Conference on the Problems of Working Women in 1955. "It takes a union like this," she said, to make a difference.
Kate Hull Buczek was working on the staff of a labor newspaper in Erie, Pa. when she joined the UE staff in 1942. She organized electrical manufacturing plants with sizeable female workforces in upstate New York. She left the staff to raise a family, but returned to the staff in the early 1950s to help UE repel raids — with her infant son in tow.
Like Kate's son, commented Amy Newell, she was dragged from campaign to campaign as her mother returned to the UE organizing staff during the raids. In the intervening years, UE lost an impressive proportion of women organizers. By the time she joined the staff in 1974, Newell said, she was one of only three female organizers. Her uniqueness was all too apparent: GE targeted her for a sexist attack during a crucial mid-Seventies organizing campaign; some union men were unwilling to accept a female organizer. Greater acceptance accompanied more women on staff, the role of the Coalition of Labor Union Women, and the leadership that women assumed in hard-fought union battles, she said.
Numerous delegates had comments and questions for the panelists.
Women's active participation and leadership in their union went on display in an exhibit "A Women's Place is in UE." The exhibit was created by Dr. David L. Rosenberg, Archivist of the UE Archives and Labor Collections at the University of Pittsburgh, at the union's request. Photos, documents and artifacts spanning eight decades told the story of struggle and achievement.
In addition to the six panels, visitors could view vintage UE films on video, some documenting the 1950s UE women's conferences, and explore the Labor Legacy website created by the UE Archives.