The Top Five UE NEWS Stories of 2021
This week on social media, we've been counting down the top five UE NEWS stories of 2021. Here they are:
#5: Despite Lack of Collective Bargaining, Local 150 Fights for Safety and Pay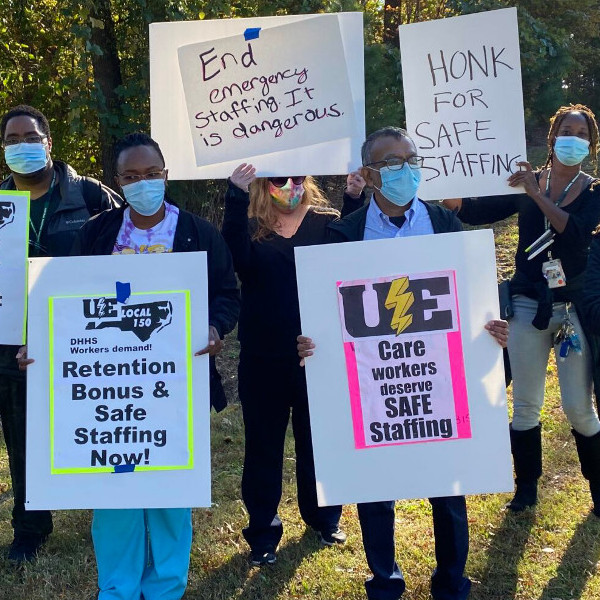 Local 150 members rally for safe staffing in March.
Throughout 2021, UE Local 150, which represents public-sector workers throughout the state of North Carolina, has waged a relentless struggle for safe staffing, hazard pay and wage increases — despite the fact that public-sector workers are denied the right to collective bargaining by state law in their state.
UE Local 150 members at Central Regional Hospital rallied in April [1] — and again in November — to demand hazard pay and safe staffing. Also in April, city workers in Charlotte took action to demand hazard pay and real wage increases [2].
In the summer, the Local 150 newsletter reported on the success of Charlotte and other municipal chapters' efforts to win better wages [3], and in September, state workers joined others in marching on the state legislature [4] to demand a budget that prioritized state workers, not tax cuts to corporations and the wealthy.
#4: UE Holds First-Ever Virtual Convention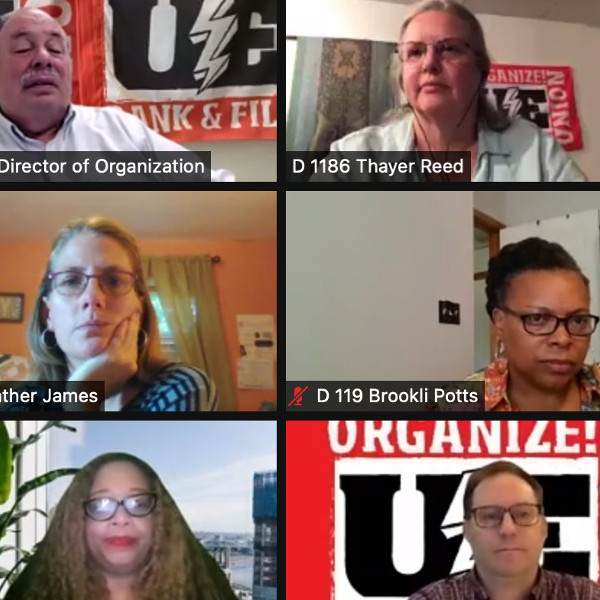 Screenshot from the 77th UE Convention
Although they were unable to gather in person due to the COVID-19 pandemic, over 100 delegates from UE locals across the U.S. nonetheless held a successful virtual convention from September 20-24, with all of the inspiration, education, democracy and solidarity of a regular UE convention. They were joined by dozens of guests, including rank-and-file members, new UE members from recent organizing campaigns, retired UE officers and staff, and guests from allied unions Unifor (Canada) and the FAT (Mexico).
Video of convention speakers, the organizing report, and international guests can be found on UE's YouTube channel [5].
Full UE NEWS coverage of the convention can be found here [6].
#3: Bottling-Plant Workers Overcome Intense Anti-Union Campaign to Join UE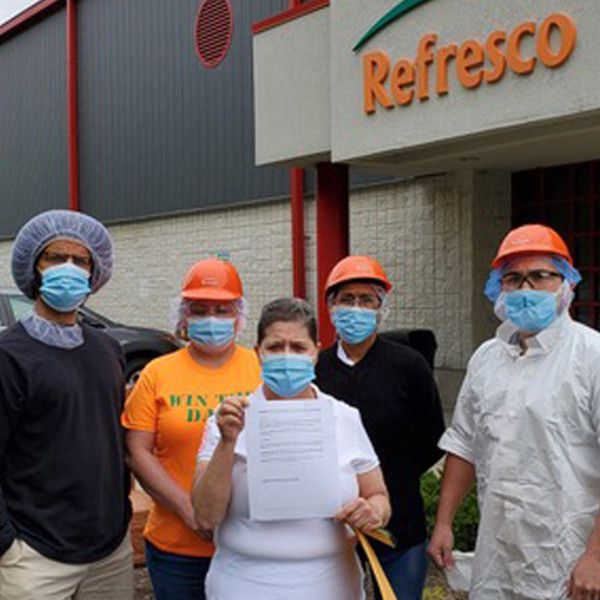 Refresco workers holding a letter demanding that their boss recognize their union.
In June, 250 workers at the Refresco bottling plant in Wharton, New Jersey overcame an intense anti-union campaign to win one of the largest blue-collar union election victories of 2021 [7].
Following the election, the company has continued its flagrant violation of workers' rights, refusing to bargain and filing frivolous appeals to delay the NLRB certification (which was finally granted in December). Workers have responded with petitions in the shop [8], taking their campaign to the public-sector pension funds who are invested in Refresco through the private-equity firm PAI Partners [9], and filing multiple OSHA complaints over the numerous health and safety violations in the plant [10] — one of the main reasons they organized a union in the first place.
Refresco workers' struggles have also gained media attention, in The Intercept [11] and In These Times [12].
#2: Economy Gives Workers Leverage to Fight for Better Pay and Conditions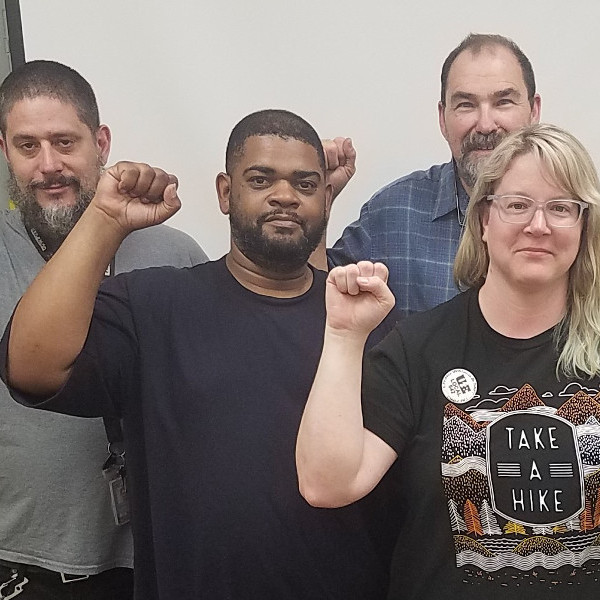 Four members of the UE Local 642 negotiating committee.
In 2021 the economy put workers in a better position to push for higher wages and improved working conditions than we have seen in decades. With more working people refusing to work for poverty wages, in unsafe conditions, and without adequate social support for their families, employers are being forced to raise wages in order to attract workers. Unionized workers have been able to use that leverage to win collective bargaining agreements with higher regular pay increases than was the case prior to the pandemic, especially for lower-wage workers, and to successfully reject company demands for concessions.
2021 kicked off with Local 155 members at M Chasen and Son winning a dollar-per-hour increase [13] after making it clear that they were willing to walk off the job if they didn't secure significant raises. Factory service technicians who work for GE Appliances Factory Services won wage increases of 5.25 and 6.25 percent in the spring, after demanding early negotiations with the company [14].
Members of Local 667 employed by the East-End Food Co-op in Pittsburgh achieved a new three-year agreement with substantial wage increases [15]. Starting wages rose immediately by $1.50 and existing members will see an average wage increase of 16 percent over the course of the contract. Members of Local 642 who work for Harborcreek Youth Services in Harborcreek, PA won a new agreement which resulted in a 7.5 percent pay increase in the first year of the agreement alone [16].
Members of Local 222-75 employed as paraprofessionals by the Wallingford, CT Board of Education, who had to fill in as substitute teachers throughout the COVID-19 pandemic, negotiated a special agreement [17] with the district where members receive both their regular paraprofessional pay as well as substitute teacher pay for any day which was filled through the end of the 2020-2021 school year.
Both Local 123 (Daikon Industries in Verona, VA) and Local 267 (University of Vermont in Burlington, VT) faced concession demands from their employers — but were able to fight them off. In addition to fending off concession demands, Local 123 won solid language improvements in a variety of areas of the contract [18], while Local 267 won a new pay system which ensures that no member of the bargaining unit is paid less than $15 per hour [19].
In tough negotiations with an exiting employer amid the recent sale of their plant in Erie, PA, and with a majority of their members on layoff since last March, Local 683 was able to secure a $1,000 lump sum for all bargaining unit employees — including those on layoff — and took zero concessions [20]. The headline numbers on the contract settled by Local 735 with CJ Automotive in Butler, IN, were relatively modest — 2.5 to 4.75 percent depending upon classification during the one-year agreement, with a $0.35 improvement in shift bonuses — but this represented a major achievement for the local considering the employer had repeatedly cried poverty at the bargaining table and was previously calling for a $2.00 across the board pay cut for first shift, the elimination of health insurance, and the end of all overtime protections beyond the statutory minimum, all of which the local fought off [21].
In Vermont, Local 221 negotiated $117,000 in wage increases for Head Start workers at Northeast Community Community Action [22], with the most underpaid workers seeing increases of up to 28 percent. In North Tonawanda, NY, Local 319 secured average wage increases of $.81 per hour for each year of their new three-year contract [23] and additional employer contributions to workers' health savings accounts (HSAs), while successfully fighting back all concessions proposed by the company.
Kenson Plastics workers in Beaver Falls, PA, members of UE Local 690, won average wage increases of $.77 per hour for each year of their new five-year contract, more paid time off, and improvements to other benefits [24]. Local 712 members at Kenyon College in Gambier, OH won improvements to retiree health insurance and new benefits for members who go on active military duty [25]. And at Generation Lighting in Burlington, NJ, Local 155 members won solid wage increases, more vacation time, better attendance policies, and limits on mandatory overtime [26].
#1: Largest UE Organizing Victory in 25 Years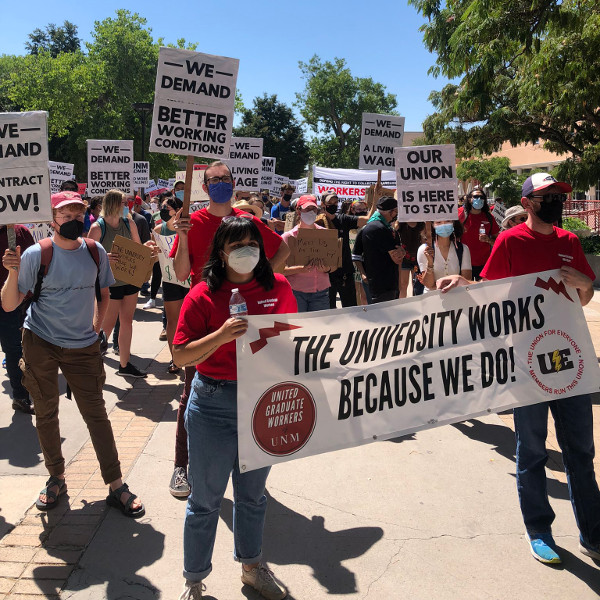 United Graduate Workers of UNM rally for recognition in September.
At the very end of the year, the New Mexico Public Employee Relations Board conducted a "card check" to confirm that a majority of the 1,547 graduate workers at the University of New Mexico have chosen to be represented by UE Local 1466/United Graduate Workers [27] — the largest UE organizing victory in 25 years.
Along with 900 graduate workers at New Mexico State University, UNM grad workers are making history as the first graduate worker unions to seek recognition in the state of New Mexico [28]. They are also the first large bargaining units to unionize under New Mexico's new "card check" union laws for public-sector workers, which provide for union recognition after a majority of workers have signed cards indicating their desire to join the union. Graduate workers at both universities face poverty wages, poor insurance, and a lack of protection for international students — and have organized with UE to win improvements.
The university administration has refused to recognize their graduate workers as employees, filing legal appeals that delayed the card count for over a year. In response, UNM grad workers held a "rally for recognition" in September [29], launched an online letter-writing campaign [30] and held a "work-in" in the UNM administration building [31]. NMSU grad workers have also continued protesting their administration's refusal to recognize their union [32].
Also in December, two other large groups of graduate workers announced that supermajorities on their campuses have joined UE. The Indiana Graduate Workers Coalition-UE delivered cards [33] representing a majority of the 2500 grad workers at Indiana University to their administration on December 10, and the MIT Graduate Student Union/UE followed suit [34] days later, demanding to be recognized as the representative of more than 5,000 graduate workers at the Massachusetts Institute of Technology.
Graduate workers teach classes, do research, grade papers and do other administrative tasks. Paid much less than faculty, universities are increasingly relying on them as a source of cheap labor. UE has represented graduate workers since 1996, when 2,600 graduate workers at the University of Iowa formed UE Local 896-COGS [35].