UE Local 319, whose members produce industrial lubricants for Battenfeld Grease & Oil Corporation of New York, ratified a new three-year contract on October 8. The local's gains include average wage increases of $.81 per hour for each year of the contract and additional employer contributions to workers' health savings accounts (HSAs). The local successfully fought back all concessions proposed by the company.
To prepare for bargaining, the local's negotiating committee distributed surveys to the members and held meetings to discuss key contract demands. "It was important for us to get people more involved in the process. There has been a certain level of apathy here that we tried to change as union leaders. We told our members we could make real changes if we all did our part. I think we have re-awakened the union spirit here," said UE Local 319 President Jeff Chambers.
The local wore union shirts and buttons on days when management held meetings. During the contract campaign, the group took a photo of nearly the entire union membership, which was printed on large poster paper and placed in the break room as reminder to the employer of the union's solidarity.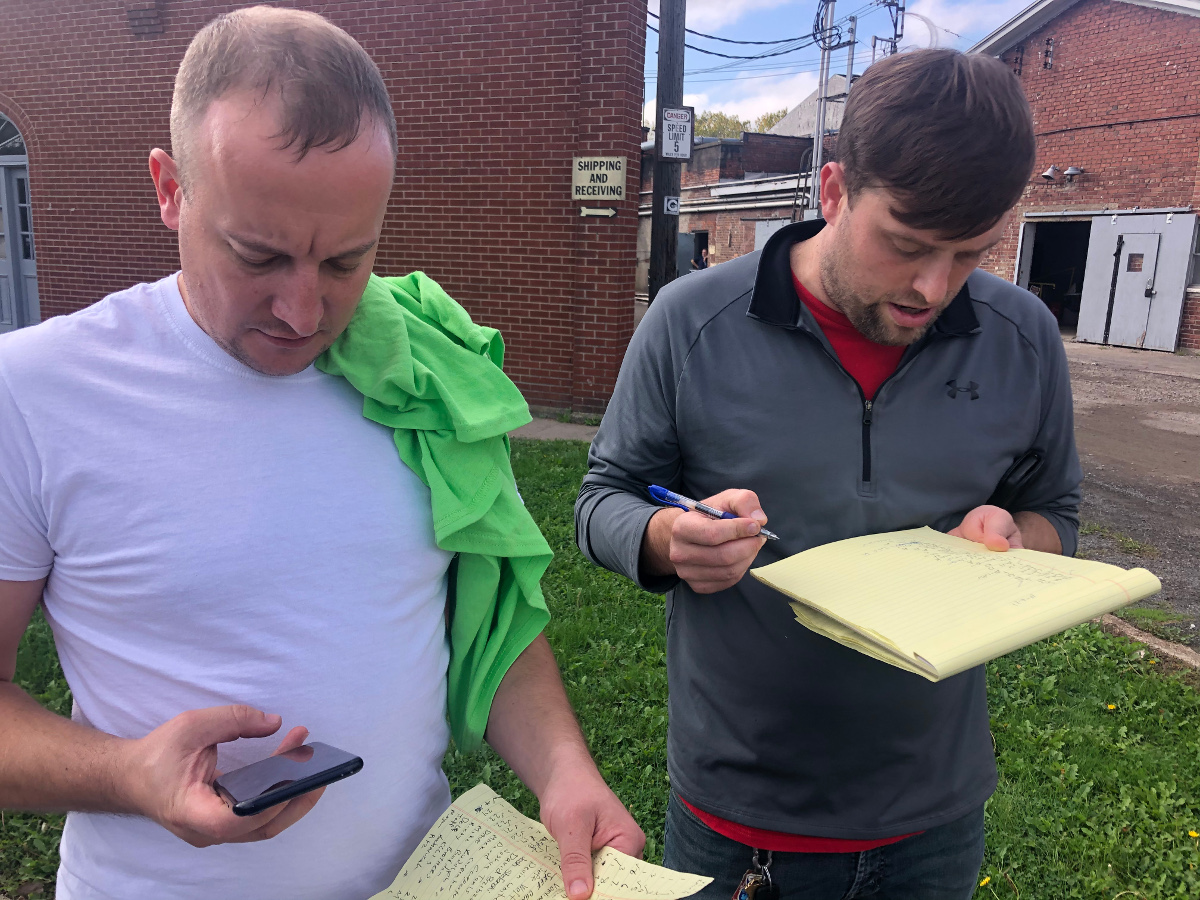 Chief Steward Tom Simpson (left) and Recording Secretary Dan Walczak (right) make sure members are reminded about upcoming union shirt day.
The new agreement maintains $0 employee premium costs for single-coverage medical insurance, and will increase the company's contributions to workers' HSAs from $1,700 to $1,900 per year for single-coverage plans and $3,400 to $3,800 per year for family-coverage plans. Deductibles and out-of-pocket charges will remain the same.
The local added an additional personal day effective after ratification, along with one additional personal day each year of the agreement. The union also gained a second employer-provided life insurance policy equal to each employee's annual salary (in addition to the existing $15,000 benefit), and the allowance for safety shoes will be raised an additional $60 per year, enabling workers to be reimbursed for purchases of up to $150 per year.
The probationary period will be reduced from 180 to 90 days, and the starting rate will be increased by $3 to $18 per hour.
"We made it clear to the company at the bargaining table that our members demanded that they be compensated more for their work. Everyone was talking about how much the company has prospered recently while many of us struggled to pay our bills. The fact that our members were more united than we've been in a long time was a big part of us getting this contract," commented UE Local 319 Chief Steward Tom Simpson at the union's ratification meeting. "But we know that this will only be a stepping stone if we continue to build our local between now and the next time we are at the bargaining table. I think we are moving in that direction."
"We didn't move mountains, but management knew our members supported us and were energized. That helped us get a good deal," summarized Recording Secretary Dan Walczak.
The union bargaining committee consisted of President Jeff Chambers, Chief Steward Tom Simpson, and Recording Secretary Dan Walczak. They were assisted by Field Organizer Ben Wilson. Research Director Karl Zimmerman and International Representative John Thompson provided valuable support during negotiations. UE Eastern Regional President George Waksmunski's knowledge of the local's history aided the bargaining process.