Retired UE Director of Organization Bob Kingsley joined labor rights activists at the U.S. Capitol on Wednesday, November 20 to demand justice for recently murdered Mexican unionists, and that labor-rights provisions in the renegotiated NAFTA 2.0 be strengthened before it is sent to Congress.
Just since North American Free Trade Agreement (NAFTA) renegotiations started, three labor activists at the Media Luna gold mine southwest of Mexico City have been murdered by anti-union vigilantes. A fourth, Oscar Hernández Romero, just disappeared. Demonstrators held placards with the murdered workers' names.
Longtime UE ally Congressman Chuy Garcia opened the press conference demanding that strong enforcement provisions on labor rights be added to NAFTA 2.0, also known as a "U.S. Mexico Canada Agreement" or USMCA.
Garcia noted that NAFTA "has proven deeply damaging to the United States and Mexico," with the loss of one million manufacturing jobs in the U.S. while wages for manufacturing workers in Mexico — who face violence and intimidation when they seek to exercise their labor rights — have dropped to 40 percent lower than Chinese manufacturing wages. "The disappearance of Oscar Hernández Romero, a union organizer from Guerrero, is a painful reminder that workers in Mexico still need protection."
"Strong labor rights and enforcement in the USMCA would help counter the violence against workers and improve the lives of Mexican and U.S. working people," Garcia continued. "We have the chance to repair the damage that NAFTA has done but only if we have it in writing and the deal is strong for workers in both countries." He also noted that President Trump has "stonewalled" calls to strengthen labor rights and add real enforcement mechanisms to protect workers to the USMCA.
Communications Workers of America President Chris Shelton pledged CWA's solidarity with Mexican workers. "Corporations are most interested in one thing: their bottom line," he said. "If they can increase their profits by exploiting workers in inhumane conditions and turn a blind eye to violence against activists, they'll even do that."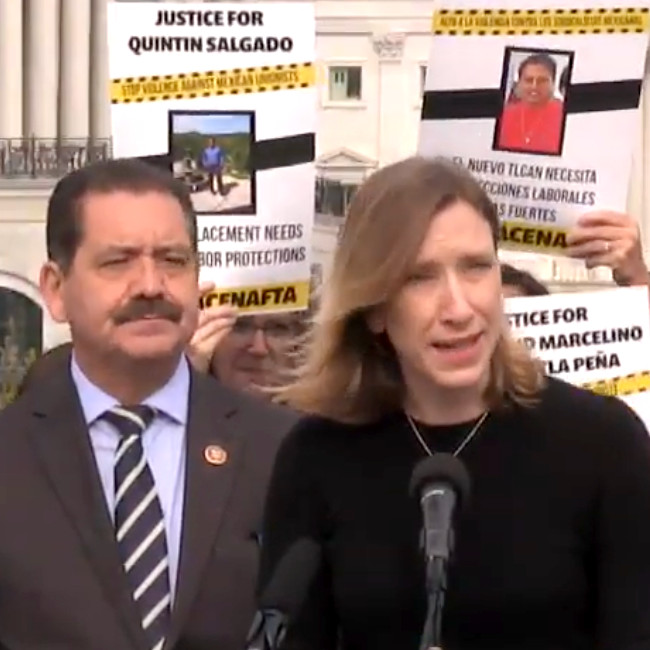 Congressman Chuy Garcia and Sister Quincy Howard
Sister Quincy Howard of the NETWORK Lobby for Catholic Social Justice drew an explicit connection between violence against workers in Mexico and job loss in the U.S., noting that reason U.S. jobs are outsourced to Mexico is "to exploit those artificially low wages." In a globalized economy, she said, U.S. lawmakers have to decide "Are we with corporations, or do we stand in solidarity with workers?"
"People of faith are called to strive for an economy, global or otherwise, that respects the priority of labor over capital, which is nothing less than the primacy of human beings over money."