Media Contact: Alexander Allison, xangrey@nmsu.edu, 802-793-5330
Over 100 graduate workers, undergraduates, faculty, and community supporters picketed the Corbett Student Union from 11am-1pm yesterday in advance of the final union bargaining session of the semester. Picketers were calling for a fair union contract that would end NMSU's highly unusual "pay to work" system of charging tuition to graduate employees, reduce health insurance costs, and lift graduate workers above the federal poverty line.
"We hope NMSU administrators see that the workers who teach over half of the undergraduate students are being pushed to our absolute limit with out-of control tuition and discriminatory healthcare fees" said Juan Ramos, a Teaching Assistant in the Sociology department. "We love our students, we love our research, but we simply can't go another semester paying to work and living below the poverty line."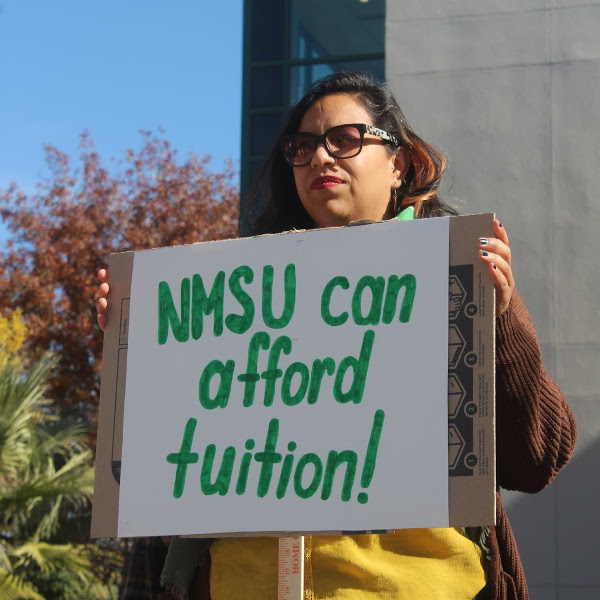 Graduate workers hold signs at the picket on December 1. Tuition coverage and affordable healthcare for all graduate students have been the most prominent economic issues on the bargaining table this semester.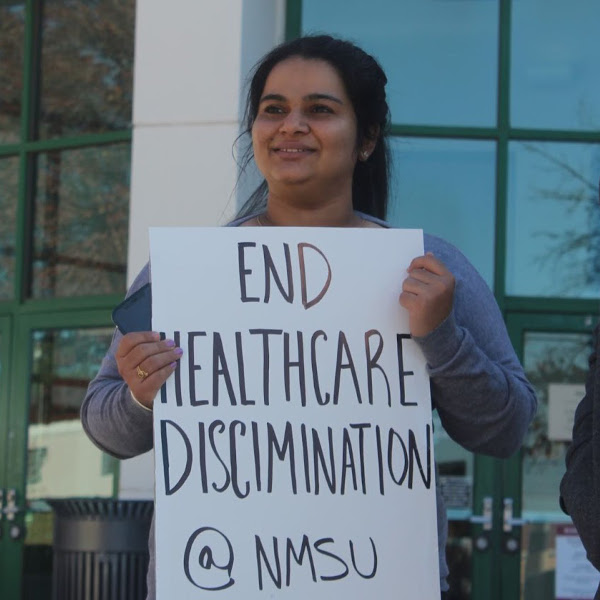 ​  
Faculty, elected leaders, and outside advisory organizations including the Council of Graduate Schools have recommended tuition coverage for graduate employees for over half a decade. Last month, the ASNMSU and the NMSU Graduate Student Council both passed resolutions calling for a fair contract and tuition coverage by the end of the semester. After the picket yesterday, the NMSU Faculty Senate passed an emergency resolution for grad workers, expressing their support for tuition coverage, affordable health insurance, and fair wages.
On October 27th, union members delivered a petition to the Board of Regents Chief of Staff signed by a majority of all current graduate employees calling for an end to graduate poverty through a union contract covering tuition this semester. "Ensuring that the workers who provide vital contributions to teaching and research can afford groceries and are not living in extreme poverty is really a basic proposal that nearly everyone agrees with" said Dr. Jamie Bronstein, a Professor in the History Department and Faculty Senate Vice Chair. "Graduate workers have made several proposals to end this crisis. It's time for NMSU administrators to take action." 
NMSU graduate workers have also expressed solidarity with 48,000 academic workers, including graduate employees, at the University of California, who are currently on strike over similar concerns of low wages and bloated admin salaries. GWU and NMSU have been in contract negotiations since July 1st, 2022 with the final session of negotiations for the semester currently scheduled for December 8th. The NMSU Board of Regents will also hold their final meeting of the semester on December 8th at the Corbett Student Union at 1pm.
NMSU graduate workers are members of UE Local 1498.