Every election, politicians promise jobs. Regardless of who wins, good jobs keep getting scarcer in most UE communities. Is there anything else that working people can do to create — and more importantly, keep — good jobs in our communities?
A group of trade unionists and community organizers in Cincinnati thinks they have an answer — union co-ops. The Cincinnati Union Co-op Initiative is a nonprofit founded in 2009 with the mission of incubating unionized businesses that are cooperatively owned by their workers. CUCI believes that bringing together unionization and cooperative ownership creates a powerful tool to generate family-sustaining jobs that can be the foundation of an economy that works for everyone.
Worker co-ops differ from Employee Stock Ownership Plans, which UE has vigorously opposed because they shift investment risk onto workers while leaving bosses and corporate owners in control. ESOPs have also frequently been used by bosses as a means of getting workers to accept wage concessions. In a worker co-op each worker-owner holds exactly one share, and workers maintain control over the enterprise (although in certain hybrid models they share decision-making authority with other groups of co-op owners, such as customers).
Nationally, thousands of union members work for — and co-own — worker co-ops. Among the largest are Cooperative Home Care Associates in the Bronx, whose more than 2000 workers are members of SEIU, the Maine lobstermen's cooperative Lobster 207, a local of the Machinists' union, and Green Taxi Cooperative in Denver, where close to 1000 drivers are members of the Communication Workers. UE counts worker co-ops among our own ranks: Collective Copies in Western Massachusetts, where workers are members of Local 274, and New Era Windows Cooperative in Chicago, which was started by members of Local 1110 after fighting plant closings by occupying their factory — twice.
Although the number of union members in CUCI's projects in Cincinnati is still relatively small, their vision is big, and spreading to other parts of the country. CUCI envisions, and is actively building, a family of unionized, worker-owned co-ops that support each other economically and share educational and other resources. The three national Union Co-op Symposiums they have held (UE members from Locals 203 and 1110 attended the first one, in 2013) have resulted in similar union co-op initiatives being started in Los Angeles, CA and Dayton, OH; organizers are also pursuing similar projects in Brooklyn, NY; Albuquerque, NM; and Nashville, TN.
Nurturing a Union Family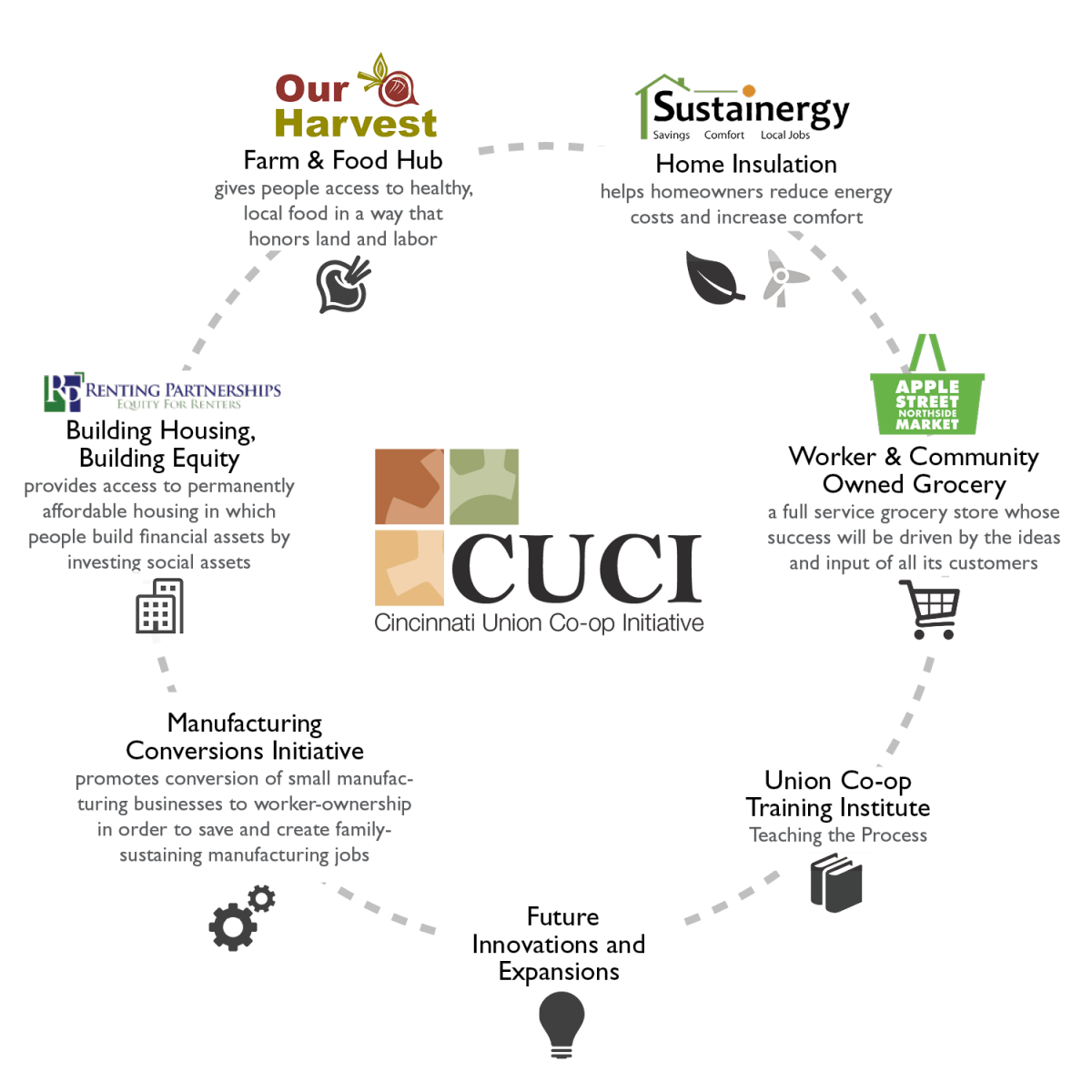 CUCI's offices are located in the Peaslee Neighborhood Center, a former elementary school in the working-class Over-the-Rhine neighborhood. The Peaslee Center was preserved as a neighborhood resource by the parents who organized against its closing in the 1980s, and it now hosts a five-star child care center, an "Agents of Change" program that teaches neighborhood teenagers about organizing and self-expression through the arts, and music and writing programs for the community. CUCI's offices on the top floor are down the hall from community organizations such as the Cincinnati Interfaith Workers Center and the Intercommunity Justice and Peace Center.
Asked to describe CUCI's vision for the economy, Executive Director Kristen Barker talks about one of her visits to the Spanish town of Mondragon, where "you don't find any mansions, and you don't find anyone who is homeless." Mondragon, which enjoys much higher levels of economic equality than most of the world, is home to the Mondragon Cooperatives, a federation of worker co-ops which currently employs over 70,000 people and is the tenth-largest company in Spain. It is also the explicit model for CUCI.
Mondragon was founded in 1956 by a young Catholic priest named José María Arizmendiarrieta. His aim was not just to provide an income for his parishioners in the then-poverty-stricken town of Mondragon, but to create an institution that would provide for the social welfare of the whole region. Much like UE, Arizmendiarrieta emphasized the crucial importance of education so that workers could participate in determining their own future. The original polytechnic school founded by Arizmendiarrieta has grown into Mondragon University, a crucial component to the co-op federation which provides current and prospective Mondragon workers with both technical and organizing skills.
CUCI, like Mondragon, is a "co-op of co-ops," an association of worker co-ops together with educational and financial institutions that support them. By acting together in solidarity across different economic sectors, the worker co-ops that are part of CUCI can take advantage of opportunities — or better weather periodic downturns — in particular sectors. The co-op of co-ops provides training, helps individual co-ops identify and developing business strategy, and fosters the development of new co-ops.
Building a Sustainable Economy
CUCI launched its first workers co-op, Our Harvest, in 2012. Our Harvest provides employment at family-sustaining wages, grows fresh food without synthetic pesticides or fertilizers at two farms in the Cincinnati area, and also serves as a "food hub," providing storage and distribution for other local farms. Their second worker co-op, Sustainergy, has been providing energy-efficiency retrofitting services for homeowners since 2014.
Next year, CUCI will be opening Apple Street Market, a full-service grocery store in Cincinnati's Northside neighborhood. Northside is a working-class neighborhood whose only grocery store closed in 2013, leaving it a "food desert." Apple Street Market will be a hybrid worker-consumer co-op, with 35 percent of the voting power and three of the eleven board seats elected by consumer members. Workers will maintain majority control over the business, but they have written into the bylaws a provision to allow consumer members to veto any relocation decisions, reflecting their commitment to the neighborhood.
CUCI is also working with child care workers, the Cincinnati Federation of Teachers and AFSCME to develop a "shared-services" co-op that would allow home child care workers who are paid through public subsidies to low-income families to unionize, share costs, and move towards a $15/hour wage.
In what is perhaps the most innovative of their experiments, CUCI is currently piloting a "care share" co-op, in which four families with small children are pooling their resources to be able to pay a livable wage to a child care provider who cares for their children in a home setting. CUCI organizers envision a model where families in need of child care can use an AirBnB- or Uber-like app to organize similar small co-ops, then hire skilled child care workers at livable wages from a union hiring hall. This model, if successful, could point the way to bringing livable wages and unionization to the so-called "sharing economy."
The Union Makes Sure We Have a Good Job
CUCI organizers see unionization as crucial to the success of their business model. This is backed up by the experience of the Mondragon cooperatives, who emphasize that a culture of solidarity — a willingness to work together for the common good — is indispensable for thriving cooperative businesses. That is why Mondragon established a formal relationship with the United Steelworkers in 2009. In 2012, Mondragon, the USW, and the Ohio Employee Ownership Center produced "Sustainable Jobs, Sustainable Communities: The Union Co-op Model", the template that CUCI uses for building sustainable, worker-owned and unionized businesses.
Olivia Nava-Meinerding, a worker at Our Harvest, told the UE NEWS that the union gives workers a way to make their voice heard, even at the apprentice level (before they become co-owners and are able to vote). "It creates a really cool environment," she said, emphasizing that the union's focus on the workers helps ensure that the co-op is creating good jobs and not just succeeding as a business.
This is backed up by a 2016 study of CUCI conducted by sociology Ph.D. candidate Laura Hanson Schlachter, who found that the union "helped facilitate democratic debate about workplace issues" at the worker co-ops.
Barker adds that as CUCI's co-ops grow, unionization will "allow us to scale with our values." Mondragon's experience is that once worker co-ops grow beyond about 50 workers there is an inevitable disconnect between even the most democratic management and rank and file workers. Rank and file workers having their own democratic organization dedicated to their interests (i.e., a union) helps keep the workplace fully democratic.
A Culture of Listening to Everyone
Barker describes the work of CUCI as "building the beloved community, where resources are shared equitably and every voice is heard and valued." CUCI's worker co-ops bring together widely diverse workforces — at Our Harvest, Barker notes, the workers have included formerly incarcerated people, a Guatemalan immigrant whose formal education ended at third grade, and a worker with a masters' degree. To work together successfully, they begin all meetings by hearing from everyone. "Frustrations happen," but in this kind of inclusive meeting process "you see the whole person again"
Building democratic workplaces in the face of rising inequality is not easy work, Barker admits. "There are tumultuous times ahead," she says, and in order to move forward together "we have to pay close attention to all voices."
Related: