UE Director of Organization Gene Elk will be retiring at the end of his current term, on October 31. Elk first joined the UE staff in November of 1977, and served the union as a Field Organizer, International Representative, and Secretary of the GE Conference Board before his election as Director of Organization in 2015.
Even before he came on staff, Elk had a connection to UE: his uncle Herb Nichol and aunt Lucy Nichol were UE organizers in the late 1940s and early 1950s. Herb Nichol was primarily responsible for organizing UE Local 120 at Locke Insulator in Baltimore, and was later brought before the House Un-American Activities Committee for his organizing activity with UE. Lucy Nichol organized Sylvania shops in central Pennsylvania.
Elk worked on organizing campaigns in New York and Virginia as a "brand-new, green organizer," hired on a trial basis, with the understanding that when the opportunity arose he would get a job in a UE shop. "In the old days, everybody had to go into the shop and experience what it was like to be under the thumb of the boss," Elk said.
He moved to Cambridge, Massachusetts and got a job at Colonial Manufacturing, where his field organizer was Phil Mamber, who would later serve as president of UE's New England District 2. After about six months, UE Director of Organization Hugh Harley asked Elk to join the UE staff on a permanent basis to work in western Pennsylvania. Elk described the move to Pittsburgh in 1978 as "life-altering" — he would remain in Pittsburgh until the present day, working on some of UE's most storied campaigns.
"A whole education about how to organize people"
In November of 1981, the 3700 members of UE Local 610 struck Wabco (now Wabtec), in the first large strike in the U.S. after President Ronald Reagan had busted the PATCO strike by firing over 11,000 air traffic controllers. Reagan had also decreed that strikers were no longer eligible for food stamps. Elk was one of several staff assigned to the strike.
"We had to figure out a way to feed 3700 people on a regular basis and we did," Elk said. In the first month of the strike, the union arranged to purchase 3700 frozen turkeys so every striker's family could have a Thanksgiving dinner. "We organized a food pantry that put together food for the strikers every week and wound up also running strike kitchens at both union halls. Anybody who was a striker or a family member of a striker could come and get a hot meal 24/7."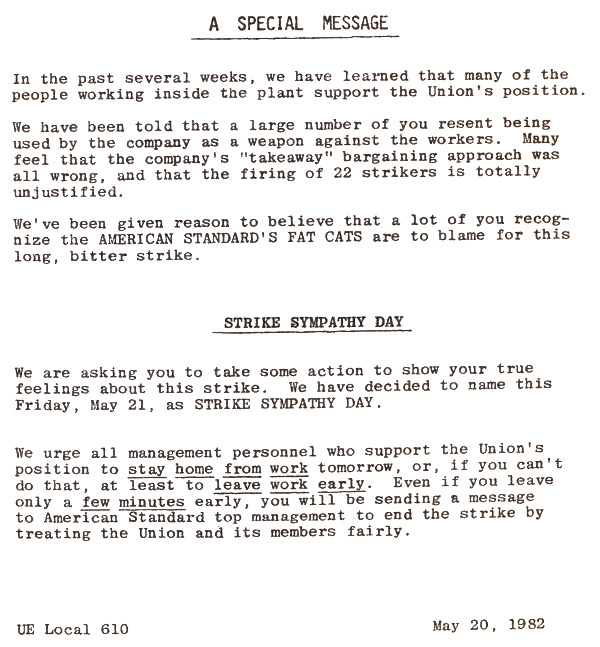 "Bosses' Solidarity" leaflet devised by Elk.
Retired UE NEWS Editor Al Hart, who was a rank-and-file member of Local 506 at the time, came out of the shop to work on the strike and worked with Elk. He recalls that "We started to notice no one was working in that plant except the bosses. They're in there pretending to work and we're starting to notice that every Friday they're leaving early." Elk had the idea to issue a "Bosses' Solidarity" leaflet, calling on the bosses in the plant to support the strike by taking Friday off, or at least leaving early. When the higher-ups got word of the union leaflet, the bosses in the plant were ordered not to leave early, and found they had to cancel their Friday afternoon fishing trip.
"That was a pretty clever trick," said Hart, "and it was great fun, and it worked. That was one of Gene's shining moments."
The strike, which lasted for six months, was the first major strike against concessions in an era when most large industrial unions were accepting them. "It was a tough strike," Elk remembers, but "we ultimately won all the issues. It was a whole education about how to organize people and how to keep them going and how people can win collectively."
GE and the Public Sector
After the strike, Elk worked with Local 610 into the later half of the 1980s, when newly-elected Director of Organization Ed Bruno asked him to work in the national office on a new effort to organize General Electric workers.
The new organizing work focused mostly on GE's plastics division, and led to an organizing campaign at the big GE plastics plant in Parkersburg, West Virginia. Although UE lost both labor board elections held in Parkersburg, the union did successfully organize GE service shops in New Mexico, Washington, and Illinois — organizing work that Elk was primarily responsible for. Elk notes that these shops were really the only GE shops that UE, or any other union, has been able to organize since the UE's 1975 victory at the GE turbine plant in Charleston, South Carolina.
In the 1990s, Elk was asked by Director of Organization Bob Kingsley to help coordinate UE's growing organizing work in the public sector. In 1996, he served as the lead negotiator for UE's first graduate worker contract, as members of UE Local 896/COGS won a $2,000 increase in the base salary for graduate teaching and research assistants at the University of Iowa and a new healthcare plan, UI GradCare, which Local 896 has maintained until this day.
Over the next decade and a half, Elk continued to bargain contracts and do arbitrations for UE's growing public-sector membership in Iowa, Ohio and Connecticut. When Steve Tormey, the Secretary of UE's GE Conference Board, retired after the 2011 GE negotiations, Elk was selected to replace him. Elk participated in the 2011 negotiations with Tormey ("Watching Steve — that was a lesson," Elk commented) and then led UE's 2015 negotiations along with UE President Bruce Klipple. The 2015 negotiations turned out to be UE's last negotiations with GE, as GE sold its last remaining UE-represented plant, the Erie locomotive plant represented by UE Locals 506 and 618, near the end of the four-year contract.
Director of Organization
Elk was elected Director of Organization at UE's 2015 convention, following Kingsley's retirement.
"What I'm proudest about is that we've really revived organizing in UE," Elk told the UE NEWS. "We figured out ways to ramp up our organizing so we now have dedicated field staff who do nothing but organizing."
Elk said that "we've learned the hard way" that without dedicated organizers, organizing campaigns suffer because the time deadlines of contract bargaining, arbitrations and grievances are a constant demand on the time of servicing staff.
"We're on the cusp of organizing thousands of new workers," he said. "Instead of searching for good organizing leads, we now have people coming to us asking to organize with UE." He noted that this is in large part "because of our reputation among graduate workers, largely because of our work in New Mexico" at the University of New Mexico and New Mexico State University.
During Elk's tenure as Director of Organization, he also worked to re-institute UE's traditional staffing structure, where every field organizer has an international representative to help guide their work and talk with them about their assignments.
Local 329 Chief Steward Bud Decker, who represents the Eastern Region on UE's General Executive Board, had nothing but praise for Elk, who has serviced Local 329 for over a decade and a half. "For a small local like we are it's been great, we love Gene to death," said Decker. "He's always been there for us."
Decker praised Elk's meticulous attention to detail during negotiations and arbitrations, and praised Elk's commitment to member-run unionism. "He realizes that we run our union, the members run this union — we take that literally. We run it and they [the staff] support us and he is the best support staff you could ever ask for."
"I'm proud that he's my friend and I'm definitely proud that he's one of our union leaders. I'm going to miss the guy terribly."
Elk told the UE NEWS that in his over four decades on UE staff, he was guided by an understanding of the role of staff in a rank-and-file union that "was taught to me very early on by all of the organizers that I worked with, the old field organizers and people like Amy Newell and Ed Bruno."
"Staff have a very important role in a rank-and-file union," he said, "but it's important that as organizers we be selfless and not put ourselves forward as the folks doing the work. Promoting the people who are doing the organizing and empowering them to run their own affairs — that's really the role of staff."