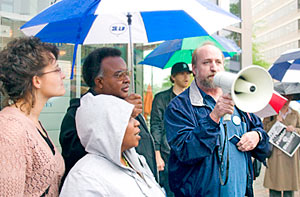 Contract - Now! Gathering for a noon-time rally, UE members heading to Capitol Hill during the 2008 UE Political Action Conference stopped at the Washington headquarters of Stanley Associates on behalf of newly organized USCIS workers. A delegation of rank-and-file members delivered a letter to Stanley's offices, urging serious bargaining for a first contract. Reporting back are (front, left-to-right): Jessica Morley, Local 203; Ravonne Motley, Local 150; and, Brian Barrington, Local 1421.
More than 700 workers at US Citizenship and Immgration Service (USCIS) data centers are preparing for the start of contract bargaining – their first since voting for UE representation in a series of elections held earlier this year. They are employed at four locations in both California and Vermont as subcontracted govenment workers.
These new UE members have elected co-workers to negotiating committees at each location and have worked hard to develop contract proposals that have been debated and ratified at local meetings. The 17 members and 12 alternates who make up the six committees have also undergone negotiations training, learning how to work together at the bargaining table and how to use their new collective voice on behalf of the members they represent.
"Too Many Times ..."
"I look forward to negotiating a union contract that protects our pay and benefits," said Sue Conway, a UE negotiating committee member in Vermont. "Too many times, contractors have come in and knocked us down – and this in going to end."
When bargaining get underway, USCIS workers will be bargaining with Stanley Associates, the main government contractor, and its subcontractors: Northrop Grumman, Choctaw Archiving and SPS. Since USCIS workers share a number of issues, including those that sparked the organizing drive, UE has proposed joint bargaining with all of the employers as the best way to achieve a fair first contract.
Discussions are underway to set a date and location for bargaining to begin.