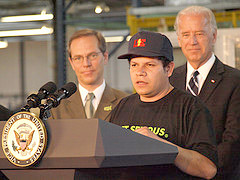 UE Local 1110 President Armando Robles speaks as Vice President Biden (right) and Serious Materials CEO Kevin Surace look on.
UE Local 1110 members proudly welcomed Vice President Joe Biden to their old — and new — workplace today, as the Vice President toured the former Republic Windows and Doors plant in Chicago. Biden not only hailed it's reopening and the rehiring of former workers, but praised as "a big deal" the plant's potential and the return of its workers as UE members under a union contract.
The plant, which closed suddenly in December, attracted worldwide attention as Local 1110 members occupied the facility for six days in a successful bid to win what they were owed. Since then, the plant has been sold, a contract negotiated with the new owner, and now the plant is in the process of reopening. A small crew has been working for a few weeks, preparing to resume full production.
'You said, come back, union and all. That's a big deal.'
Biden congratulated the plant's new owner, Serious Materials, for having done something "a little unusual." He said the California company's use of "science, technology, and innovation to turn a failed factory into a potentially thriving business that can lead this country," was an important accomplishment by itself. But he thanked the company for going further by recognizing "that the greatest asset that this factory had were the men and women" who worked there.
"Instead of doing what has too often been the case in the last, I would argue, 10 to 15 years, you reached out for the most qualified workers in the world," said the Vice President. "Instead of saying, if you want to come back I'm going to break your union, you said, come back, union and all. That's a big deal. That's a big deal," he added.
Green Jobs; Living Wages
"We look forward to getting all of our members rehired and working at Serious Materials to create green jobs at living wages," said Armando Robles, President of UE Local 1110, a maintenance worker at the factory. The union and Serious Materials reached an agreement in February ensuring that all former Republic employees will be rehired at their former rate of pay. UE will continue to represent workers at the factory.
"We are glad to see that we have the continuing support of the White House. This would not have been possible without the hard work we have done as a union, and the support of our allies," said UE Local 1110 Vice President Melvin Maclin.
An Economy for the People
"The former Republic Windows and Doors shows that simply relying on market forces and unregulated banks and corporations cannot provide an economy that works for the American people," said Carl Rosen, President of the UE Western Region.
"We hope that the Administration and Congress continue to take the steps that are needed to ensure that everyone in our country who wants to work has a steady, decently-paid job that they can go to every day," Rosen continued.
The sit-in by UE members dominated national headlines for a week in December, and inspired support demonstrations across the country. The workers took their bold action to win the 60-days pay they were owed after their employer violated the federal WARN Act by putting them out of work with only three days notice. Many Chicago and Illinois political leaders, including then-President-elect Obama, expressed support for the UE workers.
"The optimism here is palpable; it's real," Biden said, adding that he hoped to be "invited back when all 600 folks are working three shifts here, and things are really moving along."