Carrying signs reading "Your Workers Are Human Beings Not Robots," "Respect Workers Rights" and "Stop Unjust Terminations," over 200 UE Local 123 members rallied on July 12 in front of their workplace, Daikin Applied Americas, to protest poor treatment by Daikin management.
Daikin's Verona management has been violating employee rights by unjustly firing union members, forcing employees to work mandatory overtime for weeks straight, requiring employees to work in sweltering conditions, and bullying employees. At times last summer multiple union members a day had to leave the plant in ambulances from heat stress, yet the company is making employees wear even heavier and hotter protective clothing this summer.
UE Local 123 President Wesley Henshaw said, "This company has disrespected its employees for too long and we have had enough. We manufacture air conditioners, but the company won't install air conditioners in our factory to alleviate the heat. Our management is willfully violating the union contract that they signed with us. They fired our union vice president for advocating for our rights. We are rallying to demand that this company stop the harassment and bad working conditions."
"As you can see these people standing here," Henshaw added, "we're going to be here, we're going to fight, and we're going to fight for the workers in that plant."
Chief Steward Chris Graybill added, "The heat is unbearable most days." The company used to provide five minutes extra break on especially hot days, but "They want to take that away from us now, due to it's costing the company too much money."
The union also delivered a petition signed by almost all of the Daikin Verona employees to the company's vice president the week before the rally. The petition demanded that Daikin improve working conditions and respect the workers that make the company run.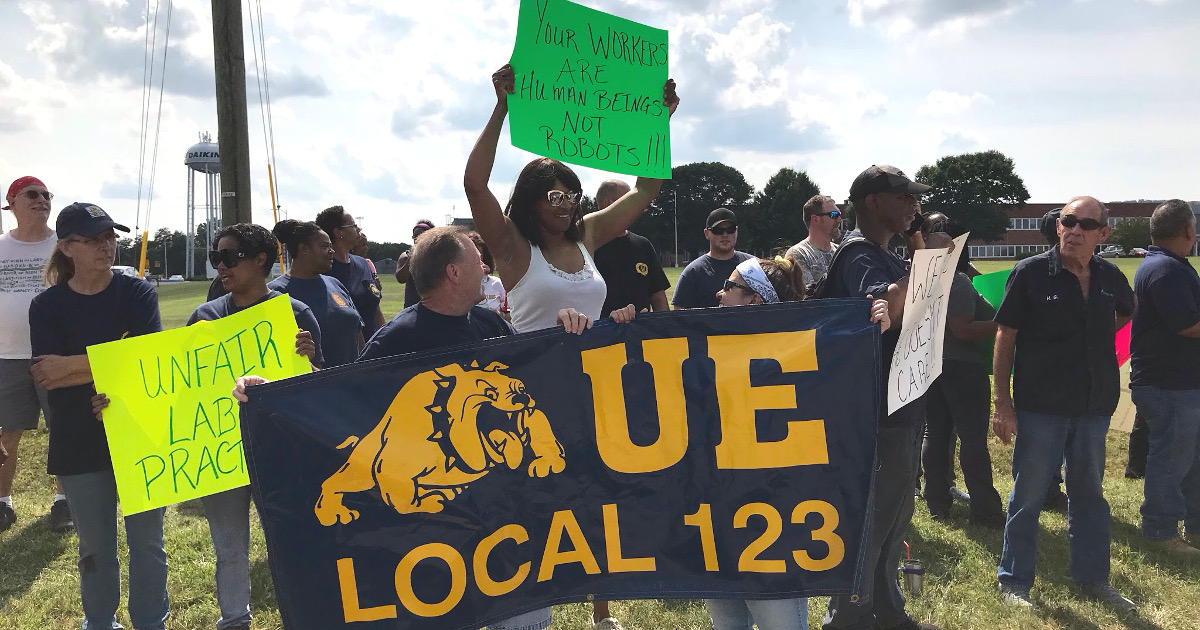 ​
More photos of the rally are available on UE's Facebook page.
The rally received coverage in a variety of local news outlets: