On November 14, 2018 the members of UE Locals 228 and 808 won a massive victory when they secured a new health insurance agreement that reduces insurance premiums and lowers their out-of-pocket costs in 2019. The members of both locals are federal contractor employees who process immigration and travel documents for U.S. Citizenship and Immigration Services and the U.S. Department of State. The 900 members of Locals 228 and 808 are presently employed by the same mega-contractor, Pacific Architects and Engineers (PAE), which also employs members of UE Locals 1008 and 1118.
On September 30th, PAE sent a memo to employees announcing that open enrollment for 2019 benefits would run from October 18 to 31. The memo also showed changes to health insurance for the 2019 plan year. UE members were stunned to see that the premiums for their then-current Cigna plans would be rising by 27 percent. Federal contractor employees pay 100 percent of their insurance premiums out of their wages and health and welfare funds, so this amounted to a cut of between $1900 and $6000 in annual earnings which would be fully absorbed by each UE member.
In its memo, PAE stated that it had a solution to these dramatic increases: the company was introducing a new High Deductible plan and encouraged members to switch from their PPO plans to avoid increased payroll deductions. UE 228 First Shift Chief Steward Lori Lavigne recalls that the insurance memo caused panic at the National Visa Center: "Even with good wage increases since we organized, almost every person here lives paycheck-to-paycheck and can't afford to meet a $5000 deductible. The options they gave us were a big pay cut or insurance we wouldn't be able to use."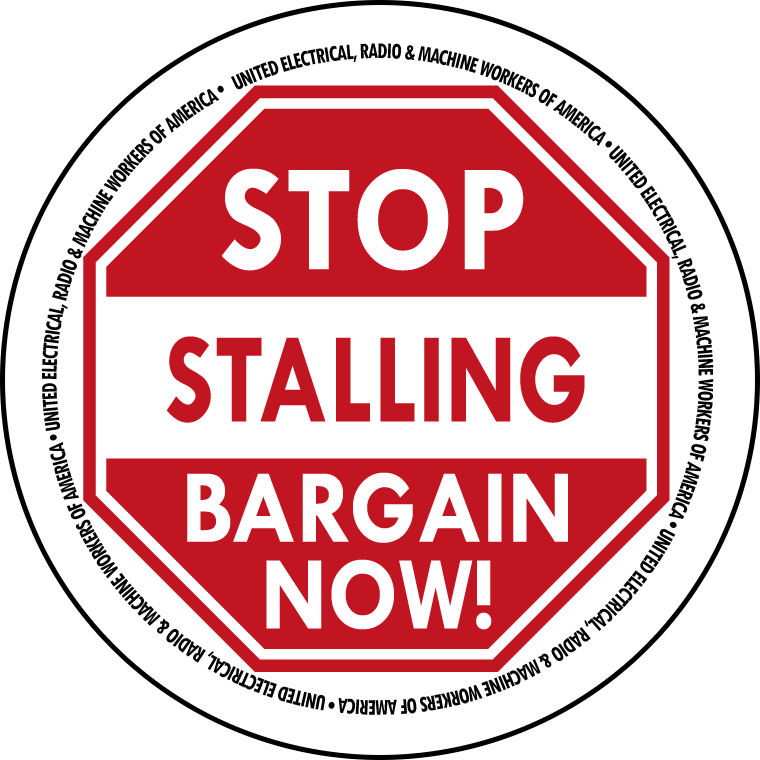 Locals 228 and 808 immediately filed grievances and demanded effects bargaining as required by their UE contracts. PAE refused to delay open enrollment or to set any bargaining dates. The locals responded by immediately launching a campaign of escalating tactics, with a different and bigger action organized every day until the company reversed course. They had union shirt days, sent delegations to management, voiced their outrage during floor meetings, collected hundreds of petition signatures, canvassed workstations with "Stop Stalling, Start Bargaining" signs, and blasted site administrators with hundreds of emails demanding a swift and fair resolution. In less than two weeks, PAE had delayed enrollment and scheduled negotiations for early November.
The two locals engaged in coordinated bargaining with PAE and were supported by the PAE employees of Locals 1008 and 1118. The campaign to get the company to the table had been so relentless that when bargaining commenced PAE quickly agreed to all of the UE's demands. PAE switched members over to its self-funded plans which provide superior coverage — copays are lower and the out-of-pocket maximum dropped from $3500 to $1000 — without a change in network. The company also agreed to contribute to insurance premiums, making the employee contribution to premiums three percent lower than they had been in 2018.
Members of both 228 and 808 credit their successful negotiation to the concerted efforts of multiple UE locals pressuring their common employer. UE 808 Chief Steward Victoria Hilton notes how the campaign helped her local to increase its organizational strength: "Fighting this fight together with 228 and the other locals who took action to support us, that really reinvigorated Local 808. Our members were reminded that all of us are in this together and that when we fight together, we win together. People who had been on the sidelines for years are now running for office and asking to become stewards."
However, the fight wasn't over. At 228, 85 UE members were employed by PAE's subcontractor, Ikun. 228's UE contract requires that all members—regardless of contractor—receive the same medical insurance at the same cost. The contract further guarantees that subcontractors are bound by and must comply with all negotiated agreements. Despite these protections, Ikun refused to implement the health insurance agreement or to even speak with local leadership. The subcontractor proceeded to attempt to unilaterally implement entirely new insurance plans with rates that were nearly twice as high as those negotiated with PAE.
228 responded by resuming its campaign of ongoing actions. The relaunched campaign included a petition delivered directly to State Department officials demanding that Ikun be removed from the contract. The bargaining committee pressed PAE representatives to act and reminded the company that it would ultimately bear financial responsibility for Ikun's unwillingness to support its employees.
Under ongoing pressure from the local and faced by a demand from the Department of State to quickly restore labor peace, PAE did the unprecedented: just a few days before the Christmas holiday, the company announced that it was terminating its contract with Ikun. Ikun employees would be transferred to PAE and would receive equal benefits for equal work.
Beth Wheland, Local 228 Second Shift Chief Steward, says that former Ikun employees were ecstatic. "It wasn't just this issue. They'd been mistreated for so long and they are thrilled to finally be on equal ground. The outcome showed them that we're all in this together and no one gets left behind."
The 228 and 808 joint bargaining committee included Local 808 President Eric Franke, Local 808 Chief Steward Victoria Hilton, Local 228 President Bill Ladd, Local 228 Chief Steward Lori Lavigne, Local 228 Financial Secretary-Treasurer Dee Towne, and Local 228 Chief Steward Beth Wheland. They were assisted by UE Field Organizers Zachary Knipe and Jack Lasiter.