On March 16, six days after North Carolina governor Roy Cooper declared a state of emergency in response to the COVID-19 pandemic, UE Local 150 leaders Darrion Smith, Nathanette Mayo and Angaza Laughinghouse held a press conference at the state capitol building, demanding expanded sick leave for all workers, personal protective equipment (PPE) including N95 masks, gowns and gloves, hazard pay, and other protections for essential frontline workers.
Local 150, which represents public-sector workers throughout the state, has been pushing the state Department of Health and Human Services, municipalities, and University of North Carolina campuses to protect the health and safety of public-sector workers since the beginning of the pandemic. Following the press conference and letter to the governor, Local 150 began meeting with DHHS Deputy Secretary Kody Kinsley to address DHHS workers' concerns. The local also prepared and delivered demand letters to each municipality where the local has a chapter, and to the UNC Board of Governors. Each of these three has different types of demands based on considerations of workers in those industries.
On Friday April 3, the day before the anniversary of Dr. Martin Luther King, Jr.'s assisination in 1968, over 1,000 workers across the state wore stickers to launch a "Safe Jobs Save Lives" campaign, to support workers' demands for safety, PPE and hazard pay. Dr. King was assassinated while supporting striking sanitation workers in Memphis, who has launched their strike in response to the death of two co-workers on the job due to poor safety practices.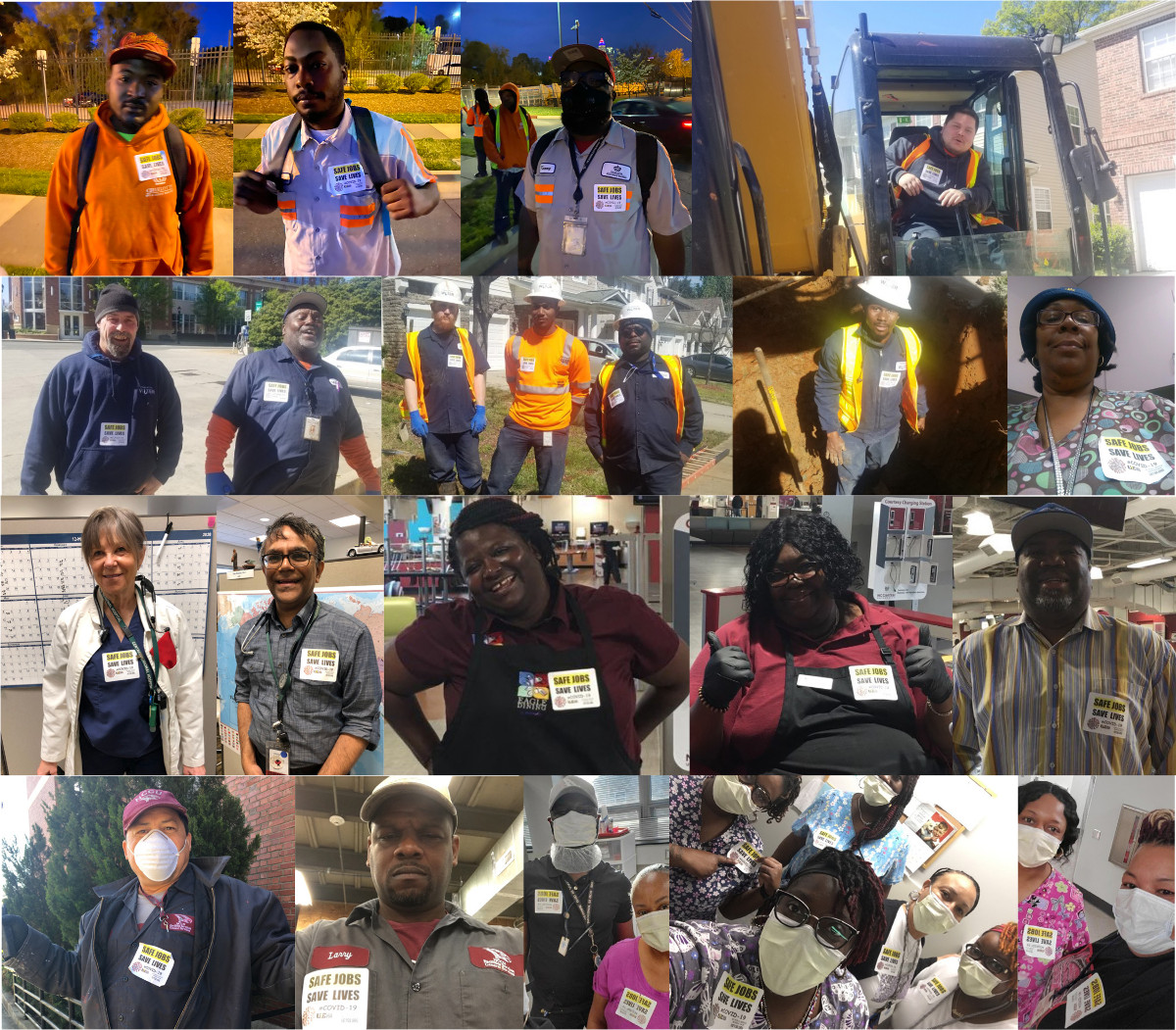 DHHS Workers Circulate Petition, See Immediate Results
The union initiated petitions within DHHS facilities to demand hazard pay. They collected over 900 signatures from DHHS workers, and organized delegations to deliver those petitions with signatures to facility directors on April 15. The day after the union delivered the petition, management sent out a memo to all workers outlining their plan to pay workers for hazard pay. Previously there had been no plan.
Smith, who works as a therapeutic support specialist at Central Regional Hospital in Butner (part of the DHHS system), and also serves as vice president of UE's Eastern Region, wrote in Local 150's newsletter that "My time here at Central Regional has been very stressful during the pandemic. When this pandemic first started workers were totally in the dark about what was happening and how we would move forward safely as a hospital. First of all, you have people in offices not working on the front lines making decisions about people who are on the front lines and are right in the thick of things. This is a major problem. It is easy for someone who does not have to work directly with a patient to dictate how you are to conduct yourself when they are not at risk at all. We as workers feel very disrespected and this gives us the impression that the upper management sees our lives as expendable."
After the first positive case of COVID-19 was identified at CRH, the union began circulating a second petition among CRH workers, calling for the testing of all staff and patients and for time-and-a-half hazard pay for all staff. The current hazard-pay policy only provides time-and-a-half for workers working directly with a patient who has tested positive, and a 25 percent bonus for other workers in a facility where a patient — but not a worker — has tested positive. A group of CRH workers delivered this petition to the CEO of their facility on May 13 and requested a meeting with her.
William Young, an inventory assistant in nutritional services at Cherry Hospital and president of the Local 150 Cherry/O'Brien chapter, wrote about hazard pay that "Many feel as I do; that we should get paid just for having to come to work not knowing what to expect. The housekeeping staff are all over the hospital and have to do everything from removing linen to cleaning patients' rooms. How are they to know on a daily basis who may have been exposed? The healthcare techs are having to cover more patients than they can handle because of call outs and [because we are] short of staff."
On May 20, UE members at Murdoch Developmental Center, which provides long-term care for people with intellectual and developmental disabilities and other behavioral conditions, held a press conference and picket demanding hazard pay. A Murdoch worker tested positive on May 7, but workers have not been receiving hazard pay under the current policy, because no residents have tested positive. "We aren't treated as essential, we are treated as sacrificial," said UE member Shanequa Logan. "Wearing the masks makes it hard to breathe and concentrate. We are trying to breathe while taking care of the patients and sweating. Then our glasses fog up. We have health issues, especially those with asthma, and it's very hard to work with shortness of breath."
Municipal Workers Demand Safety in Wake of Sanitation Workers' Death
The second COVID-19 death in the state was a supervisor in the Raleigh Solid Waste Services Department, who passed away in late March. After learning of his death, the Raleigh City Workers Union stepped up their pressure on the city government. Chapter President Charlen Parker was interviewed by numerous media outlets, including the national magazine In These Times, and the chapter leadership held a virtual meeting with three members of the city council. They also sent a follow-up demand letter, pushing the city to reduce the number of workers in trucks, provide better PPE, and make changes to workers' schedules to allow for proper social distancing.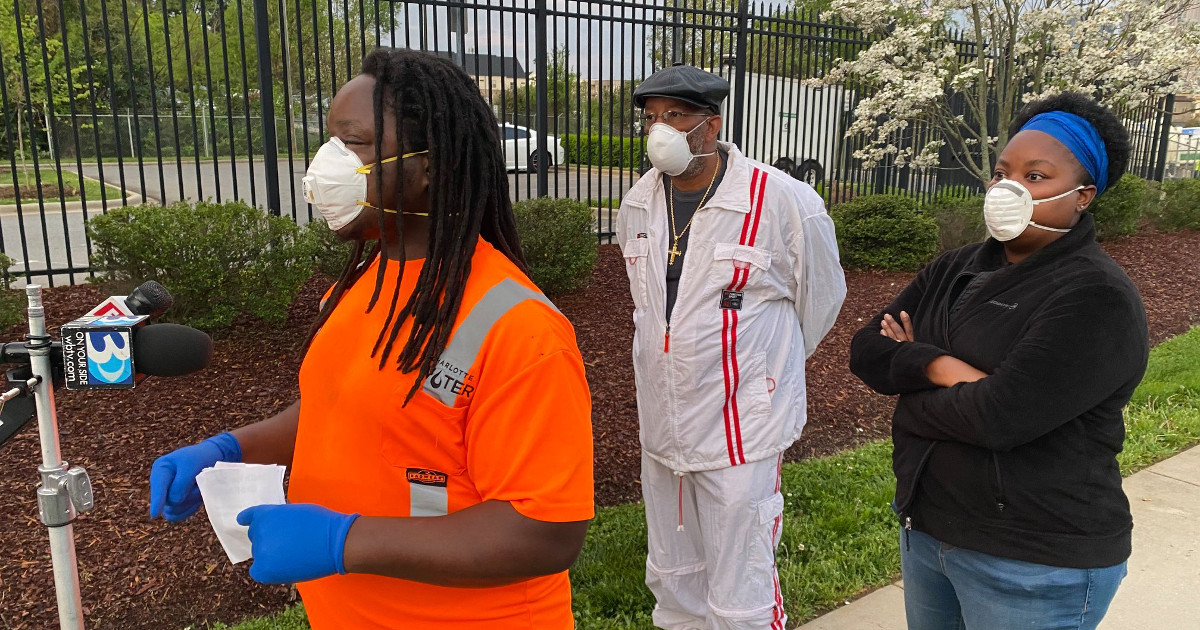 UE Local 150/Charlotte City Workers Union chapter President Dominic Harris speaks at union press conference about worker's safety concerns, joined by Chief Steward Craig Brown and Recording Secretary Nichel Dunlap Thompson.
In Charlotte, Chapter President Dominic Harris reported, the "lack of response" by city management "urged UE150 Charlotte city workers union into action. We called several emergency meetings to get the concerns of our members and nonmembers.
"We took those concerns and developed a petition that could be signed electronically. That petition would then be sent to the emails of the mayor, city council members, and the city manager. Nearly 300 workers from Solid Waste, Aviation, Water, STS, CATS, LYNX light rail and CDOT signed the petition. We also participated in the April 3 sticker day."
Although the majority of the chapter's demands were initially met by management, on April 6 the solid waste department abruptly ended their alternative shift arrangements. The next day, the union called a press conference that was covered by all the local media. The union intends to "follow up to ensure that our members are taken care of, as well as ensuring our employers do not forget that the city works because we do," wrote Harris in the Local 150 newsletter. He also reported that the chapter has signed up 12 new members.
In Durham, after the union circulated a petition and delivered their demand letter, the city moved to skeleton crews, keeping workers in separate trucks, and providing PPE and cleaning supplies.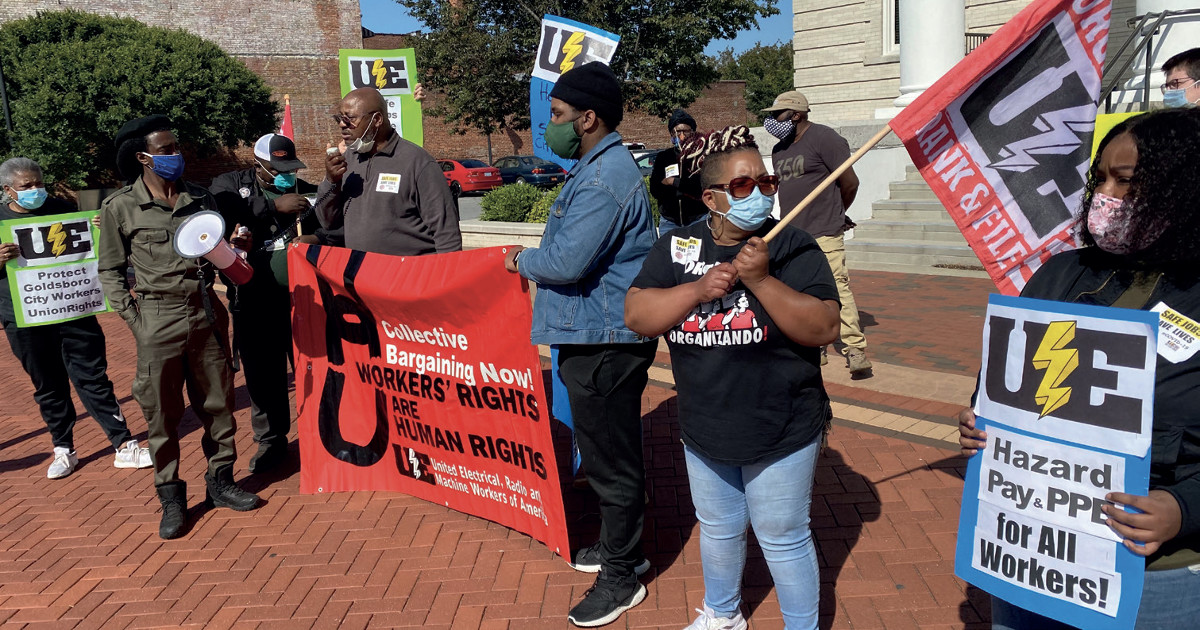 ​Goldsboro city workers and allies rally on May 12 for PPE, hazard pay, and other COVID-19 safety measures.
On May 12, over 30 employees of the City of Goldsboro Public Works department, along with other public-sector union members, community allies, and three City Council members, rallied at City Hall for proper PPE, hazard pay, staggered shifts and other safety measures to protect them from COVID-19.
Workers had been raising concerns with management and the city administration since late March. On April 7, sixteen workers in the Public Works Department wore "Safe Jobs Save Lives" stickers to work and signed a letter, along with thirty community supporters, addressed to City Manager Tim Salmon, who declined to respond.
City of Goldsboro workers are continuing to build their UE Local 150 organizing committee so they can stand together, win safety, rights and raises, and save lives.
"Although statements of acknowledgement from the university are nice, they do not protect us or pay our bills"
Local 150's Workers Union @ UNC chapter launched a petition campaign to mobilize graduate workers at UNC and raise awareness of what UNC graduate workers are facing. UE member and UNC graduate worker Pavel Nitchovski wrote an op-ed that was published in the Daily Tar Heel, in which he points out that "our workload has not decreased even as we've implemented social distancing. Not only have we continued with our coursework, taking area exams, defending masters' theses and hitting department benchmarks, but many of us have also had to transition to teaching online overnight, checking in on our students, and adapting our existing course design."
Nitchovski continues, "what we need are concrete assurances for the security of our funding, our jobs and our healthcare. If the University really cared about how productive we are at this time, the best thing they can do is make those assurances. Secure our funding, secure our healthcare and guarantee our jobs for the duration of the pandemic."
The petition demands that UNC raise the minimum stipends for graduate workers across the university (some graduate workers make as little as $15,700 a year), guarantee that salaried and stipended workers, including graduate student workers and post-doctoral researchers, will not lose pay because of extenuating circumstances created by the pandemic, and provide other assurances of financial support.
Local 150 Healthcare Workers Stand Up to Right-Wing "Reopen" Protests
In late April, Local 150 members, including Vice President Sekia Royall and Assistant Chief Steward Kevin Yancey, joined other healthcare workers in standing up to right-wing anti-lockdown protesters. "They're putting me and my family at risk," said Local 150 Vice President Sekia Royall, who works in nutrition services at O'Berry Hospital in Goldsboro. "My daughter and I both have pre-existing conditions, and if someone gets the virus at our facility, it will spread like wildfire. For some of our patients it could be fatal."
Local 150 Recording Secretary Sarah Vukelich wrote in the local's newsletter that "the Reopen protests are funded by the corporate right (including the DeVos family and the Koch brothers), working closely with known white supremacist/white nationalist organizations. … [T]hey are mobilizing their base to insist on re-opening, which will be a death sentence for many immunocompromised and elderly people, for black and brown people, for poor people, and for frontline workers.
"Across the country, these protesters have been getting millions of dollars worth of media attention — an impact wildly disproportionate to their numbers. In North Carolina, health workers decided to interrupt that. They decided to stand up for millions across the state who can't come out into the streets to protest. Representing their patients, their co-workers hard at work in hospitals, and those who can't take on the risk of counter-protesting, they stood stoically against the protesters, in formation six feet apart and wearing PPE in front of the State Legislature building in downtown Raleigh.
"Members of UE150 helped launch the Facebook group and showed up to the front lines in Raleigh. In the second week, the health care workers began to speak about not only the importance of sticking to the governor's plan about re-opening, but also about the importance of expanding social services on the state and federal level (for example, Medicare for All) so that people can stay home without facing a crisis."