When new managers at Portescap met with the UE Local 155 last fall to begin negotiations for a new contract, they declared their intention to make wages, paid time off, and even overtime dependent on improvements in productivity and attendance. They said they didn't want to give raises to workers who were just doing "the bare minimum."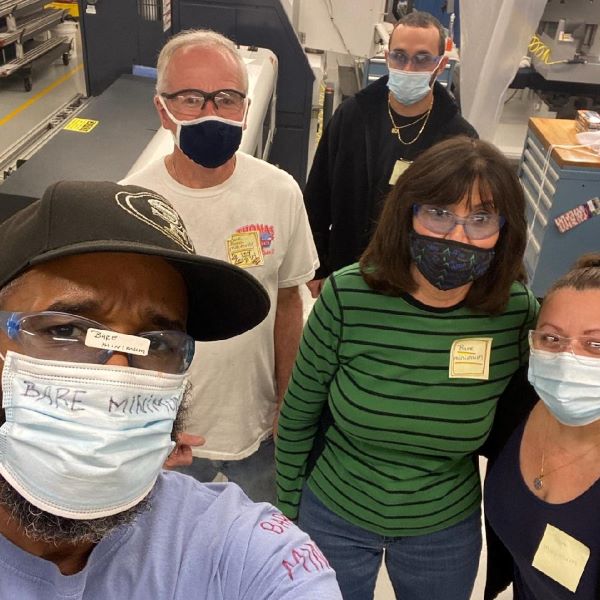 Soon, workers throughout the shop were wearing the words "bare minimum" written on sticky notes, clothing, and even masks.
The Local 155 negotiating committee was able to fight off management's incentive demands, and the most onerous of their attendance proposals, along with securing decent wage increases and improvements in paid time off and other areas. However, management's steadfast refusal to consider hazard pay and continued insistence on punitive attendance policies had created a lot of anger in the shop, and Local 155 members voted down the first tentative agreement, reached on the contract expiration date of November 30.
After the company offered a signing bonus and expanded emergency vacation days, and withdrew some of their attendance policy demands, the UE members ratified an improved contract on December 21.
The new contract provides for wage increases of 2.5, 2.75, and 2.8 percent over the three years of the contract, in addition to the $100 signing bonus. Workers will receive one additional vacation day at five years, two additional days at 10 years, and one additional day at 35 years. Three emergency vacation days can now be used without documentation, for employees with two points or less (previously only one day could be so used), and the employer must now respond to vacation requests within one week. In addition, all workers will now receive one sick day, which can be used in two-hour increments, and the additional vacation days and new sick day will be prorated during the period between contract signing and each worker's anniversary.
Bereavement leave for close family members will increase from three to five days, and a new inclement weather policy provides that workers will get four hours of work or four hours of pay if they report to work and the plant gets closed.
Disability benefits were increased from 60 percent of pay to 66⅔ percent, and the weekly maximum was increased from $500 to $1,000. Severance pay will remain at one week per year of service, but the maximum payout will double from 12 weeks to 24 weeks, and workers with less than one year of service, previously excluded, will now receive a minimum of two weeks' pay.
Attendance policies were improved in some areas, with increased flexibility on tardiness and missed punches and workers no longer receiving occurrences for a sick child, but tightened up in other areas.
The contract also includes new language on subcontracting, requiring the company to meet quarterly with the union to review subcontracting in the machine shop.
The Local 155 bargaining committee consisted of Chief Steward Sean Robinson, Steve Hughes, Johnny Krider, and Pete Patel. They were assisted by International Representative Tara McCauley.