Twenty UE members, officers, staff and retirees attended the 2021 Medicare for All Strategy Conference the weekend of January 23-24. The conference, which was held virtually this year, was sponsored by the Labor Campaign for Single Payer and Healthcare-NOW!, and brought together over a thousand participants.
At a caucus of UE members, UE General President Carl Rosen noted that Medicare for All is important not only in order to take healthcare off the bargaining table, but also because it is "the kind of issue that unites working-class folks and right now the working class is divided. They're setting one group against another and the corporations are benefitting and the rest of us are getting screwed."
Eastern Region President Donna Morgan said "Given the current pandemic, Medicare for All is needed now more than ever. Thousands of American families will face astronomical medical expenses due to the COVID virus. Many will be forced into bankruptcy because of their inability to pay. Today is the day we make Medicare for All our top priority for 2021."
Western Region President Charlene Winchell said, "I hope we can all take a little something from this and continue the fight and do the hard work that is necessary so that we all have insurance and that we can get the healthcare that we need."
UE Helps Lead
UE President Rosen was a lead presenter at a workshop addressing the myth that union members love their negotiated healthcare benefits so much that they would never want to give them up for guaranteed coverage like Medicare for All, called "Beyond Employment-Based Coverage: Confronting Loss Aversion."
Rosen described to the more than 100 attendees the workshop that UE regularly takes out to local and regional meetings, which begins with giving union members the opportunity to talk through and identify the problems in the healthcare system.
UE members "know that the system is broken," Rosen said, because "far too many of our members have been forced into paying too much for premium, co-pays and deductibles."
He described the UE Healthcare Costs Calculator worksheet used in the workshop, which helps members calculate how much they are really paying for healthcare right now. Based on the workshops UE has held across the country, the bulk of UE members are paying between 10 and 15 percent of their income for healthcare costs, and it is not uncommon to see 20 to 30 percent.
Rosen also clearly identified who is standing in the way of improving healthcare for working people. "Our enemy here in getting to a saner healthcare system are the corporations that are trying to profit off of our illness," said Rosen. "We have not found much love out there for insurance companies."
Local 150 President Sekia Royall was also one of the speakers at the workshop "Health Worker Power: Recruiting Your Co-workers into the Medicare for All Movement."
The Future of Labor
Several plenaries and panels focused specifically on the importance of Medicare for All for the labor movement. At the plenary "Medicare for All and the Future of Labor," Maine AFL-CIO President Cynthia Phinney described how her state federation, like UE, has been starting the conversation by asking members about their experiences with the healthcare system. "In our conversations," she reported, healthcare is "still a conversation that we can have that doesn't immediately jump to party divides."
Cherrene Horazuk, the president of AFSCME Local 3800, which represents clerical workers at the University of Minnesota system, described the fight for Medicare for All as a way "to actually fight for the working class as a whole," and engage in "a politics of hope rather than a politics of hate." Ada Briceño, the co-President of UNITE-HERE Local 11 in Southern California, linked Medicare for All to the bedrock principle of the labor movement: "Solidarity means taking care of each other, as a whole." All three agreed that the key to winning working people over to Medicare for All is to have "real conversations."
At a workshop on "Defending the Public Good," leaders of unions representing postal workers, public transit workers and public-sector healthcare workers described the fight for Medicare for All as a fight to make healthcare a "public good," like other public services, and linked that fight to their own members' struggles to defend the jobs and rights of workers who serve the public.
American Postal Workers Union President Mark Dimondstein decried the U.S. response to the COVID-19 pandemic as "criminal." The fact that tens of millions of people had no access to healthcare or paid sick leave "underscores graphically and tragically the need for the public good being there for all of us."
Several plenaries and workshops also linked the fight for Medicare for All with the struggle for racial justice. Professor Dean E. Robinson of the University of Massachusetts pointed out that Medicare for All advanced key goals of the Black freedom struggle, which for most of the 20th century focused on securing broad social and economic rights, including the right to bargain collectively and full employment, alongside robust anti-discrimination law and policy.
The Road Ahead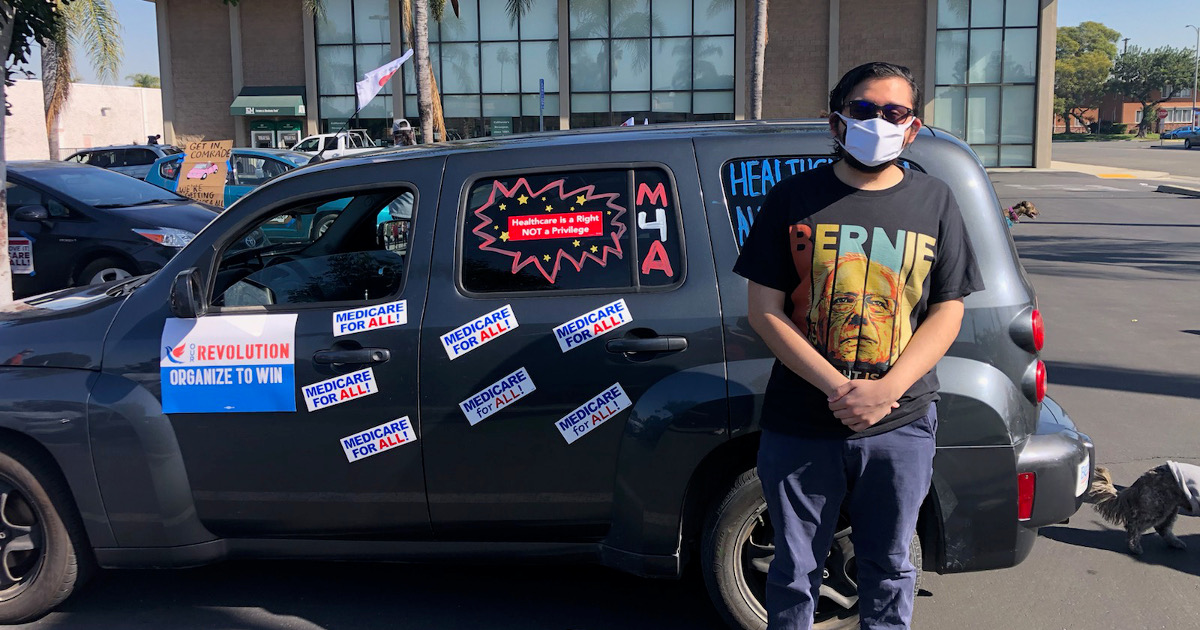 UE Local 1008 member Fred Hatef at a car caravan for Medicare for All on February 6.
At a plenary called "The State of Play," Amirah Sequeira of National Nurses United broke down both the "incredible achievements" of the Medicare for All movement during the previous Congress, and the opportunities to move forward during the new Congress. The current task to is to get as many cosponsors as possible on the new Medicare for All bill. Then working people will need to continue to pressure Congress to hold hearings in key committees, including Energy and Commerce, Education and Labor, and Small Business.
"We need to remember that even though President Biden has not been a supporter of Medicare for All, over the past four years we have completely changed the nature of the conversation around Medicare for All in the Democratic Party," said Sequeira. "We have continually seen increasing public support among Democrats, Republicans and independent-leaning voters over the past four years, and in the midst of this pandemic, if they didn't see it before, people in this country are seeing just how inefficient and ineffective our current healthcare system is."
"A moral obligation"
UE members who attended the conference expressed their determination to carry forward the work of building support for Medicare for All.
Darrion Smith, Local 150, said Medicare for All "would take the corporateness out of healthcare," and said he learned about the importance of people "telling their own personal healthcare stories" at the workshop "Telling Your Healthcare Story."
Bryan Pietrzak, Local 506, called it a "very, very positive experience." He reported that in his favorite workshop, "Universal Healthcare Is the Only Solution," he learned about the "racist, sexist and classist" roots of opposition to Medicare for All. "In 1945, the AMA (American Medical Association, the largest organization of doctors in the U.S. -Ed.) opposed Truman's national healthcare plan because they did not want to provide healthcare to non-whites and undocumented immigrants," he reported, adding, "I found that absolutely disgusting."
Bryan DeSanto, Local 642, said that "besides being a union issue it's a moral obligation that people should have adequate healthcare in this country." Fred Hatef, Local 1008, agreed, saying, "Fundamentally I think our system is just barbaric."
Sharon Johnston, Local 625, emphasized the importance of breaking the barriers that are preventing progress on this issue "because we all need medical care."
Sal Foti, Local 716, suggested that UE members should visit the Patients Over Profits website, which calls on politicians to reject campaign contributions from executives, lobbyists, and PACs affiliated with hospital, insurance, and pharmaceutical corporations.
At a follow-up Zoom meeting on February 6, UE conference participants and other UE leaders interested in Medicare for All heard report-backs and agreed to continue to meet as a "UE Medicare for All Caucus" to educate and mobilize UE members to win Medicare for All.
More Resources