After more than 14 months of negotiations with Planned Parenthood of Western Pennsylvania, UE Local 696 held a rally at Pittsburgh's City-County Building last night to demand a fair first contract.
"We have petitioned, and made our demands of our employer clear and unanimous, however, our employer's response to our demands has been the bare minimum," Crystal Gabrowski, a member of the union negotiating committee, told the more than 150 people who showed up to support Local 696. "We are living in a regional and national healthcare crisis. We, the workers, and our patients, need much more than the bare minimum."
Local 696 members report that an increase in out-of-state patients since the Supreme Court's decision overturning Roe v. Wade was announced on June 24 has led to a doubling of workloads. Both Grabowski and her co-worker Elizabeth Villanueva described how on the day of the decision, they were flooded with desperate calls from states where abortion bans went into effect immediately following the decision — yet were woefully understaffed, with initially just a single worker answering the phones.
Villanueva pointed out that "The staffing crisis we face ... was not unavoidable. With better wages and working conditions we would have been able to recruit and retain staff that we needed to safely and effectively do our job."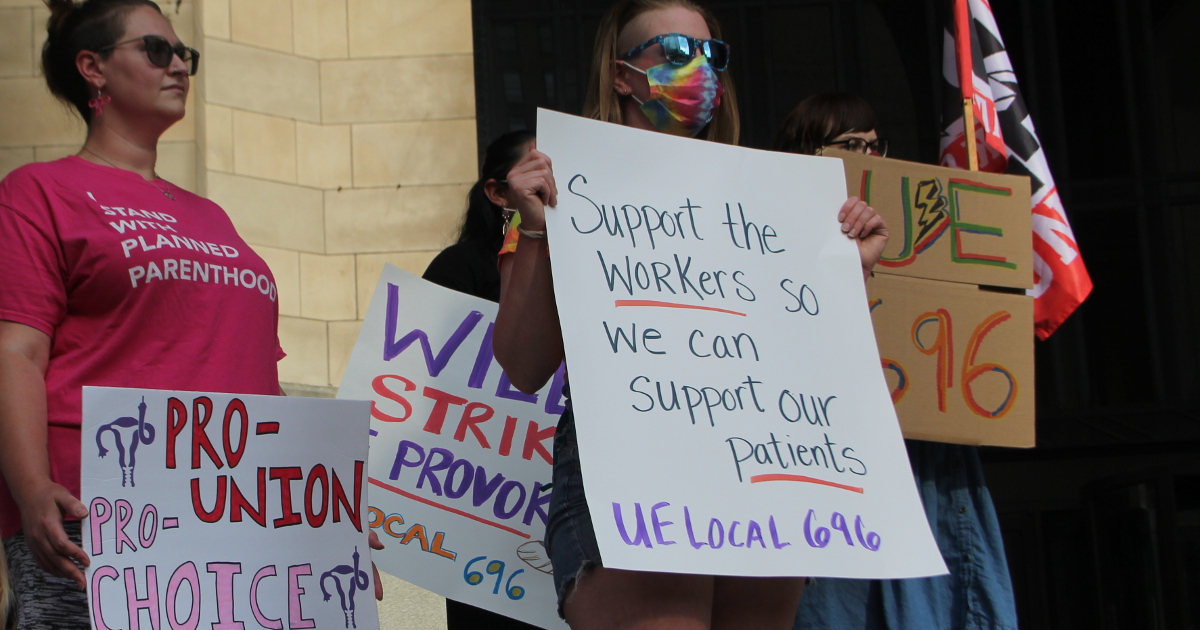 Photo: Al Hart.
Alyssa Haradzin told the rally, "It is time for Planned Parenthood to live by their own ethos, to tend to the team. The clinic staff is that team. We are the ones face to face with the trauma, the sadness and the fear. If Planned Parenthood values its own ethos and the team that upholds those, they need to give us the staff, the wages, and the fair contract that we deserve."
"We have more than enough to be able to make sure that we come to work with the correct staffing," said Erin Taylor. "PPWP cannot afford to *not* negotiate a fair union contract, so we can do our jobs. Enough is enough!"
Abby, a former Planned Parenthood patient who preferred to be introduced only by her first name, shared her support for the workers, declaring that "these workers were the only people who treated me like an adult human being" when she was getting her abortion.
The rally was also addressed by Pittsburgh Mayor Ed Gainey, Allegheny County Councilwoman Anita Prizio, UE Director of Organization Mark Meinster, UE Eastern Region President George Waksmunski, and Megan Moffitt of UE Local 667, which represents workers at the East End Food Co-op. The Pittsburgh Labor Chorus and May Day Marching Band provided music. Members of UE Locals 610, 613, 667 and 690, along with dozens of other Pittsburgh-area unions and community organizations, came out to support Local 696.