On Saturday, June 18, UE members from North Carolina, Virginia, New Jersey and Pennsylvania traveled to Washington, DC to join tens of thousands of people demanding that Congress address the needs of the 140 million poor and low-income people in the U.S. by insuring that everyone has access to livable wage jobs, housing, healthcare, and freedom from discrimination.
Bishop William J. Barber II, a long-time UE ally, convened the "moral meeting in these streets," billed as the Mass Poor People's and Low Wage Workers Assembly and Moral March on Washington and to the Polls. "We must meet this moment," Rev. Barber declared, because "This level of poverty in this nation — the richest nation in the history of the world — constitutes a moral crisis and a fundamental failure of the polices of greed."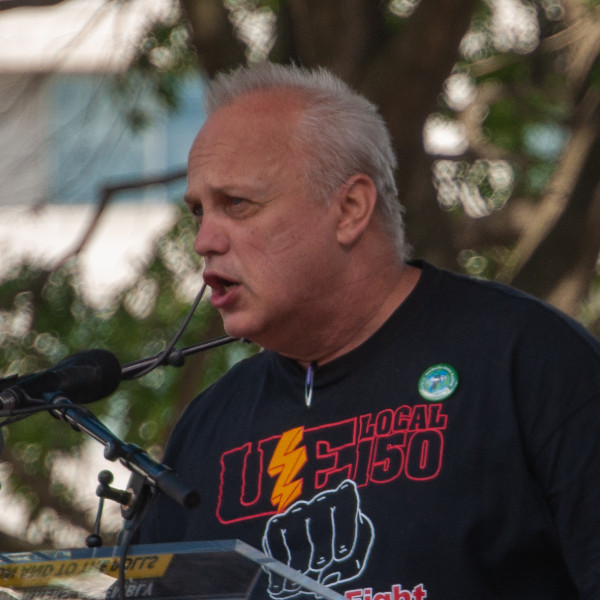 UE Eastern Region President George Waksmunski
Eastern Region President George Waksmunski and Local 150 Vice President Bryce Carter addressed the assembly. "Our union believes in organizing and mobilizing the working class," said Waksmunski. "We believe in aggressive struggle. We believe in militancy, civil disobedience and good trouble.
"In every workplace we see how poverty and systematic racism work together to exploit the working class and keep us in poverty. In every workplace the boss tries to divide workers — by race, by gender, by nationality, by sexual orientation — any way they can to keep us divided.
"But workers are fighting back," he continued, introducing Carter.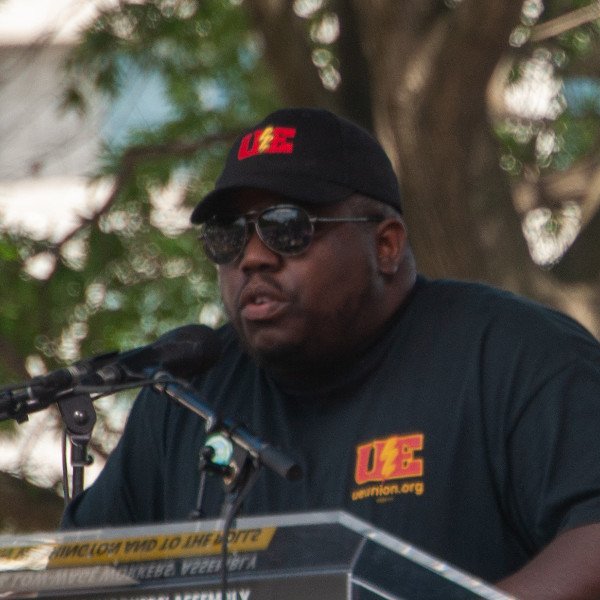 UE Local 150 Vice President Bryce Carter
"Even without collective bargaining, our union has been able to raise the minimum wage for tens of thousands of workers up to and beyond $15 per hour," said Carter. "By organizing city workers across the state, we won a $15 minimum wage in the six largest cities ... We also won it for all state employees.
"Just this spring, we won a minimum wage of $20 per hour for city workers in Charlotte. Let's keep building a fighting movement to organize workers into unions, connect with civil rights, community and faith organizations to fight systemic racism, and build local workers' assemblies. Organize the South!"
The assembly heard testimony from members of the Poor People's Campaign from across the country about the effects of poverty and the other "interlocking evils" of racism, militarism, and the "false moral narrative" of religious nationalism. They came from all racial backgrounds, genders and sexual orientations, and many of them had grown up in or were currently living in poverty. They included low-wage workers, veterans, single mothers, teachers and religious leaders.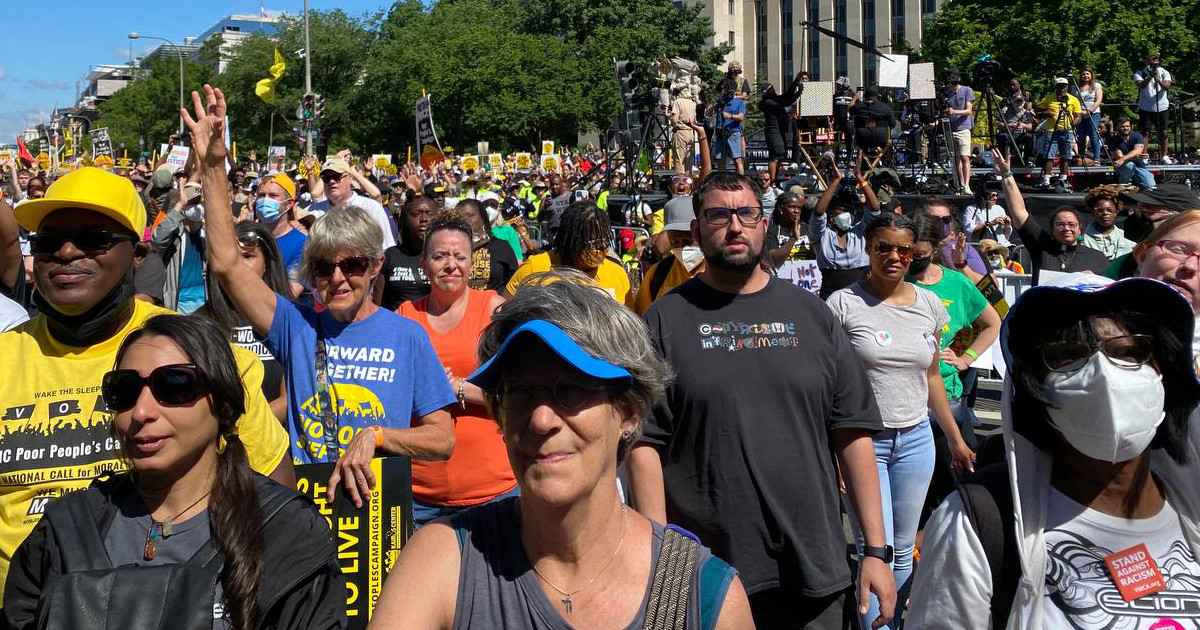 Just some of the tens of thousands of people gathered for the assembly. Photo: Kass Ottley.
"Bishop William Barber and [co-convener of the assembly] Rev. Dr. Liz Theoharis have created an amazing platform for all American stories and voices to be heard," said Erica Collins, who coordinated UE participation in the march along with Angaza Laughinghouse, Local 150, and Local 610 President Antwon Gibson.
The assembly was held on the weekend of Juneteenth, a holiday celebrating the end of slavery and which reminds us, Collins said, that "We must continue to fight for democracy especially in the workplace, healthcare as a right and freedom for all."
The assembly was also addressed by Sara Nelson, president of the Association of Flight Attendants, Mary Kay Henry, the president of SEIU, and Fred Redmond, secretary-treasurer of the AFL-CIO, and rank-and-file leaders from several unions.
More:
News coverage: