Going into negotiations with UE Local 329 in May, Kennedy Valve was demanding concessions. They wanted to freeze the pension, establish a high-deductible healthcare plan, and gut the sick-personal day plan. Immediately upon hearing these proposals, the local took an unanimous strike vote and the members went to work in the shop demonstrating to their bosses their resolve to take on the company.
Following that strike vote, the company withdrew its concessionary proposals, and on June 4 the members of UE Local 329 ratified a new three-year contract on that will immediately raise wages by 13.5 percent — an increase of over three dollars on the current average wage.
Wages will further increase by 5 and 3.15 percent in the second and third years, for increases totaling 21.65 percent over the life of the agreement.
The contract also includes a new longevity bonus which provides 10 cents per hour for every two years of service, up to $1.20 per hour. Shift premiums will increase to 70 cents for second shift and 80 cents for third shift. Workers will also receive an extra dollar per hour of training pay for assigned training.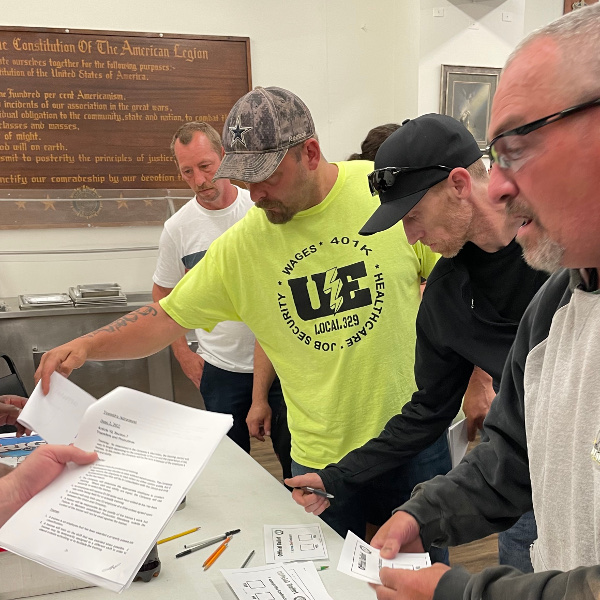 Local 329 members voting on the tentative agreement.
The pension multiplier will increase by $5.00 immediately, and workers not eligible for the pension will see the company contribution to the 401(k) plan increased to 75 cents for every hour worked.
The sickness and accident benefit will be improved by 25 percent, from $440 per week to $550, and improvements were also made to the safety shoe, vision care, and safety glass allowances. Accidental death and dismemberment and life insurance benefits were both increased to $40,000.
The contract also includes one additional holiday — Juneteenth — beginning in 2023, and new restrictions on the amount of overtime which the company can require.  Over the three years of the contract, workers' share of health insurance costs will only increase from $50 to $63 per week, with no changes to the excellent Preferred Provider Organization (PPO) plan.
The Local 329 negotiating committee consisted of President Kevin Elmquist, Vice President Alonzo Roberson, Recording Secretary Missy McCann, and Chief Stewards Ron Pfuntner and Bud Decker. They were assisted by retired UE Director of Organization Gene Elk.