Participants in the second cohort of UE's Leadership and Staff Development Program met at the UE Local 506 hall in June for a few days of workshops and experiences on the picket lines outside the Wabtec plant.
As these rank-and-file members traveled to Erie from around the country, UE Locals 506 and 618 were taking a vote on whether to accept Wabtec's last contract offer or go on strike. By the time LSDP participants arrived, the picket lines were established around the plant. After an orientation on the issues that led to the strike with General President Carl Rosen and International Representative John Thompson, LSDP members went to the picket lines with work assigned by Local 506 leaders: have members on the picket lines fill out surveys about their top priorities for settling the contract.
This assignment fit well with the goals of the LSDP, which are to help UE members from racial and ethnic backgrounds who are currently underrepresented in UE leadership or staff strengthen their skills, engage in new union experiences, and receive mentorship. One program participant, Ashley Clemons, Local 1004, had been on a one-day strike of her employer earlier this year, but a multi-day, open-ended strike was a new experience for all LSDP members. "I know how much work it took to pull off our strike," Clemons said, "and to think about how they were able to pull theirs off with everyone walking out within 20 minutes of it being called, and not knowing when they would go back in, it was really impressive."
"It was really great to see how the community supported the workers," added Eric Escobar, Local 1018.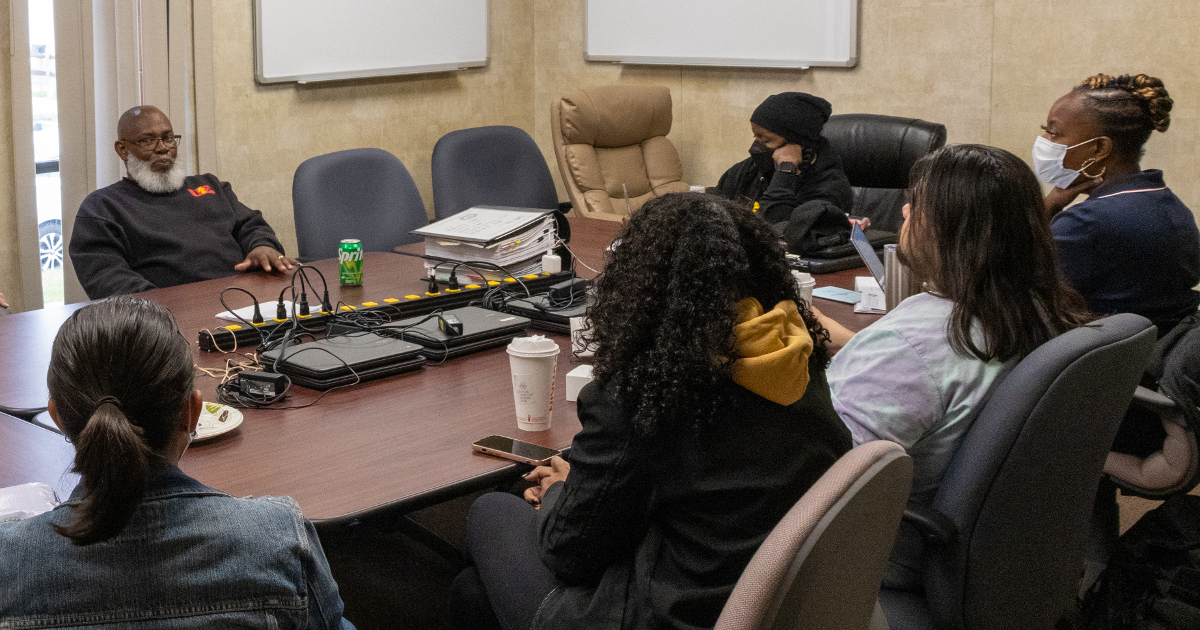 Local 506 executive board member Ricky Steele (left, facing the camera), explains the Local 506 Unity Committee to Leadership and Staff Development Program participants.
Nichel Dunlap-Thompson, Local 150, expressed appreciation for learning from Local 506 executive board member Ricky Steele, who met with the group to discuss the Local 506 Unity Committee. She noted that having such a committee to work through challenges that arise between union members put this local in a stronger position when unity was required on the picket lines. She shared, "The workers of Wabtec were able to set aside their differences and past lived experiences, and fight for a future that was being threatened by corporate greed."
Program participants also learned about UE's commitment to civil liberties and discussed some of what that looked like historically at Local 506, whose leaders faced fierce red-baiting attacks during the McCarthy era. "It was a great experience to be at a local with that kind of history," said Cedric Whelchel, Local 1177. "It's something I'll never forget."
Ramona Malczynski, Local 1466, and Field Organizer Kass Ottley also participated in the meeting. Director of Education Kari Thompson coordinated the program.