In a return to pre-pandemic practices, UE was delighted to accept invitations to the national conventions of two of our international allies this May. 
Retired UE General President Peter Knowlton represented UE at a meeting of Confederação Nacional dos Metalúrgicos (CNM-CUT) in Brazil. The metalworkers union, which was once led by Brazilian president Lula da Silva, has been a strong critic of corporate greed, and has waged militant fights with multinational companies to improve working conditions and pay. These include GE, Wabtec, St. Gobain, and many other employers also represented by UE. CNM-CUT hosted a number of other international unions that are part of a group of similarly oriented unions in IndustriALL.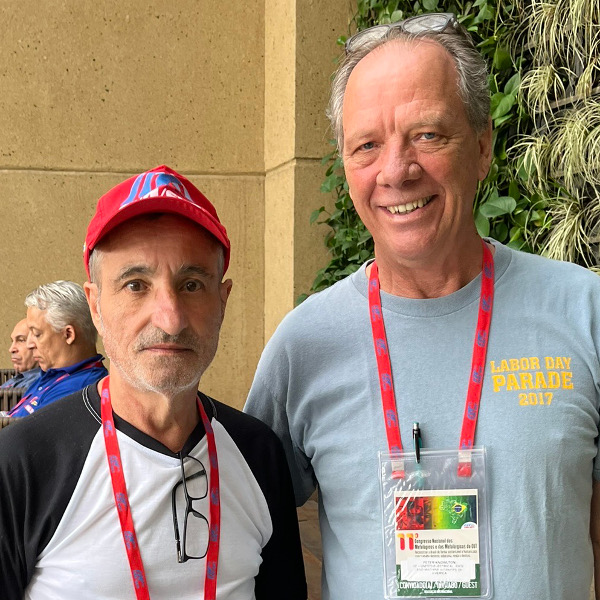 Retired UE General President Peter Knowlton (right) with CNM-CUT leader Geraldo Valgas.
International solidarity is a core principle of UE because living and working conditions in the US are directly linked to those of other workers around the world. "Attending other unions' conventions is a great way to better understand their values and practices, and to meet other workers who are employed by the same bosses in other countries," shared Knowlton. While in São Paulo, Knowlton met with Geraldo Valgas, a CNM leader from Belo Horizonte, where CNM represents workers at a Wabtec locomotive factory.
Kari Thompson, UE's Director of International Strategies, attended the Confédération des syndicats nationaux (CSN) Congress in Montréal, Quebec. The CSN has a very similar democratic structure to UE, and represents workers in a wide range of sectors including manufacturing, public and service sectors, just as UE does. The CSN Congress was celebratory, with thousands of new members having joined in the last few years. Numerous locals have engaged in militant strikes against their employers, resulting in major contract gains. Thompson had the opportunity to visit the picket line of some striking cemetery workers, including gravediggers, who have been on strike for more than a year. Among the many new workers joining CSN's ranks are graduate workers from Concordia University. 
UE was the only English-speaking union invited to the Congress, though other progressive international unions were also represented, including CGT from France and ELA from the Basque region of Spain. 
"The CSN is making dynamic plans to address the many challenges faced by workers in Quebec, from privatization of public work to the impacts of climate change on jobs and worker health," reported Thompson. "They will continue to be an important ally for UE as we grapple with similar issues."