SERIOUS ENERGY OCCUPATION


UE Local 1110 Again Occupies Window Plant In Fight Against Plant Closing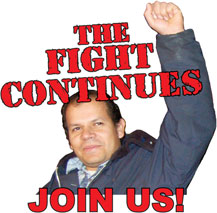 On Thursday, February 23rd, members of UE Local 1110 again occupied the former Republic Windows and Doors factory, now Serious Energy, 38 months after their first occupation captured the world's attention and led to the reopening of the plant. After being told by local management Thursday morning that the plant would close effective immediately, workers had one demand: time to save these jobs by finding a buyer for the business. Local management refused and in response, workers voted unanimously to occupy the plant. Their six-day plant occupation in December 2008 won them $1.75 million in wages and benefits owed to them by Bank of America and the former plant owners.
After this week's occupation began, Serious Energy's corporate leaders stepped in, declared that the local management should not have acted in this manner, and immediately began talks to resolve the situation responsibly. A deal has now been struck to try and save the jobs. Serious Energy has agreed to keep the plant operational and people on the job for another 90 days while the union workers and the company work together to find a way to keep the plant open with new ownership because the plant will no longer be part of Serious Energy's business plan. After eleven hours the occupation ended, with workers feeling they at least have a chance to save their jobs.
"We started the morning with the plant closing and ended the day with work and a chance to save our jobs." said Armando Robles, president of UE Local 1110, "We are committed to finding a new buyer for the plant or if we can, buy the place ourselves and run it. Either way, we are hopeful".
UE members and supporters are urged to follow and support the ongoing campaign to keep the plant open, here on the UE website and on UE's Facebook page.
You can also make a monetary donation to UE, or to the UE Research and Education Fund, at www.ueref.org
Read Labor Notes' report on the plant occupation here.