May 18th Rally


UE Local 731 Members
March for Decent GE Contract
CONNEAUT, OH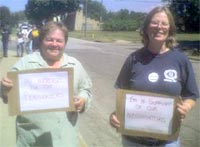 Cell-phone photo from Conneaut; signs declare support for union negotiators in New York.
Members of UE Local 731 conducted an impromptu rally and picket at the end of the first shift on Tuesday, June 12. "We have a lot of issues that we're concerned about in negotiations," said Joe Leavery, the local's vice president, who listed the company's attack on the benefits of new hires and pensions as two of the foremost issue.
Workers from first shift gathered outside the plant as their shifts ended Tuesday, with the first groups getting off at 3:00 and the remainder by 3:30. They then marched in front of the plant in an informational picket line, some carrying signs and virtually all wearing union stickers. One Local 731 retiree joined the march. The Star Beacon, a daily newspaper from nearby Ashtabula, sent a reporter and photographer and had coverage in the next day's edition.
"People are wearing stickers in the plant everyday," said Leavery, who is serving as Local 731's acting president while President Marcia Barnhart and Chief Steward John Payne are away in New York representing the local at GE national negotiations. "We give out a new batch of stickers every day."
Local 731 put the rally together very quickly, with the idea first being raised at its membership meeting just two days earlier on Sunday, June 10. Local Recording Secretary Joanie Norton, who helped to organize the event, told the Star Beacon, "We want the company to know that we may be small, but we have a say in this."
Conneaut plant manager Joe Cenin also spoke to the Star Beacon, saying that workers "are exercising their right to voice their freedom of speech." Cenin told the newspaper that he is optimistic that a contract will be reached.
Local 731 President Marcia Barnhart was proud of her members for the action they took, and expressed hope that it would help UE's negotiators in New York. "The troops are rallying when we need them most."