No Reason for GE Health Cost Shifting,
Tormey Tells IUE Local 201 Members
LYNN, MA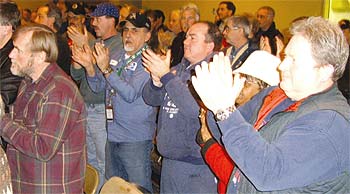 A packed house of IUE-CWA Local 201 members from Lynn GE respond enthusiastically to Steve Tormey's presentation on GE profits and health care costs.
More than 300 GE workers, members of IUE-CWA Local 201, attended a special meeting January 23 to hear UE's perspective on upcoming GE negotiations. Their invited guest was Steve Tormey, Secretary of the UE-GE Conference Board, who in his presentation showed that there is no good economic reason for GE to shift its medical costs to employees.
"GE's insurance cost increases have actually been below national averages," Tormey told a packed hall of IUE members. "More importantly, as a percent of both the company's total revenue and profits, its costs have remained essentially unchanged."
UE and IUE-CWA are the two unions that have national contracts with GE, and are the largest components of the 14-union bargaining coalition, the Coordinated Bargaining Committee of GE Unions (CBC). Officers of Local 201 — one of the largest IUE locals in GE — were so impressed by Tormey's presentation to a CBC meeting last October that they asked him to come address their members.
UNITY — THE ONLY WAY TO FIGHT BACK
"Despite continuing record profits, GE is trying to create an atmosphere of inevitability about the need for savings on its medical costs for both active and retired employees," said Tormey, after directly quoting several senior GE managers. "It's especially ironic given that in just the last month the company had the cash to spend almost $15 billion on acquiring three new companies!"
"Everyone – current members, pre-age 65 retirees, and post-age 65 retirees – should be prepared for an attack," added Tormey. "It's imperative that we educate our fellow members about the company's faulty assumptions. But we won't win by being right or having the best argument. The only way to fight back with GE is to get more members involved in the contract campaign and united behind our union leaders at the bargaining table."
Tormey's visit and speech were enthusiastically received by Local 201 members, and treated as major news by the local. The local issued a press release the day following the meeting, and the report on Tormey's presentation headlined the next issue of Local 201's Electrical Union News.
"Over the years, our members have made sacrifices in wages and other contract areas to maintain decent medical benefits," commented Local 201 Business Agent Ric Casilli, who is also a member of the IUE-CWA national bargaining committee. "Even so, our costs have steadily been rising. Currently the average member with a family of four pays an estimated $1,100 annually for medical coverage and $360 for prescriptions. Post-65 age retirees and their spouses are burdened with average costs of $4,632 annually – a huge hardship because there is no cost of living increase in their monthly pensions."