GE Rakes in Record Profits ...
And Goes on Buying Spree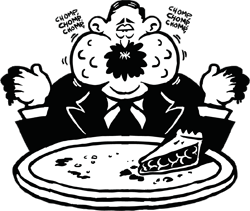 In news that comes as no surprise, GE experienced yet another year of record profits and revenues. The company reported net profits of some $20.7 billion for 2006. This astounding sum represents an 11 percent increase from the previous year, and works out to over $2.3 million per hour of clear profit for GE – seven days a week, 365 days a year. GE predicts yet another double digit year of profit increases in 2007. Revenues in 2006 increased to $163 billion, a 10 percent increase over the previous year.
The company seems to have had little problem deciding what to do with much of this money. In addition to increasing the dividend to stockholders for the 31st consecutive year, GE spent another $8 billion last year simply buying back its own stock. GE CEO Jeff Immelt has stated that he expects the company's current $25 billion buyback program to be completed by 2008.
MASSIVE SPREE — EVEN  FOR GE
Moreover in January, GE went on a spree of business acquisitions that was massive even for a company of GE's size and appetite. In the course of only 10 days, GE announced $15 billion worth of acquisitions. These included Vetco Gray, manufacturers of oil and gas drilling equipment, Smith's Aerospace, makers of integrated systems for aircraft, and the diagnostics business of Abbott Laboratories, for the totals of $1.9, $4.8, and $8.1 billion respectively.
With bargaining for a new UE-GE national contract coming up later this year, GE is in no position to claim any shortage of funds to meet union members' needs for higher wages and improved benefits. Nevertheless, in its various communications, the company continues to complain noisily and hypocritically about "continued competitive cost pressures," particularly with respect to the pension and insurance plans.
One group who knows about cost pressures is GE retirees, who have now gone nearly seven years without any structural increase in their pensions – in spite of a surplus of over $11 billion in the GE pension fund. Members of the Erie-based Retirees Association of General Electric (RAGE) are planning an April trip to the annual stockholders meeting in Greenville, SC to voice their dissatisfaction with GE's priorities.
Actively employed GE workers are also gearing up for the contract bargaining. The UE-GE Conference Board is set to meet on April 2 in Pittsburgh to finalize contract demands, and lay plans for a maximum effort to achieve substantial gains in this year's negotiations with cash-rich GE.