GE Conference Board Reviews Proposals,
Prepares for Start of Negotiations
PITTSBURGH, PA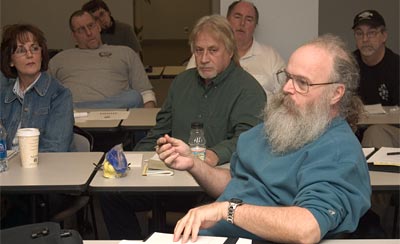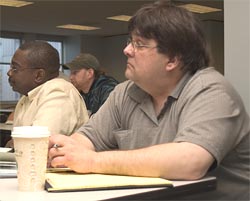 UE-GE delegates discuss contract issues and preparations. Top photo, Denise Hivick, Local 751; Frank Fusco, Local 506; Karl Zimmerman, UE Research Dept.; Ed Baran, Local 751; Rich Plymyer, Local 506; Ken Lowther, Local 707; and Steve Harris, Local 506. At right, Bruce Reese, Local 332, Dale Rosenthal, Local 506, and Scott Gates, Local 332. Bottom photo, Marcia Barnhart and John Payne, Local 731.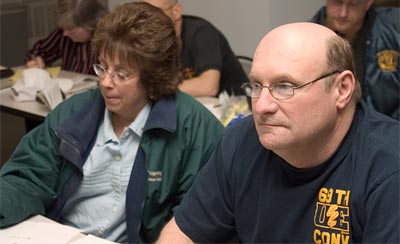 Meeting here April 2, delegates from UE-GE locals reviewed and finalized proposals for national contract bargaining, which starts on May 22 in New York City. The current contract expires June 17.
The GE locals will propose substantial general wage increases, improvement in the formula for cost-of-living adjustments (COLA) and other wage adjustments. The union will push for increases in vacations, sick and personal days, and other paid time off, a major concern of younger GE workers. The union will also fight to end discrimination in the night shift differential against younger workers, who get only 60 cents an hour for working night shift in their first five years of employment, rather than 10 percent.
UE will also seek several improvements in pensions of GE employees, as well as substantial increases in the pension benefits of current retirees – something that is long overdue. UE members in GE are determined to resist any effort by GE to further shift health care costs onto the backs of workers, and will seek improvements in such areas as dental, vision, and short-term disability insurance.
Conference Board Secretary Steve Tormey analyzed recent GE publications, in which GE is already propagandizing for the company's bargaining goals. It's clear from this literature, said Tormey that "GE is looking to shift more medical costs onto workers," and would like to stick new hires with inferior pension and insurance coverage, as it did to newly hired exempt salaried employees starting in 2005.
President John Hovis reported that the March 2 meetings of the CBC (Coordinated Bargaining Committee of GE Unions) was well attended, and there is reason for optimism for better cooperation of the GE unions in this year's negotiations
Pat Rafferty, who chaired the meeting and is also business agent of Local 506, outlined the plans of Erie Locals 506 and 618 for a major contract rally on June 2 in downtown Erie. This is the only rally planned so far by any union in the CBC, so other GE locals in UE as well as other unions are strongly encouraged to attend. Rafferty invited other locals who would like their banners or signs prominently displayed at the rally venue to get these to Local 506 in advance.
Erie GE retirees will hold a rally of their own on April 20, at the East Gate of the Erie plant, demanding a pension increase, and are organizing a bus trip to the GE shareholders' meeting in Greenville, SC, April 25, in coalition with other GE retiree groups, to press GE officials to improve retiree income.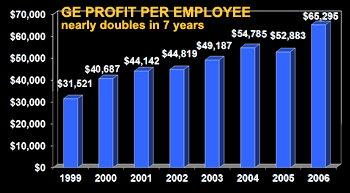 UE Research Director Karl Zimmerman analyzed GE's recently-released 2006 Annual Report. It was GE's best year ever, with revenue up 8.75 percent and profits up 25 percent. GE's profit margin of 12.7 percent is its highest in recent history, and the company's profit per employee grew 24 percent, to $65,295. Wage increases for GE workers, adjusted for inflation, have been getting smaller, while GE's CEO Jeff Immelt took home nearly $18 million in compensation in 2006. To sum up the financial situation: GE workers' proposals for improvement are more than justified, and the company can well afford to meet all the union's demands.
Political Action Director Chris Townsend gave an update on UE's political work, including the recent GEB delegation to Washington to press Congress for health care and retirement solutions.