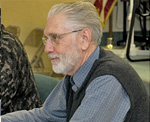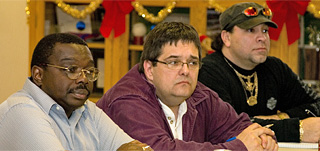 UE-GE Conference Board meets: UE-GE members from various locals representing General Electric workers meeting in Erie, PA in early December.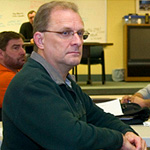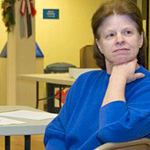 Erie, PA
December 3, 2010
GE national contract negotiations get underway in May 2011, and preparations for those talks was the central topic when delegates from UE-GE locals met on December 3.
Already aware that they have a fight on their hands to defend healthcare benefits from the company's high-deductible "Health Choice" plan, delegates to the UE-GE Conference Board were alarmed to learn that GE may be targeting the pension as well.
International Representative Steve Tormey, who serves as Secretary of the Conference Board, read a company letter announcing that, beginning January 1, newly- hired non-exempt salaried will "not be eligible to participate in the GE Pension Plan." Such new hires will also be ineligible for any retiree life insurance. This is an alarming development, said Tormey, noting that such action is unprecedented in the long history of the GE Pension Plan.
Unanimous Condemnation
After discussion, Conference Board delegates unanimously adopted a resolution condemning the company's move, and pledging to "resist any attempt to impose these latest takeaways on our present and future GE membership." The resolution calls the company's action "particularly outrageous" given the "excellent health" of the GE Pension Plan, which continues to do exceptionally well despite the Wall Street collapse of 2008 and low interest rates. Financial reports from the end of 2009 show the plan with a whopping $42 billion in assets, and GE has not contributed a penny to the GE Pension Fund since 1987.
Read the Conference Board Resolution: In Opposition to General Electric's Attack on the Pensions and Life Insurance of Salaried New Hires; download a pdf version of the resolution.
The pension attack, said the resolution, "has nothing to do with the health of the Pension Plan or the Company," but is rather an effort to "realize big and immediate accounting gains in the balance sheet in an effort to pump up the stock price." The company speaks contemptuously of pension obligations as "legacy costs", and the company's action, the resolution warned, shows its callous attitude toward workers: "When you finish at GE, the Company wants to be finished with you."
Healthcare Fight
A major portion of the meeting was devoted to compiling an initial list of contract proposals. This process will continue at the next Conference Board meeting in March, and locals are surveying their members for contract proposals and priorities. Delegates proposed a wide range of contract improvements in such areas as healthcare, pensions, wages, paid time off, and contract language.
President John Hovis reported on an October 19 meeting in New York between GE CEO Jeff Immelt, and leaders of the major unions that participate in the "small table" bargaining in the final days of GE national labor negotiations. Those unions are UE, the IUE-CWA, IBEW, IAM and UAW. "Immelt said very clearly, 'There will not be two separate healthcare plans in this company,'" Hovis reported – an indication that the company intends to force union workers into the inferior "Health Choice" plan already imposed on non-exempt salaried employees.
CBC Unions Meet
Tormey reported on a September meeting in Washington of the CBC Steering Committee at which he and Chris Townsend represented UE. (The CBC is the Coordinated Bargaining Committee of GE Unions.) The CBC leadership agreed to UE's proposal for a larger meeting involving leaders of local unions throughout GE, for a broader discussion of the goals and challenges of the upcoming negotiations and plans to mobilize members. That meeting is scheduled for January 8 in Evandale, Ohio, to be hosted by the UAW and IAM locals that represent workers at the Evandale jet engine plant. The CBC also proposed a major national rally during negotiations, to be held in Erie and hosted by UE Locals 506 and 618.
Locals reported on recent developments in their plants. Local 332 in Ft. Edward, reported Bruce Reese and Scott Gates, was pleased to have taken the first step in membership mobilization for the contract with a November 5 rally. Jim Pifer, Local 506 president, reported that 548 members have been recalled from layoff, and that 286 workers with more than one year service, and 86 with less than a year, remain unemployed. Business Agent Wayne Burnett, who also chaired the meeting, said the local is pleased that it won Trade Adjustment Assistance (TAA) benefits for its laid-off members. "The company said we'd never win it," said Burnett, "but we did."
UE Political Action Director Chris Townsend reported on the repercussions of the November election on workers and on GE negotiations. GE was a major corporate campaign contributor, and information released earlier in the week by Senator Bernie Sanders (I-VT) reveal one reason why. Sanders had almost single-handedly managed to insert in the financial reform bill requirements for more openness by the Federal Reserve Board. As a result, it was learned that the Fed loaned $16.1 billion interest-free to GE during the 2008 financial crisis. Sanders called this "an obvious conflict of interest", since GE's Jeff Immelt sits on the board of directors of the New York Federal Reserve Bank.